Twenty GAUNTLET OF POLO® alums are on the roster for the Triple Crown of Polo that began with the Tortugas Open on Tuesday, October 5 and runs through Sunday, October 17, 2021 at Tortugas Country Club in Argentina. Out of the eight teams entered, two teams (Ellerstina Johor, La Dolfina Saudi Polo Team) are comprised completely of GAUNTLET alums.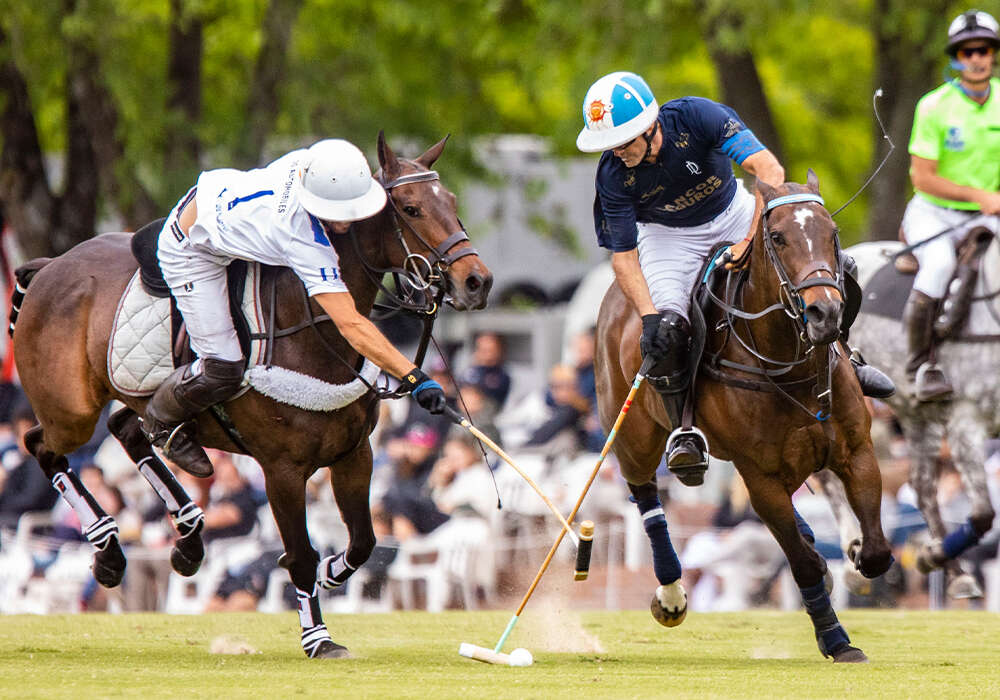 La Dolfina Saudi Polo Team's Adolfo Cambiaso during the Tortugas Open Semifinals versus RS Murus Sanctus. ©CLICKPOLOUSA/Guadalupe Aizaga
Other GAUNTLET alums include Sapo Caset (Tonkawa 2019/2020/2021), Pablo MacDonough (Las Monjitas 2020), Juan Martín Nero (Las Monjitas 2020), Polito Pieres (Aspen 2019, La Indiana 2020/2021), Nachi Du Plessis (Iconica 2019 substitute, Santa Clara 2020), Juan Britos (Park Place 2019/2020/2021), Alfredo Bigatti (Park Place 2020), Poroto Cambiaso (Scone 2021), Cubi Toccalino (Santa Clara 2019, Tonkawa 2020), Agustin Merlos (Tonkawa 2019), Tomás García del Río (La Indiana 2019, Patagones 2020, Park Place 2021 substitute).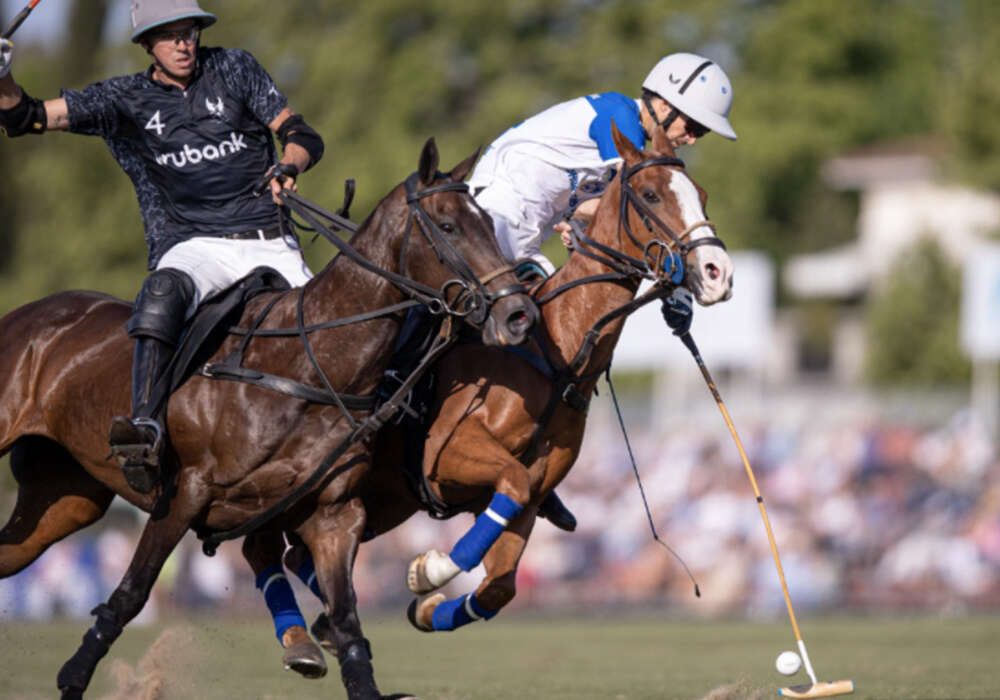 Ellerstina Johor's Nico Pieres with a neckshot during the Tortugas Open Semifinals versus La Ensenada Brubank. ©AAP/Matías Callejo.
Eight teams between 28 and 39 goals of handicap battled in the opening event of the 2021 Triple Crown, the Tortugas Open. After a competitive quarterfinals on the AAP's venue in Pilar, action switched to the Tortugas Country Club for the semifinals. The first matchup saw reigning Tortugas Open champions Ellerstina Johor defeat La Ensenada Brubank 12-8, while La Dolfina Saudi Polo Team secured their spot in the finals after a narrow 11-10 victory over RS Murus Sanctus.
Ellerstina Johor entered the final as one of the two teams with the highest handicap. The performance they found in 2020, with the addition of Hilario Ulloa gave support to the synergy of the three Pieres brothers. However, Hilario Ulloa suffering from a fractured pointer finger on his right hand was substituted by Matias Torres Zavaleta who helped Ellerstina Johor claim the 11-9 win to celebrate the first leg of the Argentine Triple Crown as three-peat Tortugas Open champions.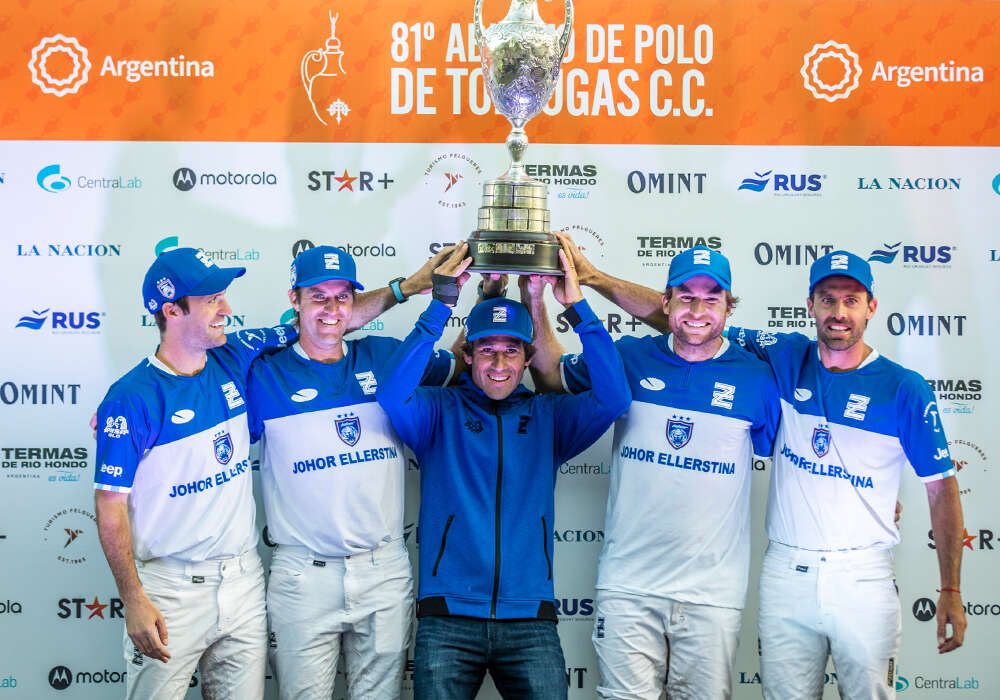 2021 Tortugas Open Champions: Ellerstina Johor – Nico Pieres, Gonzalito Pieres, Hilario Ulloa, Matias Torres Zavaleta, Facundo Pieres. ©CLICKPOLOUSA/Guadalupe Aizaga
Attention will now turn to the Hurlingham Open (October 19 – November 6). Brackets for Hurlingham were decided based on Tortugas results and are as follows: Bracket A (Ellerstina Johor, RS Murus Sanctus, La Dolfina Brava, La Irenita) and Bracket B (La Dolfina Saudi, La Natividad, La Ensenada Brubank, Algeria Standard Wealth). The Argentine Open is slated for November 10 through December 11. Seven teams including Chapaleufú, La Irenita II, Los Machitos, Alegría Fish Creek, La Esquina, La Aguada, La Fija will also compete in the Qualifying Series for the remaining two spots in the Argentine Open.
All the games in the Hurlingham Open and Argentine Open will be livestreamed. Follow some of the GAUNTLET's biggest hitters as they compete in the pinnacle of professional polo in the world.WATCH ON APPLIVE
ROSTERS
Ellerstina Johor (39)
Facundo Pieres 10 *
Hilario Ulloa 10 *
Gonzalo Pieres 9 *
Nicolás Pieres 10 *
sub. Matias Torres Zavaleta 7 *
RS Murus Sanctus (39)
Facundo Sola 9
Sapo Caset 10 *
Pablo MacDonough 10 *
Juan Martín Nero 10 *
La Dolfina Saudi Polo Team (38)
Adolfo Cambiaso 10 *
Pelon Sterling 10 *
Francisco Elizalde 9 *
Diego Cavanagh 9 *
La Natividad (36)
Camilo Castagnola 9
Polito Pieres 9 *
Bartolomé Castagnola 9
Nachi Du Plessis 9 *
La Ensenada Brubank (33)
Juan Britos 9 *
Alfredo Bigatti 8 *
Juan Martín Zubía 8
Jerónimo del Carril 8
LD Brava Polo Team (33)
Poroto Cambiaso 8 *
Guillermo Terrera 9
Rodrigo Ribeiro de Andrade 8
Alejo Taranco 8
La Irenita Polo Team (31)
Santiago Loza 8
Segundo Bocchino 7
Ignacio "Cubi" Toccalino 8 *
Isidro Strada 8
Alegría Standard Wealth (28)
Agustín Merlos 7 *
Pedro Zacharías 7
Tomás García del Río 7 *
Frederick Mannix 7
*GAUNTLET OF POLO® Alumni