On Saturday, September 11, Mountain View Polo Club (Charles Town, West Virginia) hosted its 6th Annual Karen Carra Memorial Women's Tournament, a low-goal arena tournament that gives newer and lower-rated players an opportunity to compete in a USPA tournament, in a fun, low-stress environment.
Sponsored annually by Karen Carra's widower and Mountain View Polo club member, Matthew Graham, three teams including Rebellis (Susan Roberts, Kasey Morris, Harleigh Humphries), Old Farm Vet (Christina Connelly-Kanmaz, Kija Wilson, Laura Russman, Sierra Goff) and Money Pit Manor (Liz Calvey, Erica Tergeson, Akemi Tinder) met in the arena to celebrate Karen's life and the love of polo with Money Pit Manor winning the day on 16 accumulated net goals.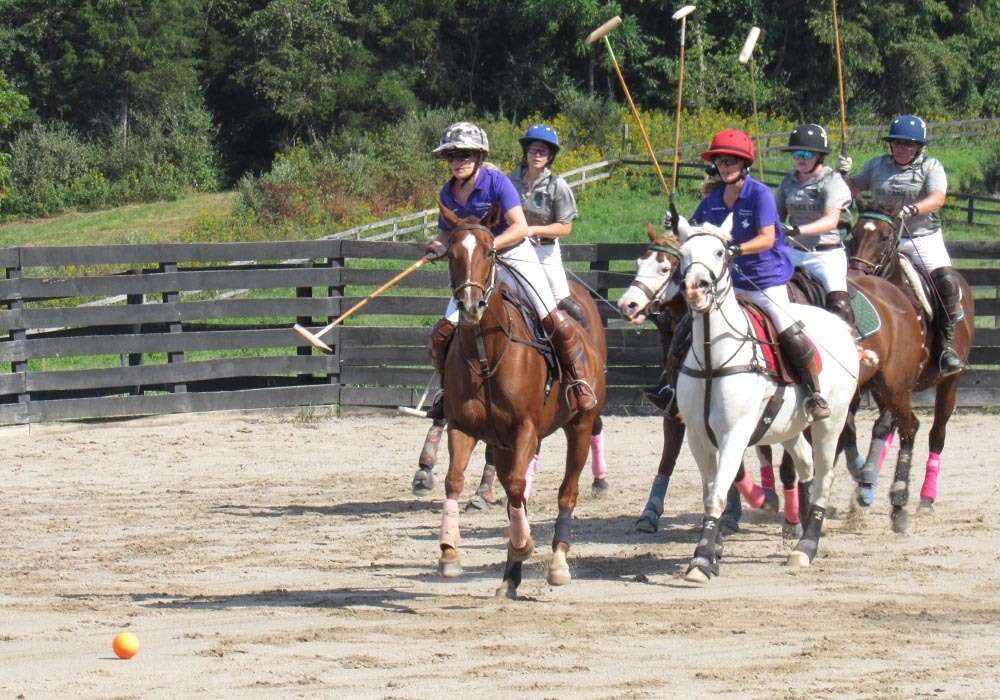 Money Pit Manor's Erica Tergeson leads the pack on a breakaway.
Old Farm Vet faced off in their second match against Rebellis. Old Farm Vet once again struggled to find the goal, as Rebellis held a three-goal lead after the first chukker. 17-year-old interscholastic alumna Sierra Goff managed to find the field posts for Old Farm Vet, sinking a two-pointer and another goal, closing the gap. Despite the late offensive push, Rebellis managed to narrow the lead and edge past their competition in the second game of the day 5-4.
Finally, Rebellis went head-to-head with Money Pit Manor for the final match of the tournament which did not disappoint. Rebellis and Money Pit Manor answered each other's goals throughout both chukkers, ending the game tied 7-all.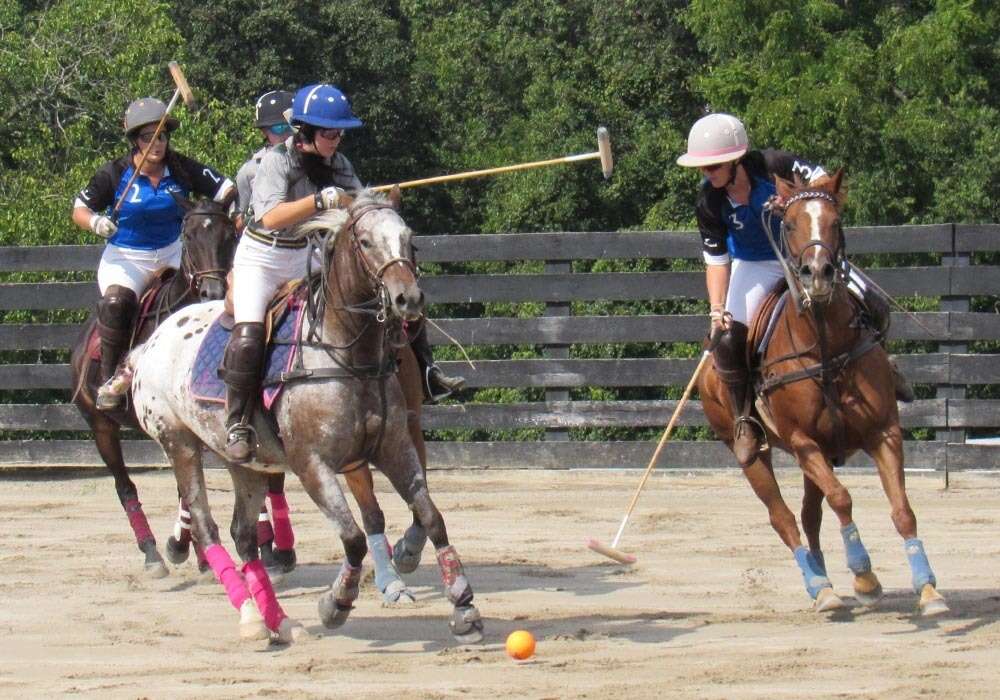 Rebellis' Kasey Morris reaches for the ball alongside Old Farm Vet's Sierra Goff on Best Playing Pony Pandora.
Celebrating their dominant offensive success, Money Pit Manor were awarded the win on net goals accumulating the highest total goals of the tournament. Along with the title of Karen Carra Memorial Women's Tournament champions, Money Pit Manor took home $1,500.00 in prize money as a participating team in a USPA Tournament Stimulus Package eligible tournament. Finishing second in tournament goals, Rebellis was awarded $600.00 and Old Farm Vet took home $400.00.
All players received commemorative tournament polo shirts sponsored by Matthew Graham and commemorative tournament wine glasses. Most Valuable Player was awarded to Money Pit Manor's Akemi Tinder. The Sportsmanship Award was presented to Old Vet Farm's Sierra Goff for her continued positive attitude, fairness and support for her peers both on and off the field. Best Playing Pony honors were presented to Pandora, played and owned by Rebellis' Sierra Goff.
All images courtesy of ©Laura Goddard.