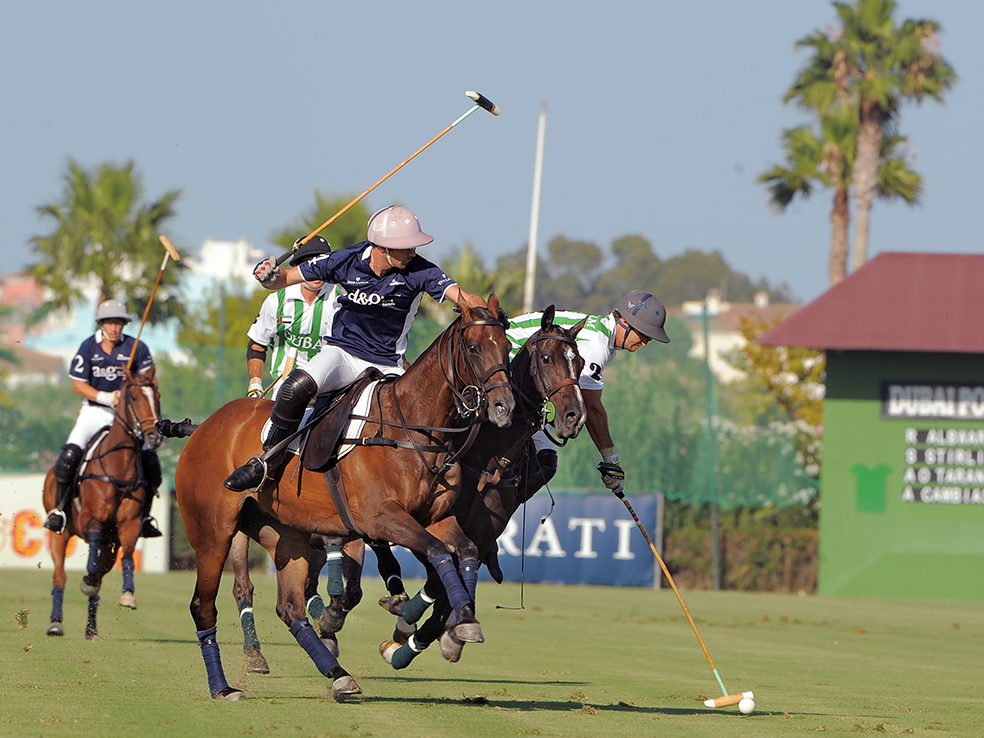 Dubai is the best positioned team to earn a spot in the finals of the Casa de Campo Silver Cup
Dubai is on top of the points chart of the the Casa de Campo Silver Cup in the high goal category, defeating this afternoon Dos Lunas A&G Banca Privada by 13-7 at the 45th INDI International Polo Tournament organized by Santa María Polo Club.
The team formed by Rashid Albwardy, Santiago Stirling, Alejo Taranco and Adolfo Cambiaso won for the third consecutive time and secured a spot in the finals of August 12th. Even though they still need to play against Ayala next Tuesday, Dubai has almost the necessary points required to qualify for the final match of the Silver Cup.
Match Progression:Dubai: 1-1/ 3-3/ 7-3/ 8-4/ 12-5/ 13-7
Ayala Polo Team added today another important victory that gives them a better chance of being finalists. Iñigo Zobel's team, that counts with Jack Hyde and brothers Nicolás and Facundo Pieres defeated Lechuza Caracas by 12-11: a great match full of thrill and great technique.
Match Progression:Ayala: 2-2/ 4-3/ 6-4/ 8-7/ 11-9/ 12-11
On Tuesday the last day of the qualifiers will define who will be the finalists of this first cup of the High Goal. Dubai will take on Ayala and Brunei will do the same with Lechuza Caracas.
Aerolineas Argentinas Silver Cup (Medium Goal)
Today, Sainte Mesme defeated Golden Goose Deluxe Brand by 12-11 in the only match of the Aerolineas Argentinas Silver Cup that took place today.
On Saturday, Seven Sevens, the team formed by Nikita Vozianov, Ollie Cork, Santiago Laborde and Nicolás Espain remains unbeaten in the Aerolineas Argentinas Silver Cup in the medium goal category. Today they won their third match. Seven Sevens categorically defeated Kazak (Sebastien Aguettant, Patricio Never, Pierre-Henri N'Goumou and Patrick Paillol by 14-8. On the fifth day of the 45th INDI International Polo Tournament, that took place on the Rio fields os Santa María Polo Club, team GSA (Henry Porter, Martín Valent, Juan Jauretche -playing for Matías Machado who was injured, and Gastón Bardengo) also won the match versus Santa Quitería by 10-8.
On Friday, the Brunei medium goal team formed by Princess Azemah, Rosendo Torreguitar, Facundo Fernandez Llorente and Guillermo Willington defeated Royal Salute this afternoon by 9-8 and marked its second triumph on a row of the Cup.In the other match of this stage, Golden Goose Deluxe Brand stretched its winning streak in the Aerolineas Argentinas Silver Cup by defeating Twenty/20 by 11-8.The cup continues tomorrow with another double match day in the Río field, where, from 17:30 hs, GSA will meet Santa Quqtería, while at 19 hs, Seven Sevens will fight against Kazak.
The category continues tomorrow with three new matches: at 17:30 Kazak vs. Santa Quitería on the Los Pinos Field 1, while at the same time Brunei Polo Team vs. Twenty/20 will be on the Río Field 2. At 19 hs, The Emerging/FCT will meet Royal Salute on Río field 1.
Isolas 1892 Bronze Cup (Low Goal)
Yesterday, Sotovila, La Clarita and Lechuza John Smith were victorious for the second time on the Silver Cup. The Puente de Hierro fields, where this cup is played, witnessed a day of great polo, with the following results: Sotovila 10- Chester Race Course 9; La Clarita 10 – Valdeparras 6; Lechuza John Smith 10- El Campito 5 and Bayswater 8- Jolly Rogers 7.
A new day of the Isolas 1892 Silver Cup in the low goal category will be disputed tomorrow at 11am in the Puente de Hierro fields. The matches of this third stage will be as follow: Lechuza John Smith vs Jolly Rogers; El Campito vs. Bayswater; Chester Race Course vs. Valdeparras and Sotovila vs. La Clarita.
http://www.hurlinghampolo.com/gamereport/read/2134/INDI-International-Polo-Tournament