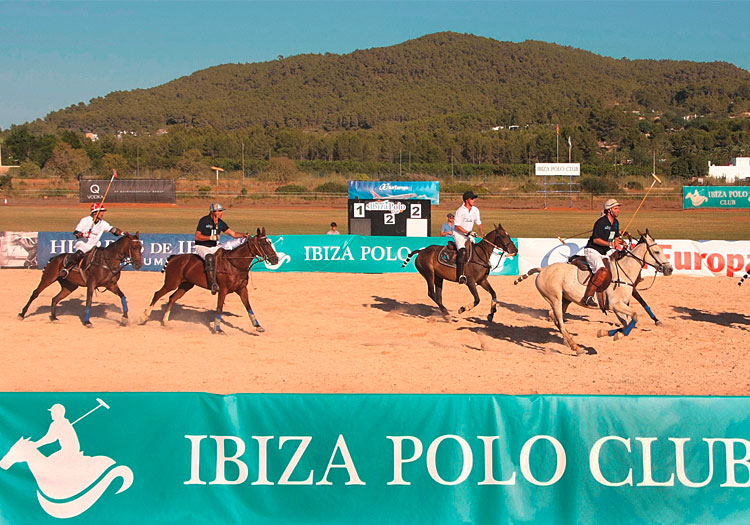 Tomorrow starts the 7th Ibiza Beach Polo Cup, the most famous tournament at Ibiza Polo Club. Seven teams with players from all over the world will enter the contest for the team sponsors ME Ibiza, Green Planet Oman, Miss Bikini, Hierbas de Ibiza, Air Europa, POLO+10 and Gemwater and will fight for victory from 12-14 August on the Balearic island.
Ibiza Polo Club is popular among spectators and players alike most of all due to its easy-going and relaxed atmosphere. This year there will once again be a fantastic entertaining programme including a fashion show, an After Polo Party and an asado. The games will start on Friday, 12 August at 6.30 pm. Four matches will played. On Saturday, 13 August the action starts on 6.30 pm as well. The final matches on Sunday, 14 August beginn at 6.00 pm.
Gabriel Iglesias, President of the Ibiza Polo Club: "The Ibiza Beach Polo Cup was born as a totally original and different project in Ibiza. Nobody knew about polo on the island, and in fact, the idea of creating a polo field from scratch, and bringing more than 70 horses here was a madman's idea; but the creator of this whole thing is a madman, and this is why this extravagance became reality. This annual rendez-vous is now one of the most relevant events of the Beach Polo International Tour, so much so that Adolfito Cambiaso, the best player in the world, only plays beach polo here, in Ibiza. This tournament also relies on the presence of some of the highest handicapped players in the world. The Ibiza Beach Polo Cup is now played at IBIZA POLO CLUB, where an arena pitch is built as if it were the beach. We would like to invite you to discover the club, the only official polo club of the Balearics and Territorial Delegation of the Royal Spanish Polo Federation."
PROGRAMME:
Friday, 12th August 2016
6.00 pm Opening of the reception desk for VIPs, guests and media
6.30-7.00 pm League Match 1
7.00-7.30 pm League Match 2
7.30-8.00 pm Fashion show
8.00-8.30 pm League Match 3
8.30-9.00 pm League Match 4
9.00 pm After polo party
Saturday, 13th August 2016
6.00 pm Opening of the reception desk for VIPs, guests and media
6.30-7.00 pm League Match 5
7.00-7.30 pm League Match 6
7.30-8.00 pm Fashion show
8.00-8.30 pm League Match 7
8.30-9.00 pm League Match 8
9.00 pm After polo party
Sunday, 14th August 2016
5.30 pm Opening of the reception desk for VIPs, guests and media
6.00-6.30 pm Ladies Final A + Men Final C
7.30-8.00 pm Men Final B
8.00-8.30 pm Men Final A
9.00-9.30 pm Trophy ceremony
9.30 pm Farewell polo party
TEAMS:
ME Ibiza Polo Team
David Tafuri (USA)
Charles Randquist (Sweden)
Ignacio Tillous (Argentina)
Green Planet Oman Polo Team
Adrien Chavassieu (France)
Albert Scholl (Germany)
Gabriel Iglesias (Argentina)
Miss Bikini Polo Team
Sam Williams (UK)
Alex Sheperd (UK)
Federico Español (Argentina)
Hierbas de Ibiza Polo Team
Diane Garland (UK)
Chris Garland (UK)
Gabriel Iglesias Jr (UAE)
Air Europa Polo Team
Ana Korff (Netherlands)
Javier Cunill (Spain)
Tonete Ayesa (Spain)
POLO+10 Polo Team
Thomas Wirth (Germany)
Anne Pascale Guedon (France)
Julio Rinaldi (Argentina)
Gemwater Polo Team
Jac Forte (UK)
Angela Walker (UK)
Agustin Arestizabal (Argentina)
About Ibiza Polo Club
The best nightclubs, the most famous beach clubs, the most incredible hotels, the most picturesque beaches and villages, all this combined with the sport of kings: polo. This is Ibiza right now.
Ibiza Polo Club was established in 2011, as a result of the necessity to please polo enthusiasts who missed playing polo in the paradise of Ibiza. Since then, Ibiza Polo Club keeps growing every day, with more members and aficionados who come by season after season in order to enjoy individual or group polo lessons, where internationally recognized polo professionals provide a personalized attention. This ensures the improvement of the learners, who train the different existent tactics under constant supervision, both during the indoor and outdoor lessons and practices. The school at Ibiza Polo Club is open all year round.
The Ibiza Polo Club's facilities are created to meet the necessities of a polo player. Either for beginner or professional players, the club provides the polo player with everything he needs to enjoy playing polo. The club has an official polo field, an indoor arena, horses for each level, deck bar, shop, stables, paddocks, etc.
Ibiza's climate allows you to play almost all year round, although the summer season is always unique. In addition to the worldwide recognized tournament played at the club, "Ibiza Beach Polo" – which celebrates its seventh edition this year – Ibiza Polo Club presents a complete tournament schedule which welcomes many of the best world polo players, and is supported by the most important brands. The club offers a wide variety of tournaments for all levels and handicaps, such as mixed tournaments, women's polo, etc. always surrounded by a very friendly and familiar atmosphere. And remember that, in Ibiza Polo Club, the entrance is free.
Tournament schedule 2016 Ibiza Polo Club: www.ibizapoloclub.es
Phone: 0034 971 325 365
Fax: 0034 971 325 036
Email: info@ibizapoloclub.es
www.ibizapoloclub.es
Address:
Venda de Balafia de Baix 25
07812, San Lorenzo (39º 01´30.45¨N/ 1º 29´49.48¨E)
IBIZA