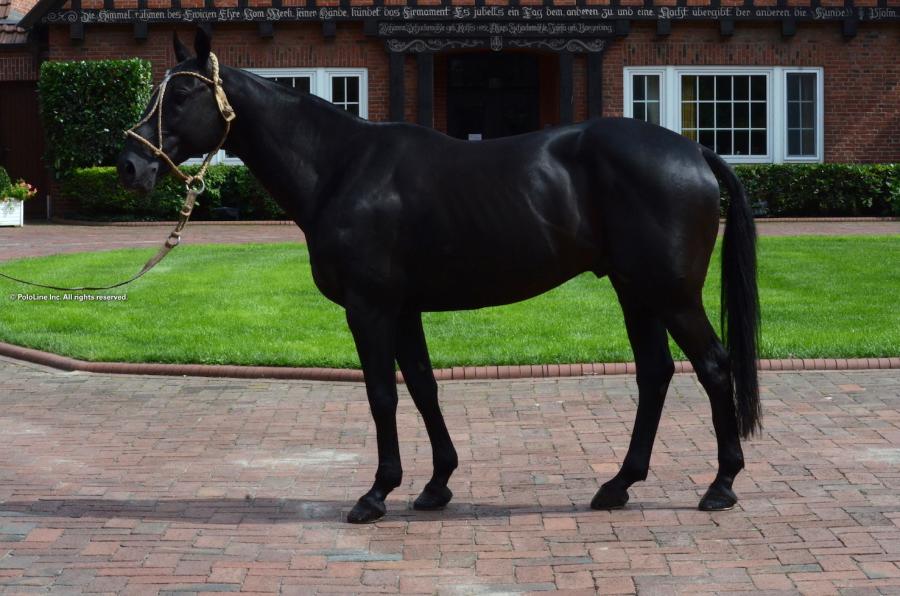 SCHOCKEMOEHLE POLO STUD PRESENTS THEIR POLO ARGENTINO OFFER
We have already talked about this polo stud located in Muehlen, Germany, very close to the Dutch border, and its top notch facilities that make the place a perfect place for patrons to enjoy, train and improve their skills. The SCHOCKEMOEHLE POLO STUD has a broad offer of mares and stallions for breeding, and their own production of foals is already in training for future auctions.
In this installment, SCHOCKEMOEHLE POLO STUD presents its Polo Argentino horses for breeding, that they selected throughly, looking for excellence throughout the six years of the existence of the Stud. The Polo Argentino breed is a trademark of quality and great performance for polo ponies. These wonderful horses are quick, strong, agile and easy to tame and handle. Breeding of these horses is controlled by the Association of Breeders of Polo Argentino, in the country, and only proven horses are bred to maintain the quality and standards. These are the reasons why Polo Argentino was the obvious choice for the SCHOCKEMOEHLE POLO STUD, that seeks to maintain the type of the breed, with the best bloodlines. SCHOCKEMOEHLE Polo Stud is working together with the famous Polo Argentino Breeders Los Pingos Del Taita, Dona Sofia and Don Ercole, among others.
All stallions at SCHOCKEMOEHLE POLO STUD are registered in the SRA (Sociedad Rural Argentina) and the Asociación Argentina de Criadores de Caballos de Polo. All foals born at SCHOCKEMOEHLE POLO STUD receive papers that identify them as horses of the breed Polo Argentino.
The Breeding Stallions:
DS Meteoro: (Open Tres Marías x Ellerstina Picaro) 19/02/2013
Ellerstina Picaro is currently one of the top breeding stallions, being father to very famous horses like Ellerstina Anselmo (BPP Palm Beach season 2012), Open Pomelo, Open Cibernética (BPP Tortugas Open 2011), and many others mostly played by Gonzalo, Facundo and Nicolás Pieres, as well as Sebastián Merlos and Pablo Mac Donough. 49 of the Picaro horses have played the Argentine Triple Crown. Open Tres Marías debuted in high goal in 2011 with Sapo Caset.
Gete Rubi: (Frambuesa x Gete Mineral) born 6/01/2005
Gete Rubí is part of the Cría Tanoira. Played in Argentina by 10-goal player David Stirling Jr. in some of the most important tournaments, as the Jockey Club Open, and the Argentine Open.
Acquired at the Heguy auction, this stallion is one of the best that Patrick Maleitzke owns at the moment.
Frambuesa his mother was played by Javier Tanoira on the Argentine Open.
Gete Mineral, his father, is the son of Pucará, one of the best breeding stallions of the Cría Tanoira, one of the founders of the Polo Argentino breed, and father of more than 50 triple crown player ponies.
Ytacua Puente Viejo: (Arequera x Ytacúa Indultito) born 4/10/2003
This stallion was bred by Hugo Rivadaneira, belongs to the Cría Ytacua, and has won several BPP awards since its arrival in 2011 in Germany. In Ytacua Puente Viejo's bloodline there are several horses that have played in the Argentine Open.
Ytacua Indultito, his father, is also the father of Ytacua Ilusión that has been played by Juan Martín Nero. Ytacua Arequera, his mother is also a property of Haras Ytacua and bred by Hugo Rivadaneira.
Taita Nissan: (Dolfina Frontier x Open Chimento) born 8/12/2013
RESERVADO 2 times champion at the Rural Palermo exposition 2016.
His mother, Dolfina Frontier, is a Great Palermo Champion, and daughter of one of Adolfo Cambiaso's mares, Dolfina Lapa (played by Adolfo on the Triple Crown from 2005 to 2012). Dolfina Lapa is one of the best mares of Haras La Dolfina, awarded Best Polo Argentino product in 2012, and one of Adolfo Cambiaso's personal favorites.
His father, Open Chimento, was a Grand Champion Polo Argentino at the Rural Society exhibition in 2005. He was ridden in the Triple Crown in 2008 and 2009 by Adolfo Cambiaso. His paternal line comes from the aforementioned Ellerstina Pícaro.
MARES
Don Urbano Galleta: (Don Urbano Gloria x Vasco Mambo). Born in 16/10/2005
Part of the Cría Don Urbano belonging to the Heguy Family.
Vasco Mambo, her father, is the brother of Tango, that has played on the Triple Crown with Alberto Heguy (h.)
Danza Turca: (Tía Marcela x Turco Zaino)
This mare has played the qualifications for the Palermo Open and the Jockey Club Open with Tito Ruiz Guiñazú.
Van Experta: (ESPI Ellerstina x Gete Menguante) born 4/11/2007
Bred by La Vanguardia Polo Club, won prize of Polo Argentino in the 125th edition of the Rural Society Exposition.
Gete Menguante is part of the Cría Tanoira, several of his brothers have played the Argentine Open with Facundo Pieres, Santiago Chavanne and David Stirling Jr. His mother, Luna, played with Gonzalo Pieres Sr. at La Espadaña and Ellerstina winning several awards. He is also from the bloodline of the aforementioned Pucará.
Wekuyen Pícara: (Capataz Pila x Penihue Careta) 18/11/2011
Bred by Marcelino Suárez for Haras La Corina.
Her father Penihue Careta played the Argentine Open with Pablo Mac Donough. Is the son of Ellerstina Picaro, as mentioned, one of the top breeding stallions, thus coming from one of the best bloodlines around.
http://www.pololine.com/?lang=1&sec=4&note=9170&note=9170&pag=0&anoB=2016