The Trophy stays at home!
The local team defeated Indonesia 7.5 – 1.
The final of the third edition of the All Asia Cup took place on Saturday January 16, and it was an event to remember. Thailand and Indonesia would be playing the championship team, while Philippines, Malaysian Tigers and Brueni went to a round robin penalty shootout to determine the winners of the Subsidiary.
The subsidiary title went to Phillipnes, Mayalsian Tigers ended up in fourth place and Brunei in fifth positoin.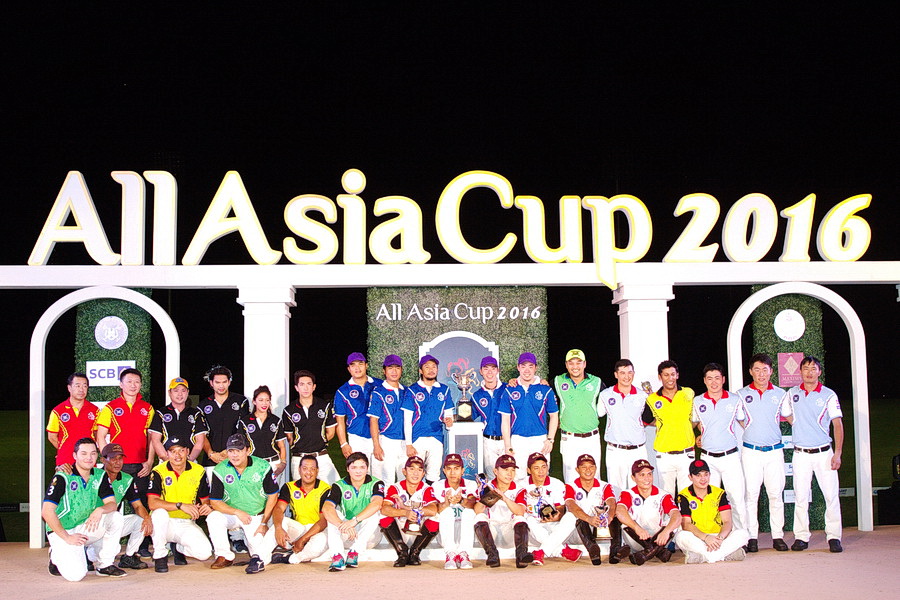 There were many attractions prior to the final. Flags waving, horse parades and the speech of the President of the Thailand Polo Association, Kanoksakdi Bhinsaeng.
Title holders, Indonesia, met up with local foursome, Thailand. It was expected to be a very balanced contest as both teams played very well during the qualifying stage – strong in attack and solid defense. But it was Thailand who demonstrated a clear dominance that overwhelmed their rivals. The final result, an impressive 7,5 -1 says it all.
The event came to an end with a gala dinner attended by guests, who enjoyed musical and horses shows and a big farewel party.
About All Asia Cup:
This prestigious Tournament, organized by the Thailand Polo Association, is held every alternate year with great success and is known for its level of fair play, based on international and professional standards, and currently considered the highlight of the Asian polo season. All Asia Cup has been recognized as a major national tournament within the international polo community.
Now, in its third edition, eight teams from southeast Asia battled for the coveted trophy on the grounds of the lavish VR Sports Club, in Bangkok.
The All Asia Cup was born in 2007, during the 24th Sea Games held in Thailand. The games were a huge success, and led Mr. Vichai Srivaddhanaprabha to the idea of establishing a permanent polo tournament that would be played in Thailand every 2 years, to continue the growth and development of Southeast Asian polo.
The first ever All Asia Cup was due on January 9, 2012 featuring four teams in competition: China, India, Mongolia, and Thailand. Thailand emerged as the winners back then.
The number of teams doubled in the second edition, in 2014: Brunei, India, Indonesia, Malaysia, Mongolia, Philippines, South Korea and Thailand. The winners were Indonesia.
The next edition of the All Asia Cup will be in 2018.