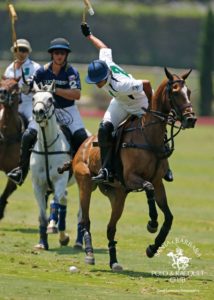 After two rounds of play, Farmers & Merchant Bank is the only team to emerge with two victories, one against RH Polo in overtime and the second against Lucchese on Sunday. Dan Walker, Lucas Criado, Joaquin Panelo and Herndon Radcliff are looking to capture their second consecutive tournament of the summer after recently winning the USPA Maserati Silver Cup. In their final matchup of tournament, the Walker brothers will meet again. With older brother Dan taking the victory in their last face off after a fabulous comeback, Henry will be looking to take this one home.
Right behind Farmers & Merchants Bank are four teams holding strong with a 1-1 record. RH Polo lost to Farmers & Merchants Bank and overtime and pulled out a victory over the Klentner Ranch team in a tough fought match. New Team USPA player Costi Caset seems to be pairing well with Adam Snow as he continues to make a significant difference for the team.
Klentner Ranch hit the ground running, beating FMB Too! in their first match, but RH got the best of the them in the Sunday 3:00 game. Klentner Ranch will play the first game on Friday against Lucchese which could set the stage for a round of shootouts depending on the result. Lucchese also holds a 1-1 record.
FMB Too! flexed their muscles against SD Farms, bringing home a win 12-7. Pipe Vercellino continues to be a scoring machine while Paco's father, Francisco de Narvaez proves to be a force to be reckoned with. The SD Farms team has only played two games thus far. Alan Martinez will be joining the lineup for the remainder of the tournament.
http://polonews.com/2016/08/america-cup-update/