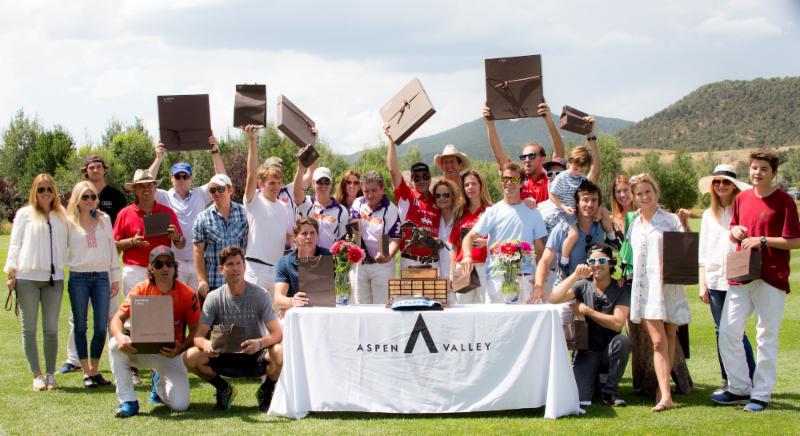 Aspen Valley Polo Club Hosts Full Day Of Polo: Four Games, First-Of-Its-Kind Golf Contest, Grooms Race
By Arianna Delin, Sharon Robb for Aspen Valley Polo Club
After back-to-back rainout days, Aspen Valley Polo Club hosted what can only be described as a polopalooza.
The busiest day of the summer polo season featured the final of the High Alpine Cup, two outdoor arena games, one indoor arena game, grooms' race and first-of-its- kind Flying Golf Ball Contest pitting a polo player against two pro golfers.
n the featured game, Travieso (Paul Foster, Tony Calle, Teo Calle, Alex Gooding) and Los Amigos (Alejandra Foster, Brian Boyd, Alejandro Poma, Stewart Armstrong) played to a hardfought 4-4 tie in the High Alpine Cup.
Travieso, the winningest team this summer, flirted with the lead in the first and fourth chukkers but Los Amigos fought back. With Travieso leading, 4-3, on Tony Calle's penalty shot, Armstrong came back to tie the game.
All four Los Amigos players scored a goal. Father and son Teo and Tony Calle each scored two goals for Travieso.
Armstrong, a former seven-goaler, was named Most Valuable Player for the second time this season.
In the opening outdoor arena game, Aspen Valley Polo Club (Ace Boyd, Riley Ganzi, Tincho Merlos) defeated Sopris Mountain Ranch (Will Jacobs, Carlitos Gracida, Juan Bollini), 13-11, to win the Polo School Arena Challenge.
"This was a lot of fun," said Boyd, who scored two goals in her first tournament and shared MVP honors with Ganzi. "It was great playing with Riley and so many different players. Tincho is a great teammate."
The game marked the return of Bollini, a former 8-goaler making his summer debut after missing the first half of the season.
Sopris Mountain Ranch overcame a three-goal deficit to take a 7-6 lead at the end of the second chukker. Aspen Valley pulled away late in the fourth chukker with goals from Ganzi and Boyd.
Merlos led Aspen Valley scoring with eight goals, all on two-pointers. Bollini scored a team-high six, including a two-pointer and Gracida added five.
In the second outdoor arena game, two penalty-one goals broke a 10-10 tie and gave Casablanca (Grant Ganzi, Sebastian Merlos, Juancito Bollini) a 12-10 win over Flexjet (Lucas Lalor, Marc Ganzi, Nic Roldan) to capture the High Alpine Arena Cup. Ganzi and Merlos each scored four goals for Casablanca. Roldan had four goals for Flexjet.
In a fun indoor arena game, Flexjet defeated Los Amigos, 7-6.
Between games, a first-of-its' kind Flying Golf Ball Contest was staged on a polo field. American 8-goaler Nic Roldan was pitted against Orlando-based golf pro Chris DiMarco and his son Christian to see who could hit it the farthest.
Roldan had four chances to hit a golf ball while on a horse. The golfers hit the ball without a horse.
Christian DiMarco won the long ball contest with a long drive over the horse trailer.
"That was so much fun, it really was," said golf pro Chris DiMarco, who turns 48 on Aug. 23. "Just to be out here and see all these beautiful horses and great athletes is pretty cool. It's been an eye-opener to come here and see what it's all about and see the popularity of the sport.
"I am just glad that we didn't have to get on a horse and try to hit it with a club," DiMarco said. "I'm glad that the ball wasn't moving and I wasn't moving. I don't know how Nic did that, it was pretty impressive."
After the contest, Aspen Valley Polo Club donated $10,000 to the Juniors Golf Program in the DiMarco family name at Aspen Golf Club, that hosted a charity golf tournament for junior golf on Monday.
DiMarco has been competing in the local tournament for 18 years. Presenting the check was Marc Ganzi, whose first job was working at the Aspen Golf Club where he was a junior golfer. "I really appreciate what you do for the kids in the valley, it's tremendous," Ganzi told DiMarco.
In addition to the golf contest, a grooms' race featuring the club's grooms, entertained the crowd.
The past five summer polo tournament winners include: Tonkawa (Jeff Hildebrand, Teo Calle, Tincho Merlos, Jimmy Seward), Emma Challenge; La Karina (Brian Boyd, Tony Calle, Julio Novillo Astrada, Stewart Armstrong), Basalt Handicap; Travieso (Teo Calle, Tony Calle, Lucas Lalor, Carlitos Gracida), Craig Sakin Memorial; Travieso (Alex Gooding, Teo Calle, Sebastian Merlos, Brian Boyd), ChukkerTV Challenge Cup; and Flexjet (Melissa Ganzi/Secundo Merlos, Sebastian Merlos, Carlitos Gracida), Independence Cup arena polo final.
Aspen Valley Polo Club is one of the nation's fastest growing USPA-sanctioned clubs with a membership increase of 75 percent since last season.
Polo has increased in popularity in Aspen and surrounding cities with the club's offerings of various weekly tournaments, Gladiator Arena Polo, Kids Polo and The Polo School at the club owned by Marc and Melissa Ganzi since 2014, in addition to practice sessions for teams competing in the weekend tournaments.
ChukkerTV, leaders in polo broadcasting, is live streaming the 2016 schedule including the prestigious and longstanding Rocky Mountain Cup.
ASPEN VALLEY 2016 SUMMER SCHEDULE
ChukkerTV Arena Challenge, Tuesday, 5:30 p.m.
Mount Sopris Cup: Friday, two games, Sopris Mountain Ranch, 11 a.m. and High Mesa Ranch, 3 p.m.; Saturday, The Family Traditions at St. Regis Polo Cup, 3 p.m.; Sunday, Charity Day at Aspen Valley Polo Club benefitting Aspen Valley Hospital, Subsidiary game, 11 a.m., Grooms' Halftime Race, Final, 1 p.m.
Aug. 10-21, Rocky Mountain Open
Aug. 24-28, The Carbondale Classic
http://www.hurlinghampolo.com/news/read/2272/Aspen-Valley-Polo-Club-Hosts-Full-Day-Of-Polo