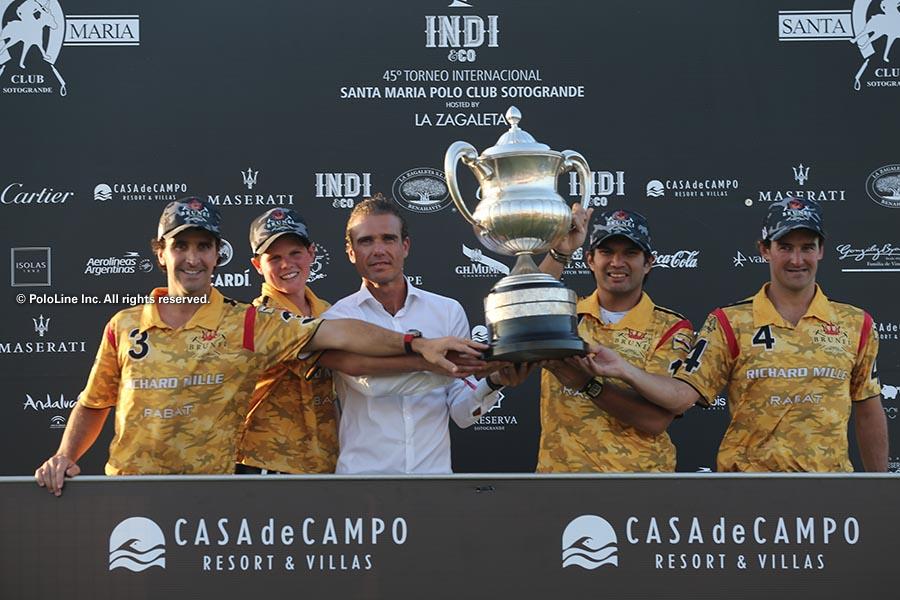 Brunei, in its great comeback to Sotogrande after four years of absence, was proclaimed champion of the Casa de Campo Silver Cup after defeating Ayala Polo Team in the finals by 14-12, the second trophy of the high goal category of the 45th INDI International Polo Tournament.
The team integrated by Bahar Jefri, Josh Cork, Pablo Mac Donough and David Stirling Jr. played on a very high level to defeat a very hard rival that demanded to the maximum till the very last match minute.
On the last seconds of the game, and thanks to a goal by Pablo Mac Donough that allowed them to get an advantage of 2 goals that set the game on their favor, after six very rowdy chukkas. Even though in the 4th chukka Brunei got to have a 5 goal advantage, the match was very even, and Ayala, with Facundo Pieres at an exceptional level put serious pressure on its rival. In fact, Brunei, couldn't add up any goals in the 5th chukka and Ayala scored two to be back on track and start the last seven minutes of the final with chances to make it to the finals. Bahar Jefri's team kept their technical plan, could pull through the pressure of the rival and assured their dominance with Pablo Mac Donough's epic goal, taking the trophy home.
Pablo Mac Donough was riding Felipe when he scored the goal, a horse he brought to Sotogrande from England in 2007, with whom he won the Sotogrande Triple Crown for Amibah (Bahar Jefri's team back in the days) in 2008. Eight years later, Felipe keeps delivering great results for both patron and player.
Match progression:Brunei: 3-3/ 6-6/ 10-7/ 13-8/ 13-10/ 14-12
During the awards ceremony, besides the Casa de Campo Silver Cup, given by Rafael Torres, president of the Casa de Campo Resort & Villas, Facundo Pieres got the MVP, and the mare Blancanieves, played by David Stirling, was awarded BPP.
On field three, the main scenery from the finals, Nicolás and Facundo Pieres played horses that were part of the Argentine Open. Facundo played Dolfina Tetera, Galáctica-Tetera and Tucumana, while Nicolás did the same with Fiorela, Felicitas and Magistral.
In the words of the champions:
David Stirling: "We need to enjoy this title that cost us a lot, 5 teams with first class organizations took part. We started with a defeat by Dubai and then we raised the level and we ended up qualifying by penalty shootouts, that's like lottery, finally we were lucky to win today"
Bahar Jefri: "It is always great to come back, and even so in this way. I have dreamed it but beber imagined it. It was a tough match, the opponents and organizations were great, and it was tough to play against my friend Iñigo (Zobel).My team is outstanding, we all work very hard, we have a very good organization and on the pitch, we read each other easily. It will be tough to repeat what we achieved on 2008 (winning the Triple Crown) but we'll give it a shot, and we are on high spirits after this victory".
Pablo Mac Donough: "It was a very tight match, in a moment they lost a couple chances and we could make the best out of them, then that's when we got the broadest goal difference, and after that, during the 5th chukka, they scored 3 in a row and they got on the same level as us. We are very happy for this victory, we knew it would be tough, so now we have to enjoy it.Matches are moments, and we make the best out of the opportunities, but their recovery put some serious pressure on us, and we didn't use all of our chances to stop them. Finally the difference was just one goal but luckily we were able to score and that gave us tranquility. We are two 10-goal players, maybe it sounds like there's just two of us playing, but to be honest, Bahar and Josh help a great deal, and we are a proper team. We are very pleased with the functioning of the team and now the only thing left is enjoying and starting the Goal Cup with the right foot".
Aerolíneas Argentinas Silver Cup – Medium Goal
Brunei and Seven Sevens will play tomorrow the final of the Aerolineas Argentinas Silver Cup of the medium goal category. The match will take place at 19 hs at Los Pinos Field 4.On the other hand, for the Bronze Cup, Kazak will meet GSA at 17.30 at Los Pinos Field 1.
Isolas 1892 Silver Cup – Low Goal
Lechuza John Smith and La Clarita will play tomorrow the finals of the Isolas 1892 Silver Cup the second low goal trophy of the 45th INDI International Polo Tournament. The match will take place at 12.15 on the Puente de Hierro Field 1. Before this, the subsidiary final will take place, El Campito vs. Chester Race Course.
http://www.hurlinghampolo.com/gamereport/read/2135/45th-INDI-International-Polo-Tournament