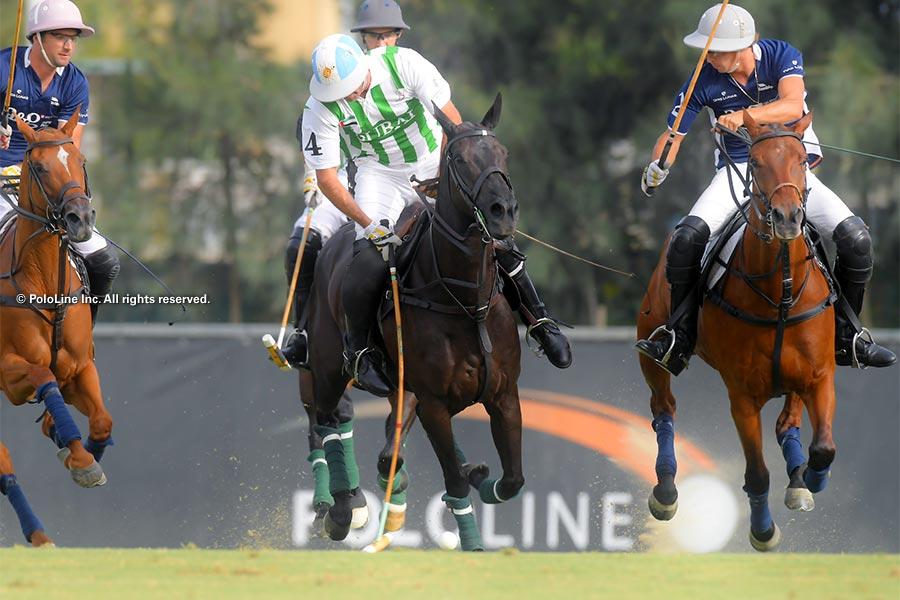 Dubai kicked off the Cartier Gold Cup with a victory
Dubai managed a very tough victory versus Dos Lunas A&G Banca Privada by 6-3 at the kick-off of the Cartier Gold Cup, the most important of the trophies of the 45th INDI International Polo Tournament.
In a very rowdy match, that had more friction than good game, the team lead by Adolfo Cambiaso and that today had Daniel Gariador instead of patron Rashid Albwardy got their first 2 points defending the title they won last year.
Score Dubai: 1-0, 2-0, 3-0, 3-1, 3-3, 6-3
The Cartier Gold Cup continues tomorrow with an attractive match, Brunei vs. Lechuza Caracas. The match will start at 18.30 and it will be played at the Los Pinos Field 3, the main stage of the 45th INDI International Polo Tournament.
Agustín García Grossi: To be honest, this year's pretty tough. The level of the teams is really good and its very complicated to win a match with the organizations that are part of the tournament. Today we had a pretty good math but we missed many goals and we could have gotten closer. For the Gold Cup we aim to improve and win any match to be able to get into the semis, which is our goal, and we'll keep on fighting to do so.
Daniel "Pelu" Gariador: I think I'm dreaming, this is the happiest day of my life as a polo player. To play with Cambiaso is my dream come true and a great joy.
When they told me I had to play with Dubai, I was thinking in so many things that I didn't know where to go. I received many support messages.
I felt good during the match, and if that shot that hit the pole would have entered, I would be dreaming about it my whole life. Anyways, with what went on today, I am totally satisfied.
Cartier Gold Cup
MEDIUM GOAL
Tomorrow starts the Aerolíneas Argentinas Gold Cup on the medium goal category with 3 matches. On the Santa María Polo Club's Rio fields, at 17 hs, Twenty/20 will meet GSA, the champion of the Bronze Cup, while at 18.30 FCT will play versus Santa Quitería.
At Los Pinos Field 1, 17 hs, Sainte Messe will take on Seven Sevens, one of the finalists of the Silver Cup.
http://www.pololine.com/?lang=1&sec=3&note=9184&note=9184&pag=0&anoB=2016