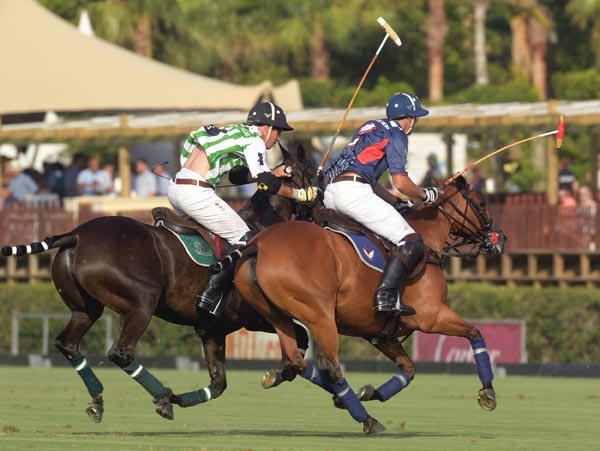 Dubai, the Emirati patron Rashid Albwardy and Adolfo Cambiaso's squad, the best player in the world, defeated Lechuza Caracas by 8-5 and remains undefeated in the Casa de Campo Silver Cup played today in the third day at the Los Pinos fields, the principal location of the INDI International Polo Tournament.
The team, also formed by the Uruguayans Santiago Stirling and Alejo Taranco, repeated the great performance proved on their debut. In the first half of the game we could see the team playing at its highest level, giving their rivals a 5 goal margin, that was maintained until the 5th chukker.
Despite Lechuza's efforts in the sixth chukker, specially when they tried to get back on track, Dubai was always the leader. They have won twice in a row and the team is, once again, the favorite one to win the title they are already defending.
Match Progression:
Dubai: 4-1/ 5-1/ 6-1/ 8-3/ 8-3/ 8-5
On field 2, Brunei team from patron Bahar Jefri recovered from its defeat against Dubai and comfortably won the match versus Dos Lunas A&G Banca Privada by 15-10. The squad is formed by two of the world's best players, David Stirling Jr. and Pablo Mac Donough, who easily dominated the encounter, taking a lead of 11 goals in the fourth chukker.
Match progression:
Brunei: 3-1/ 5-2/ 10-2/ 14-3/ 15-5/ 15-10
The fourth day in High Goal will be played next thursday at Los Pinos, 19:00 pm, with two simultaneous games. On Field 2, Lechuza Caracas will face Dos Lunas A&G Banca Privada, while Brunei and Ayala Polo Team will play on Field 3.
Medium Goal Aerolineas Argentinas Silver Cup:
Santa María Polo Club's Río Sotogrande fields will host tomorrow, 2nd August, a double match day for the Aerolineas Argentinas Silver Cup in the Medium Goal.
Golden Goose Deluxe Brand and Royal Salute will play on Field 3 at 17:30 pm, while Brunei Polo Team will meet Sainte Mesme on Field 1 at 19:00 pm.
http://www.hurlinghampolo.com/gamereport/read/2132/45th-INDI-International-Polo-Tournament