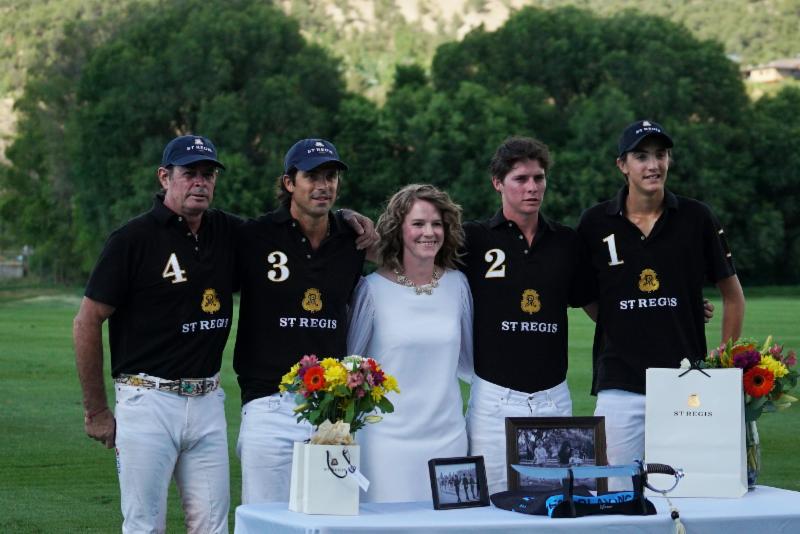 St. Regis Captures Inaugural Family Traditions St. Regis Polo Cup; Nacho Figueras Named MVP.
By Arianna Delin, Sharon Robb for Aspen Valley Polo Club
On a picture-perfect day for polo at Aspen Valley Polo Club, St. Regis won the inaugural Family Traditions St. Regis Polo Cup in thrilling fashion.
Juan Bollini scored the game-winner through a crowd in front of the goal posts with less than thirty seconds remaining in the game to give St. Regis a 9-8 come-from-behind victory over Aspen Valley Polo Club.
The unique format featured fathers and sons bonded by their passion for horses and polo, competing in a four-chukker game.
St. Regis (Hilario Figueras, Juancito Bollini, Nacho Figueras, Juan Bollini) and Aspen Valley (Secundo Merlos, Grant Ganzi, Marc Ganzi, Sebastian Merlos) were evenly matched.
Figueras, polo ambassador and St. Regis Connoisseur, was named Most Valuable Player.
"It's always great to play with your son," Figueras said. "It was a lot of fun. It's one of the biggest joys in life, to be able to do what you love with the person that you love."
Pinkie Belle, an 8-year-old bay mare owned by Halo Polo and ridden by Figueras in the fourth chukker, was named Best Playing Pony.
Aspen Valley Polo Club looked to be in the driver's seat pulling away for a 3-1 lead after the opening chukker and 4-1 lead after two chukkers.
Trailing for nearly three chukkers, St. Regis started reeling Aspen Valley Polo Club back in the third chukker. Juan Bollini saw his son Juancito open for a goal to enable St. Regis to deadlock the game at 5-5.
The lead changed hands three times in the final chukker before Bollini came up with his heroics. Moments earlier, Sebastian Merlos and Nacho Figueras each defended what looked to be game-winners.
"I was lucky enough to get the ball a couple of inches from the line," Figueras said. "I got lucky. It wasn't anything to do with my skill."
Added Sebastian Merlos who played with his oldest son Secundo: "It was a really nice, friendly game. It's always a pleasure to play with your son. To have four families of fathers and sons on the same field was amazing.
"I thought we played a fast game," Merlos said. "We started dominating the game but then these guys started tapping the ball, getting better position on the ball and putting the ball in."
Game umpire Sebastian Dawnay of Great Britain was not expecting the high level of play from the second and third generation players.
"I couldn't believe how competitive they were, they went for it," Dawnay said. "Both teams were going for it. They really wanted to win. They were nervous because they wanted it. It was anybody's game."
Nacho Figueras and Juancito Bollini each had three goals, Juan Bollini had two and Hilario Figeras scored one goal. Sebastian Merlos scored a game-high four goals. Marc Ganzi had three goals and Secundo Merlos added one goal.
A doubleheader is scheduled Sunday at Aspen Valley Polo Club with the subsidiary and final of the Mount Sopris Cup.
In the subsidiary at 11 a.m. (MST) Los Amigos (Paul Foster, Lauren Sherry, Agustin (Tincho) Merlos, Gabriel Gracida) plays Tonkawa (Jeff Hildebrand, Jimmy Seward, Lucas Lalor, Stewart Armstrong) followed by the final at 1 p.m. between Flexjet (Marc Ganzi, Alejandra Foster, Julio Novillo Astrada, Alex Gooding) and Steta Polo Team, making its summer debut with Guillermo Steta, Brian Boyd, Nic Roldan, Carlitos Gracida.
Last year Valiente won the Mount Sopris Cup with Marc Ganzi, Roberto Zedda, Agustin Nero and Bob Jornayvaz, 12-10 winners over Tonkawa (Jeff Hildebrand, Carlitos Gracida, Pablo Spinacci,
Jimmy Seward). Nero was MVP.
Sunday has been designated as Charity Day at the club, benefitting the renowned Aspen Valley Hospital, the first Colorado hospital to be selected as a member of the Mayo Clinic Care Network after passing a rigorous review process based on quality, service and operational criteria.
The St. Regis Aspen Resort, a big supporter of polo and sponsor of the coveted St. Regis World Snow Polo Championship in December, is nestled at the base of the majestic Aspen Mountain. The resort is between the mountain's two primary base ski lifts and within walking distance to all of Aspen's shops, restaurants and entertainment.
The hotel is just 10 minutes away from Aspen's airport and has convenient access to all four ski releases. The resort underwent a $40 million redesign in 2011. It delivers a benchmark of personalized service and attention to detail amidst the relaxed spirit of the Rocky Mountains.
Aspen Valley Polo Club is one of the busiest and nation's fastest growing USPA-sanctioned clubs.
Polo has increased in popularity in Aspen and surrounding cities with the club's offerings of various weekly tournaments, Gladiator Arena Polo, Kids Polo and The Polo School at the club owned by Marc and Melissa Ganzi since 2014, in addition to practice sessions for teams competing in the weekend tournaments.
ChukkerTV, leaders in polo broadcasting, is live streaming the 2016 schedule including the prestigious and longstanding Rocky Mountain Cup.
ASPEN VALLEY 2016 SUMMER SCHEDULE
Mount Sopris Cup: Sunday, Charity Day at Aspen Valley Polo Club benefitting Aspen Valley Hospital, Subsidiary, Tonkawa vs. Los Amigos, 11 a.m.; Final, Steta Polo Team vs. Flexjet, 1 p.m., Halftime Grooms Race.
Aug. 19-21, Rocky Mountain Open
Aug. 24-28, The Carbondale Classic
http://www.hurlinghampolo.com/news/read/2277/Family-Traditions-St.-Regis-Polo-Cup