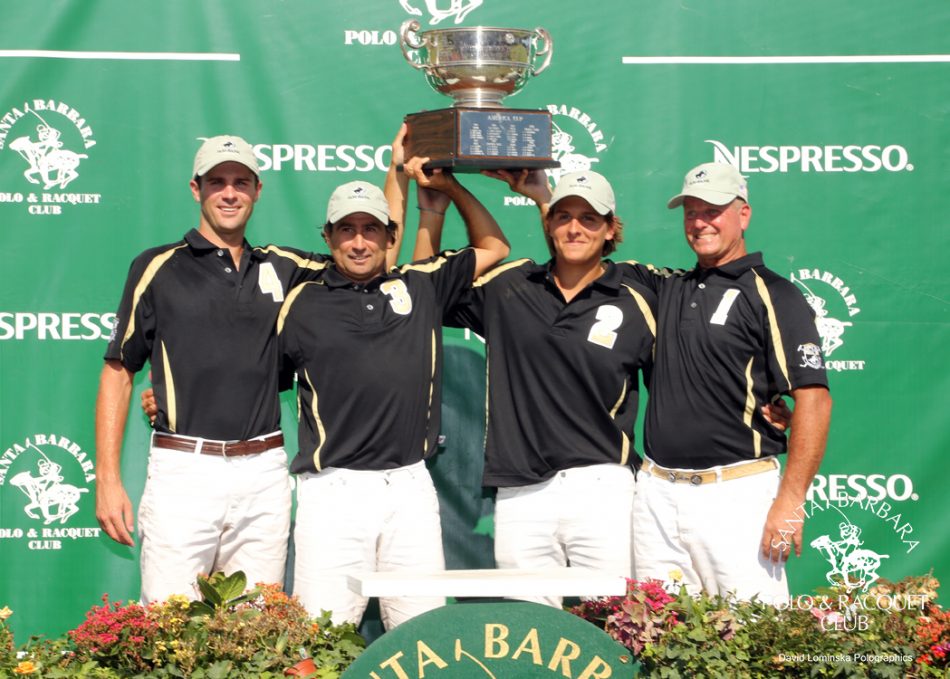 The weather in Santa Barbara is just about as good as it can get. With cool mornings and sunny afternoons, players, horses and spectators alike are relishing in a perfect California summer. With six teams competing in the USPA Nespresso America Cup, the tournament came down to the wire as four teams entered into the final round of play with a 1-1 record. Farmers & Merchants Bank sat on top with a 2-0 record and won their final game, putting them at 3-0. Restoration Hardware emerged from the final round to take on FMB.
The final score of the 2016 USPA Nespresso America Cup read 10-7 in favor of Farmers and Merchants Bank. Offensive mastermind Lucas Criado organized his team to highlight the strengths of each individual player and counted on them to do their part. With nine of their ten goals scored from the field, it seems his strategy paid off.
RH capitalized on penalty shots to stay neck and neck with FMB in the first half. Four penalty goals by Jason Crowder placed RH Polo even with the FMB team by the beginning of the third chukker.
It was a fight for each ball that was bowled in to play. After going into halftime down by a goal, RH Polo popped out into the fourth chukker ready to even the score out. Great teamwork displayed by the RH crew led to a tying goal by Crowder in the fourth chukker. The defensive efforts of RH held off FMB from scoring in the entirety of the chukker.
Though it seemed RH Polo and FMB were evenly matched going into the fifth chukker, Criado proved otherwise. He lined his team up to dominate, Walker and Criado each scored two goals from the field. A single goal by Radcliff brought their tally to ten after scoring five goals in the chukker. Crowder scored one from the field to bring the score 10-6 in favor of FMB.
RH Polo tried to gain momentum early in the sixth chukker to overcome the lead established by FMB. The FMB players stuck to their opponents and focused solely on their defensive strategy and protecting their lead. Crowder scored the only goal of the chukker bringing the final score 10-7 in favor of FMB.
Joaquin Panelo, a young up and coming star, commented on the strategy successfully executed by FMB the past two tournaments. "I feel that the advantage we have is our team has four players were can all hit the ball and score. When we start moving the ball, hitting it one time and running it makes it easier on all of us. During the fifth chukker, we really tried to pass and shoot on the goal and it worked out for us in the end."
Lucas Criado's fifth chukker mare "Paba" won her second Best Playing Pony award this summer. Criado was also awarded with the Most Valuable Player award.
Farmers and Merchants Bank takes home USPA Nespresso America Cup