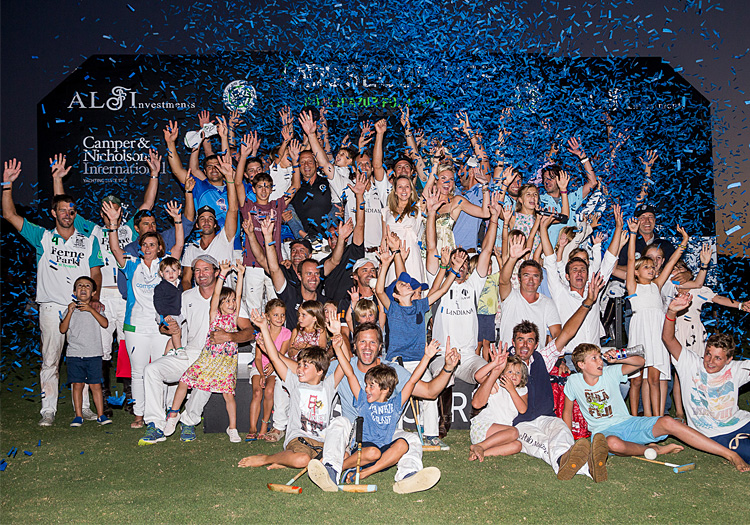 The Côte D´Azur Polo Cup has come to an end after two action packed weeks at the Polo Club Saint-Tropez. Fourteen teams took part in the competition – eight in the 10-goal tournament and six in the 18-goal; every organisation showed a great level of polo and much enjoyed playing in one of Europe's polo hotspots.
The finals to both tournaments took place on ground one. First up, La Indiana and Ferne Park battled it out in the 18-goal final. Ferne Park tried hard to gain the upper hand, but La Indiana, who beat King Power in the semifinals, held their ground. The match was very close at the end of the third chukka when Frankie Menéndez came on to substitute an injured Ruki Baillieu. Both teams continued to score, but La Indiana worked hard and managed to win by 10-9 and claim the title. Michael Bickford's organisation has had a fantastic year so far, reaching four consecutive finals. Jaime García Huidobro was named Most Valuable Player, Lana, played by Ruki Baillieu and Frankie Menéndez, was awarded as Best Playing Pony.
Next up, La Bien Mirada faced an undefeated La Concepción team. La Bien Mirada claimed an early lead after two great first chukkas, but La Concepción found their rhythm and dominated the rest of the match. La Concepción boasted the skills of Juan Zubiaurre, who was named MVP of the final, and a strong defence from Diego Braun. The last two chukkas showed off La Concepcion's strength and they defeated La Bien Mirada by 7-2. The award for Most Valuable Player was given to Juan Zubiaurre and is horse Ídolo was named Best Playing Pony.
Jaime Garcia Huidobro, La Indiana: "I think we won because the team regrouped a bit. We started off with two players who had not played the English season and they took time to get into the swing of things. Jamie [Morrison] really saved us in the semifinal, where he scored two or three good goals, and today in the final Jamie and Ruki were playing really well and we suddenly became a strong four-man team. The other day was a blow because he was lost and we took him off two minutes later; today he played a lot better. Being a four-man team gives us an advantage over any opponent. La Indiana is investing in a long-term process; they lent Ruki horses and they are buying more horses. Michael and Ruki are doing more then just building a team and that really has long-term benefits. They brought twenty team horses over; they change the players but they still have horses."
Hanspeter Spek, La Concepción: "This title really means a lot; not only did we win but I think we played really well. Getting Juan [Zubiaurre] involved proved to be a great success. I also want to thank Topo [Braun] for his work, for choosing the right players and for building a great atmosphere in the team. I think we had a bit of luck today; we started off well, we won a lot of throw-ins, and we could block off our opponents game and prevent them from scoring."