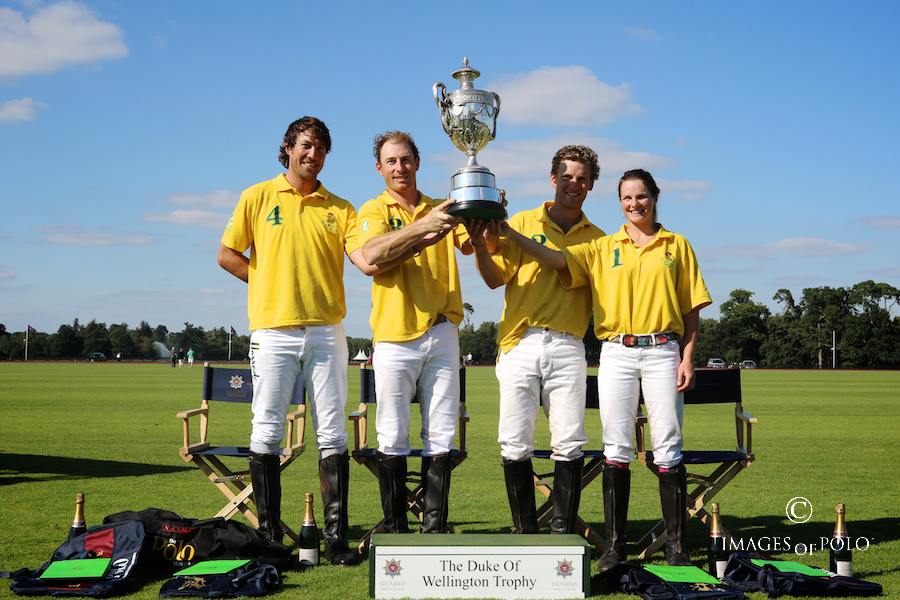 Peter Barfoot, the chairman of Cowdray Park Polo Club, who is currently recovering in hospital from a polo fall, received a massive get well boost when his Maiz Dulce team won the 12-goal Duke of Wellington Trophy on Sunday. In a really tight game on The Queen's Ground, Maiz Dulce, one of 14 teams which had entered this HPA tournament, snatched an 8-7 victory over Mo Sheikh's BHC 8-7 thanks to some great team-work from Glen Sherriff and Tomas Hunt.
BHC had the upper hand in the early chukkas, due to goals from Ralph Richardson and Dirk van Reenan, giving them a two-goal advantage (4-2) at half-time. As Maiz Dulce had failed to score at all in the second, it looked as if BHC patron Mo Sheikh would be adding his name to this popular trophy once again, after winning previously in 2009.
The yellow shirts of Maiz Dulce had other ideas though and came out fighting in the third. Glen Sherriff, later named The Polo Magazine's Most Valuable Player after a great game at three, successfully converted a couple of penalties and shot through a field goal, while team-mate Hunt found the flags too. The Richardson boys – Jack and Ralph – kept BHC in contention with a couple of goals, but this was suddenly anyone's game.
So with the scores at 6-6 at the start of the fourth and final chukka there was plenty to play for. Hunt scored first, giving Maiz the lead for the first time since the first chukka, only for Jack Richardson to produce a great run up the field to score. Was this game going into extra time? Sherriff had other ideas and produced a fabulous angled shot which was picked up Hunt to score the winning goal.
Jack Richardson, who appeared to be nursing a leg injury in the presentations, received the Polo Times Best Playing Pony Prize for his own Nobu, a nine-year-old Thoroughbred mare. He received his prize from Hon Eleanor Wellesley, the grand-daughter of the 8th Duke of Wellington, after whom the trophy is named. Arthur Valerian Wellesley was Guards Polo Club's first Chairman in 1955 and he remained a passionate advocate of the sport at Smith's Lawn right up until his death, at the age of 99, in December 2014. Eleanor had watched the match, accompanied by her father Lord Christopher Wellesley from the Royal Box
Earlier in the day Emma McCarthy led her father Clinton's Emlor C team to victory in the sub final, played on The Duke's Ground. They defeated Elio Leoni-Sceti's Il Sole 6-5 in another close game in which both teams failed to score at all in the first. The final goal of the game came off the stick of Manuel Fernandez Llorente in the fourth when the scores were reading 5-5.
In a change of format for 2016, Guards Polo Club introduced the Polo Manager's Trophy for those teams that were knocked out at in the league stages. This saw a win for Mats Ottosson Cederflycht's La Rosada. They defeated Chris Bruckner's Asian Art 6-4 in another closely contested battle. Asian Art were up 3-1 up at half-time but La Rosada found their form in the second half, shooting through five goals to only one in reply from Asian Art.
Ph Images of Polo
http://polonews.com/2016/08/maiz-dulce-fire-winning-shot-to-capture-duke-of-wellington/