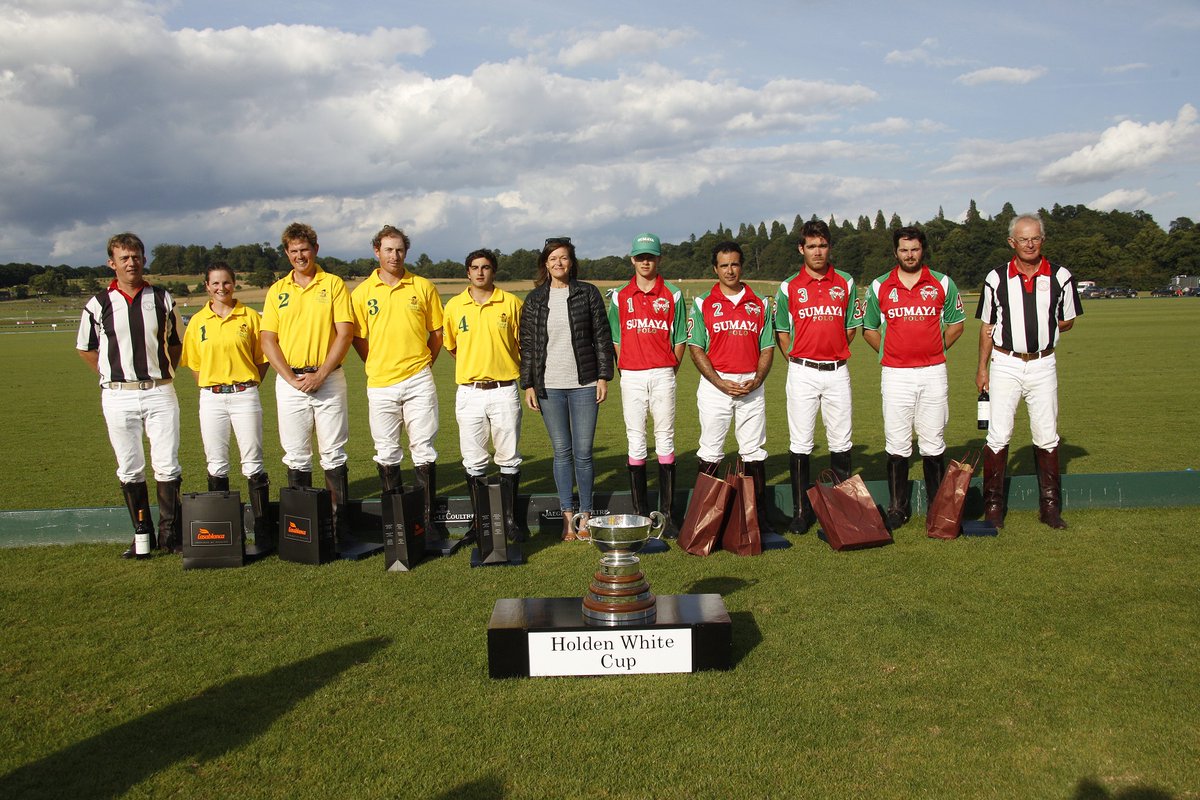 From an entry of eighteen teams, Peter Barfoot's Maiz Dulce side made it through to the Final to face Ahmad Aboughazale's Sumaya. Still in hospital following his recent injury, Peter was replaced by Lottie Lamacraft, Maiz Dulce stalwarts Matt Pitts and Glenn Sherriff played at 2 and 3 and Kian Hall took Peter's usual position at Back. For Sumaya, Will Harper took the number 1 position with Ahmad Aboughazale at 2, Nicolas Ruiz Guiñazu (3 goals) at 3 and Juan Pablo Villela (5 goals) at Back.
Sumaya made an impressive start with a fantastic field goal sent through the posts by Guinazu from 70 or 80 yards. Their advantage was soon lost by a 30 yard penalty awarded to Maiz Dulce which Sheriff sent home to equalise. Two penalty shots per side in chukka 2 saw the score on 3-3 at half time. Will Harper, the youngest player on the field, was responsible for the steal which enabled Guinazu to put through a super under the neck shot to take Sumaya into the lead in the second half on 4-3. Sherriff wasted no time in putting through a 30 yard penalty to level the score at 4-4. Kian Hall stole the ball from Villela following the throw-in, and hung onto it until he could off-load to Matt Pitts who scored to take Maiz Dulce into the lead again to end chukka 3. Kian Hall played his socks off in the final chukka, active in both defence and attack. Sherriff was able to score once more from a 30 yard penalty taking the score on to 6-4. Hall made a great attempt at goal which just went wide before a whistle gave Sumaya the chance to score from a 30 yard penalty, but it was too late to prevent victory for Maiz Dulce on a final score of 6-5.
Nicci Bethell presented the Holden White Cup to Matt Pitts on behalf of Peter Barfoot and both teams received a selection of high quality polo items from prize sponsors Casablanca Polo. Kian Hall was given The Polo Magazine's Most Valuable Player award and the Best Playing Pony was judged to be Idaho, owned by Peter Barfoot and ridden by Kian Hall.
In the subsidiary Finals of the Holden White Cup, Beaufort Blackhound won the Ruins Cup, and Feedmark took home the Ambersham Cup.
http://polonews.com/2016/08/maiz-dulce-winners-of-holden-white-cup-at-cowdray-park-pc/