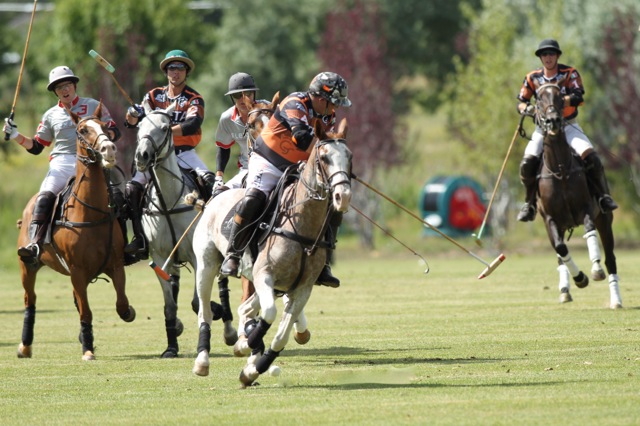 By Arianna Delin, Sharon Robb for Aspen Valley Polo Club
Guillermo Steta, president of the Mexican Polo Federation, returns to Aspen Valley Polo Club for this weekend's Mount Sopris Cup.
Steta, a frequent visitor to Aspen Valley Polo Club and its Wellington, Fla.-based sister club Grand Champions Polo Club, is spearheading the drive to get polo into the Pan American Games, the first step expected to pave the way for the sport's return to the Olympic Games.
The Pan Am Games is a major international Olympic-style sporting event that features 41 countries from North, Central and South Americas every four years.
Steta will head the Steta Polo Team in the eighth tournament of the summer polo season. Steta will be joined by fellow Mexican Carlitos Gracida, son of polo legend Carlos Gracida; Brian Boyd and Nic Roldan, America's top-rated player at eight goals.
The four-team tournament also features Flexjet, Los Amigos and Tonkawa.
Action gets under way on Friday with two games. In the first game at 11 a.m. at Sopris Mountain Ranch, Steta Polo Team plays Los Amigos. In the second game at 3 p.m. at High Mesa Ranch, Tonkawa plays Flexjet. The winners advance to Sunday's final. A subsidiary game will also be played. Game times are 11 a.m. and 1 p.m. A Grooms Race will be featured at halftime.
The player and team rosters are:
Flexjet: Marc Ganzi, Alejandra Foster, Julio Novillo Astrada, Alex Gooding.
Los Amigos: Paul Foster, Lauren Sherry, Agustin (Tincho) Merlos, Gabriel Gracida.
Steta Polo Team: Guillermo Steta, Brian Boyd, Nic Roldan, Carlitos Gracida.
Tonkawa: Jeff Hildebrand, Jimmy Seward, Lucas Lalor, Stewart Armstrong.
Also on Sunday, the Aspen Valley Cup will feature a final at 2:30 p.m. pitting Sopris Mountain Ranch (Ace Boyd, Melissa Ganzi, Juan Bollini, Rufino Merlos/Santos Merlos) against ChukkerTV (Will Jacobs, Grant Ganzi, Tomacho Pieres, Juancito Bollini.
Sunday has been designated as Charity Day at the club, benefitting the renowned Aspen Valley Hospital, the first Colorado hospital to be selected as a member of the Mayo Clinic Care Network after passing a rigorous review process based on quality, service and operational criteria.
Last year Valiente won the Mount Sopris Cup with Marc Ganzi, Roberto Zedda, Agustin Nero and Bob Jornayvaz, 12-10 winners over Tonkawa (Jeff Hildebrand, Carlitos Gracida, Pablo Spinacci, Jimmy Seward). Nero was MVP.
Mount Sopris Cup is named after the most impressive part of the Elk Mountains. Although Mount Sopris doesn't even top out at 13,000 feet, its' mile of vertical exposure creates an impressive backdrop for the town of Carbondale.
Mount Sopris is located just south of Carbondale where the Crystal River meets the Roaring Fork River. Mount Sopris actually consists of two peaks (East and West Sopris) of the same elevation separated by a saddle about one-half mile in length.
Mount Sopris is named in honor of Captain Richard Sopris who in July of 1860 led a prospecting expedition up the Roaring Fork Valley. He was the first man of European descent to soak in the hot springs of Glenwood Springs. He later went on to gain prominence as Denver's Mayor (1878-1881) and commissioned the creation of Denver's City Park.
The past summer polo tournament winners include: ChukkerTV (Lucas Lalor, Carlitos Gracida, Juan Bollini), ChukkerTV Arena Challenge; Travieso (Paul Foster, Tony Calle, Teo Calle, Alex Gooding) and Los Amigos (Alejandra Foster, Brian Boyd, Alejandro Poma, Stewart Armstrong), High Alpine Cup; Tonkawa (Jeff Hildebrand, Teo Calle, Tincho Merlos, Jimmy Seward), Emma Challenge; La Karina (Brian Boyd, Tony Calle, Julio Novillo Astrada, Stewart Armstrong), Basalt Handicap; Travieso (Teo Calle, Tony Calle, Lucas Lalor, Carlitos Gracida), Craig Sakin Memorial; Travieso (Alex Gooding, Teo Calle, Sebastian Merlos, Brian Boyd), ChukkerTV Challenge Cup; and Flexjet (Melissa Ganzi/Secundo Merlos, Sebastian Merlos, Carlitos Gracida), Independence Cup arena polo final.
Aspen Valley Polo Club also hosted the UPSA-NTYS qualifier won by The Polo School (Nikko Ramirez/Rufino Merlos, Riley Ganzi, Santos Bollini, Grant Ganzi).
Aspen Valley Polo Club is one of the busiest and nation's fastest growing USPA-sanctioned clubs with a membership increase of 75 percent since last season.
Polo has increased in popularity in Aspen and surrounding cities with the club's offerings of various weekly tournaments, Gladiator Arena Polo, Kids Polo and The Polo School at the club owned by Marc and Melissa Ganzi since 2014, in addition to practice sessions for teams competing in the weekend tournaments.
The Ganzis are avid players and patrons and "have put new life into polo" in the area according to local player Alex Gooding.
ChukkerTV, leaders in polo broadcasting, is live streaming the 2016 schedule including the prestigious and longstanding Rocky Mountain Cup.
ASPEN VALLEY 2016 SUMMER SCHEDULE
Mount Sopris Cup: Friday, Los Amigos vs. Steta Polo Team, Sopris Mountain Ranch, 11 a.m.; Tonkawa vs. Flexjet at High Mesa Ranch, 3 p.m.; Saturday, The Family Traditions at St. Regis Polo Cup, 3 p.m.; Sunday, Charity Day at Aspen Valley Polo Club benefitting Aspen Valley Hospital, Games at 11 a.m. and 1 p.m., Halftime Grooms Race.; Aspen Valley Cup Final, Sopris Mountain Ranch vs. ChukkerTV, 2:30 p.m.
Aug. 10-21, Rocky Mountain Open
Aug. 24-28, The Carbondale Classic
http://www.hurlinghampolo.com/news/read/2275/Mount-Sopris-Cup