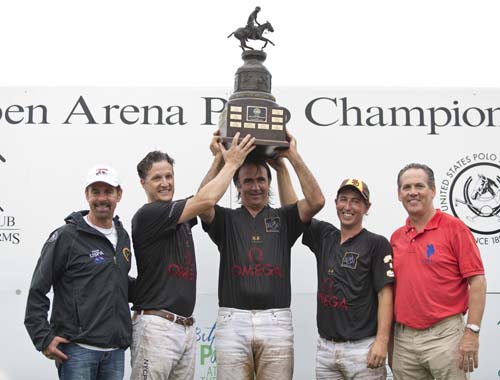 Newcomers NYC Polo upsets defending champions Cedar Croft Farms, 17-15, in championship game
Medford, NY – In the 2016 U.S. Open Arena Polo Championship, NYC Polo defeated defending champions Cedar Croft Farms 17-15 at Country Farms Polo Club in Medford, New York. Comprised of Robert Ceparano, Kris Kampsen and Felipe Viana, Cedar Croft Farms have captured the past three consecutive titles with the same team members. New to this year's tournament, NYC Polo's roster included Sam Ramirez, Jared Sheldon and Matias Magrini.
A fast and physical game, nonstop action abounded from both teams. In the first chukker, Team USPA member Jared Sheldon struck first for NYC Polo, as Magrini quickly followed with another goal. Team USPA member Felipe Viana rebutted with two goals for Cedar Croft Farms. Both teams conceded two goals on penalties, ending the first chukker four-all. NYC Polo took control in the second chukker, though, as two penalty-two conversions from Sheldon, combined with a penalty one and a field goal from Magrini put NYC Polo ahead 8-6 at halftime.
An evenly scored third chukker – five goals each – kept NYC Polo in the lead. However, Cedar Croft Farms' Kampsen dominated, converting two of three penalty shots and scoring three goals from the field. In the first minutes of the heated final chukker, NYC Polo capitalized on a penalty one, followed by a penalty-two conversion for Cedar Croft Farms. An additional penalty one, this time in favor of Cedar Croft Farms, was followed by a quick goal from Ceparano. Three combined goals from Sheldon and Magrini along with a penalty-four conversion from Kampsen, held both teams equally matched with four goals apiece.
Yet, it was not enough for Cedar Croft Farms to overcome their two goal, second chukker deficit. Dethroning the three-time reigning champions, NYC Polo won the coveted U.S. Open Polo Arena Championship title. NYC Polo high-scorer, Jared Sheldon, with 10 of the total 17 winning goals, was awarded Most Valuable Player. Best Playing Pony honors were given to Tatora, owned by Sam Ramirez and ridden by Magrini in the third chukker.
"Congratulations to NYC Polo on an outstanding victory," said Dan Coleman, chairman of the USPA Arena Committee. "Both teams played incredibly well and gave the polo community an opportunity to witness arena polo being played at its highest level."
Fans can relive yesterday's championship action next week via ChukkerTV. Visit www.uspolo.org and www.facebook.com/USPoloAssociation for more information on how to tune in.