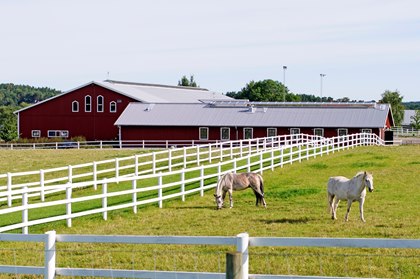 If you won the lottery tomorrow, how would you spend your winnings on horses? Would you buy a large farm and build the indoor arena you've always dreamed of having? We posed this question to our online readers in last week's poll. More than 1,250 people responded and we've tallied the results!
Of the 1,296 respondents, 571 (44%) said they would build their dream barn, while 368 individuals (28%) said they would start a horse rescue with their lottery winnings. Another 58 respondents (4%) said they would go horse shopping in Europe, and 46 people (4%) would buy a racehorse. Only 30 individuals (2%) said they would sponsor an Olympic-caliber horse and rider, and the remaining 223 respondents (17%) had other plans for their lottery winnings.
In addition, more than 200 people commented about how they would spend lottery winnings on horses:
Many people shared how they would build their dream farm, barn, or horse facilities:
"My dream farm is all planned out on paper for that impossible day."
"Buy a new place more out in the country (current hobby farm is getting houses all around.)"
"I'd build a safe, functional farm and bring my horses home. Can't hurt to dream!"
"I'd buy the complete setup – dream farm, barn, trailer, etc., and help renovate family farm."
"Dream barn, live-in staff, huge pasture, house on-site"
"Buy a lot of land, new barn, more horses, indoor heated arena … I could go on and on."
"Purchase home with horse facilities (currently boarding)."
"Build a covered arena on my property."
"I would buy a horse property with pasture, acreage, and forest access in a state where it rains!"
"Purchase new property and build a complete equine breeding and training facility."
"I would like to own a set of stables to rent out at affordable prices."
"Build a horse swimming pool!"
"Buy land for more pasture, for my own hay, and to ride on, in addition to a new barn."
"Build an indoor arena and sponsor some local barrel racing events."
Others specified how they would renovate their current farm and facilities:
"Build new fencing throughout and buy the farm next to mine."
"Put up more pasture fences with run-in sheds and reseed the paddocks I have"
"Build a V-mesh fence around my property."
"Put in new fences, thin trees, buy a 4-wheeled driving vehicle and pairs harness. Quit work."
"I'd install irrigation & turn my dry Arizona acres into a lush green heaven for my 3 horses!"
"Improve pasture and fences."
Some people said they would help horse rescue organizations:
"Provide help to the horse rescues I already know about in my area."
"Make a nice donation to Old Friends!"
"Donate to rescues and other worthy causes. Also, fix things at my farm."
"Already a rescue/sanctuary; funds would be used to improve existing facility"
"Buy a farm for the rescue/adoption program from whence my horses came. They're fundraising!"
"We have three really good rescues here that I would make sure were taken care of."
"Expand the horse rescue I have."
"Donate to worthy rescues or set up a foundation to help rescues."
"Building a dream barn FOR the horse rescue!"
"Rescue TBs and Standardbreds."
"Donate to a rescue such as Standardbred Retirement Foundation."
A few respondents said they would support equine research:
"I would give a large amount to horse research for both colic and lameness."
"Fund equine medical research."
"Set up a fund for equine eye research treatment for underprivileged horse owners."
"Find a cure for navicular so my old man can enjoy his rides again."
Several individuals commented that they would buy a new horse:
"I'd buy a whole string of polo ponies!"
"I would buy a Clinton Anderson-trained horse, give to horse rescues."
"I would buy my dream fox hunter and donate to several horse charities."
"Buy 2 more horses and hire skilled reliable labor to keep up everything."
"Buy a Friesian."
"I would purchase a high-quality show horse in the USA and support horse rescues."
"Buy a couple of broodmares and start my own farm."
"Buy a good barrel horse and a jumper."
"I'd buy an endurance horse that is bred, trained, and conditioned. Also I'd buy a new truck to haul."
"Buy some nice Thoroughbreds and get ready to show! They are the best!"
And others shared their ideas for other equine-related lottery spending:
"Invest it to produce income to keep the horse habit rolling along!"
"Breed (using surrogates) my most excellent QH mare."
"Start a school for troubled teen girls that was centered around equine studies and rehab."
"Fund a PATH barn for riders with disabilities"
"Save to pay all of my future horse expenses!"
"Start a horse/yoga/mindfulness-based program for people in treatment for addiction."
"New saddles from Bespoke Saddlers and training with Happy Horse Training, both in France!"
"Travel to the top trainers for lessons/instruction."
"Breed racehorses!"
"I would get back into endurance riding and I might start a rescue."
"Expand my equine/equestrian wellness business"
"Take time off and go trail riding!"
"Open my own state-of-the-art clinic for rehab and rehoming unwanted horses."
"Retire so I could spend all my time on my horses!"
"Do a training internship with Olympic eventer William Fox-Pitt or Michael Jung."
"I would spend it on horses I sold in the past, because selling them was a giant mistake!"
"Create a 501(c)3 for post-graduate integrative care training for veterinarians."
This week, we want to know: is your horse up-to-date on his West Nile virus vaccine? Vote now and share your comments at TheHorse.com/polls!
The results of our weekly polls are published in The Horse Health e-Newsletter, which offers news on diseases, veterinary research, health events, and in-depth articles on common equine health conditions and what you can do to recognize, avoid, or treat them. Sign up for our e-newsletters on our homepage and look for a new poll on TheHorse.com.
http://www.thehorse.com/articles/37973/poll-recap-if-you-won-the-lottery-equine-edition