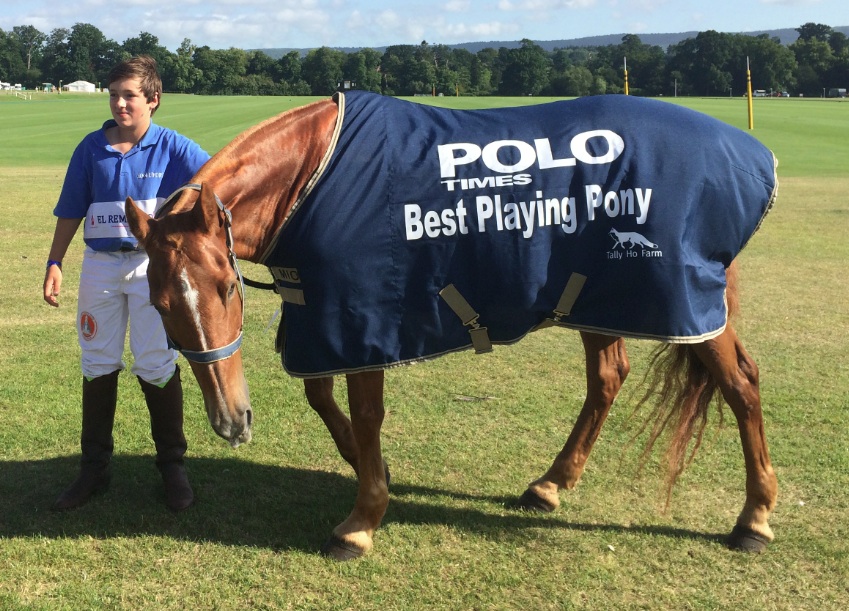 188 Players Complete the Tournament
On Sunday 7 August, all the hard work of Pony Club polo players came to an end with the Finals at Cowdray Park Polo Club. 188 ponies and players descended on the Club with some teams coming from as far as Scotland and Ireland to take part. The games were well supported by a number of sponsors this year including El Remanso, Thai Polo & Equestrian, Polo Splice, Roxtons, SATS and RJ Polo. The parade on Lawns 1 was a sight to behold as all the children lined up on their ponies for a photograph and Squidge Grayson and her dun pony Flora were presented with the Jambo Trophy before they were all allowed to canter off the grounds. The Jambo Trophy is awarded to the best pony and player combination that hunt and play polo. Considering this is the largest mounted parade of polo players in the world, it was very orderly and miraculously everyone made it back to their boxes still on board.
The Gannon Final between Old Surrey & Burstow Green and Cotswold Hunt was an excellent four chukka match. The score really didn't reflect the hard work and skill by both teams, but ended with a strong score win by Cotswold Hunt of 7-4½. Tommy Severn also collected the SATS Saddle Award for the best player of the season, which was won last year by Cody Jones from the Old Surrey & Berstow Hunt.
A plethora of awards to all section winners and respective runners up were handed out at the presentation of prizes including awards for excellent stable management. Polo Times Best Playing Pony Awards also went to George Deverells' pony Moneypenny, Peter Murdoch's pony Spirit and Longdole Polo Clubs pony Cortorroa, all of whom received Polo Times rugs. Lolly Stanhope-White had an excellent day, picking up the Most Promising Player Award and as a double whammy her beautifull chestnut mare Whisk Away took the RoR Best Playing Pony Award. Ben Knott took home the most prolific prize, a week of tuition at El Remanso in Argentina, after being selected by the committee as a candidate who will gain the most from this wonderful experience.
A full report and role of honour will be in the September issue of Polo Times. If you would like to subscribe, order extra copies for anybody featured or renew your subscription now please click here.
Gannon Final teams:
Cotswold Hunt (1): Tommy Severn (1), Oscar Luard (0), Patrick Lodge (0) & Dominic Lodge (0)
Old Surrey & Burstow (0): Harry Hickmet (1), Claudia Thornett (-1), Tom Parry-Jones (0) & Will Golding (0)
Photograph: Peter Murdoch and his Polo Times Best Playing Pony Spirit. By Lucy Wilson
http://www.polotimes.co.uk/?pg=35