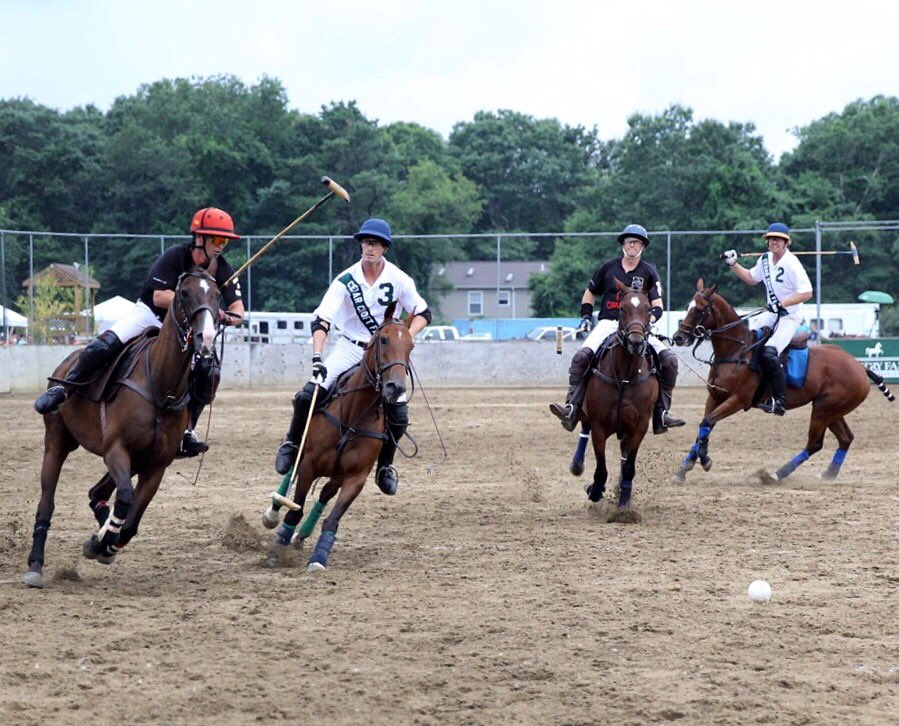 Jared Sheldon made his California fans proud as he scored ten times in leading NYC Polo (Sam Ramirez, Jared Sheldon and Matias Magrini) to a 17-15 US Arena Open Championship win over three-time defending champ, Cedar Croft (Robert Ceparano, Felipe Viana and Kris Kampsen) Saturday night at the Country Farms Polo Club in Medford, New York.
The two teams med in the opening round of tournament play with Cedar Croft getting the better of NYC Polo, 12-11, with Sheldon scoring ten times in the loss. Saturday evening was a different story, however as NYC Polo charged out to an 8-6 halftime lead and holding on for the 17-15 win.
Sheldon scored ten goals for the win and was named MVP. 9-goaler Matias Magrini added five goals and the team received two goals on Penalty ones. Kris Kampsen scored a game-high 11 goals for Cedar Croft. Felipe Viana added two goals and Bobby Ceparano added a goal in the loss. The team also received a goal on a Penalty 1.
Matias Magrini's "Tatero" was named Best Playing Pony.
Sheldon finished with a tournament high 28 goals. Kampsen was second in scoring for the tournament with 27 goals.
Equuleus wins US Arena Handicap, 17-15
Equuleus (Joe DiMenna, Magoo Laprida and Tommy Biddle) rebounded from two straight losses to defeat Miller & Miller/Don Ercole (Santino Magrini, Torito Ruiz and Juan Martin Zubia) 17-5 to win the US Arena Handicap.
Equuleus spotted the 12-goal Miller & Miller/Don Ercole team five goals by handicap to start the game but had tied it at 10-10 by the end of the first half.
Equuleus outscored Miller & Miller/Don Ercole 7-5 in the final two chukkers to secure the 17-15 victory. Tommy Biddle and teammate Magoo Laprida scored eight goals apiece for the win. The team also received a pony goal. Torito Ruiz scored five times for Miller & Miller/Don Ercole. Juan Martin Zubia added three goals and the team received five goals by handicap.
Biddle was named MVP with Laprida's "India" earning Best Playing Pony honors.
Alex Webbe