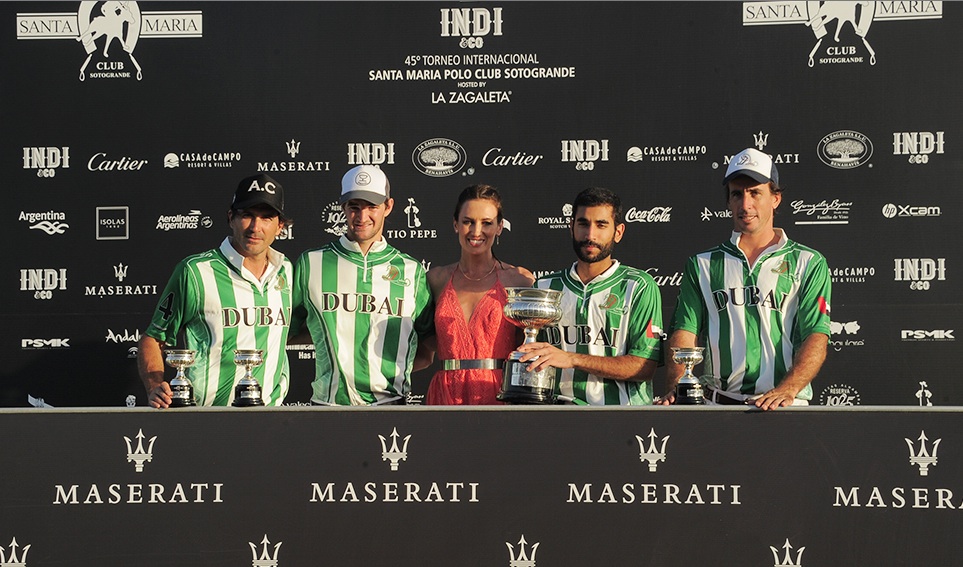 The latest from Santa María Polo Club
The Sotogrande season is in full swing, with plenty of polo action in the low, medium and high goal levels. Here we bring you a summary and update on the ins and outs of the Spanish season.
In the Isolas 1892 Silver Cup, following numerous matches – which notably saw Bronze Cup champions Sotovila defeated by Lechuza-John Smith thanks to a last minute goal by Pelayo Berazadi and an overall score of 10-9 – the Final is set to be played on Saturday 13 August between Lechuza-John Smith, featuring Luis de Borbón (0), Fernando Primo de Rivera (1), Pelayo Berazadi (4) & Gabriel Aguiree (1), and Brit team La Clarita, with a line-up of Claire Mathias (0), Chris Mathias (0), Thiago Gallego (3) & Freddie Horne (3). Meanwhile, on the same day, the Subsidiary Final will see El Campito versus Chester Race Course. Stay tuned to the Polo Times website, social media and September issue for more!
Stepping up a level, the medium goal Aerolíneas Argentinas Silver Cup has seen some high goal-scoring tallies in the league games to determine the qualifying teams for the Semi Final played yesterday on Thursday 11 August and the Final on Saturday 13 August. In the two Semi Final matches Brunei defeated Sainte Mesme 9-8 and Seven Sevens defeated Golden Goose Deluxe Brand 13-9. The results mean that Seven Sevens and Brunei will face each other in Saturday's Final for the Aerolíneas Argentinas Silver Cup.
The Casa de Campo Silver Cup has nearly reached its culmination, with the Finals being played today, Friday 12 August. On Tuesday 9 August, despite an even first half, Brunei took the reins and overtook Lechuza Caracas with a final score of 14-9. Pablo MacDonough, ably assisted by his teammates, scored eight of Brunei's 14 goals and was justly rewarded with the Most Valuable Player accolade. At the same time, Los Pinos field two saw Ayala take on the mighty Dubai. Arguably the shock match of the tournament, saw Ayala defeat Dubai 15-10, who were so far unbeaten in the tournament. Ayala's defeat of Dubai resulted in a penalty shootout for the Casa de Campo Silver Cup, which saw both Adolfo Cambiaso and Jejo Taranco miss their 60 yard penalties for Dubai, meaning Dubai faced Lechuza Caracas for the Maserati Bronze Cup on Thursday 11 August which Dubai Polo Team won with a score of 11-7.
Meanwhile, the champions of the Silver Cup will be decided this evening in the Final between Ayala, featuring Brit Jack Hyde (3) alongside Inigo Zobel (0), Facundo Pieres (10) & Nico Pieres and Brunei, with a line-up of Pablo MacDonough (10), Bahar Jeffri (1), David Stirling (10) & the young British player Josh Cork (1).
Photograph: Winners of the Maserati Bronze Cup Dubai Polo Team. Courtesy of Santa María Polo Club
http://www.polotimes.co.uk/?pg=35