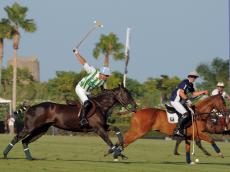 45th INDI International Polo Tournament
Friday 5 August – Sunday 7 August saw a flurry of matches played at Santa María Polo Club across all levels in the 45th INDI International Polo Tournament.
In the high goal section, Sunday 7 August saw two matches being played. The mighty Dubai took on Dos Lunas A&G Banca Privada, with Dubai securing their third consecutive win with a 13-7 triumph over Dos Lunas A&G Banca Privada. Dubai's victory saw them attain enough points to become the first finalists of the Casa de Campo Silver Cup, despite one match remaining between them and Ayala on Tuesday 9 August. Additionally on Sunday, the sun-bathed crowds of Sotogrande witnessed a nail-biting match as Ayala, featuring Brit Jack Hyde, defeated Lechuza Caracas by just one goal, with a final score of 12-11. The final round of qualifiers on Tuesday 9 August will determine if it will be Ayala, Brunei or Lechuza Caracas who will join Dubai in the Casa de Campo Silver Cup Final.
The Aerolíneas Argentinas Silver Cup in the medium goal saw five matches played from Friday to Sunday. Friday 5 August saw Brunei, who remain undefeated in the medium goal, defeat Royal Salute with a score of 9-8, whilst Golden Goose Deluxe Brand also beat Twenty/20 by 11-8. The fast-paced action continued on Saturday 6 August on Santa María Polo Club's Río Sotogrande pitches. GSA were triumphant over Santa Quitería with a score of 10-8. Meanwhile, Seven Sevens, featuring young British player Ollie Cork, stormed to victory against Kazak 14 goals to 8, meaning the team remains unbeaten so far in the tournament for the Silver Cup. By Sunday 7 August, the frenetic pace seemed to have cooled off, with just one match being played between Sainte Mesme and Golden Goose Deluxe Brand, however with the two teams both determined to secure the win, a close match finally saw Sainte Mesme snatch victory with a one goal advantage and final score of 12-11. Today, Monday 8 August, will see three matches: Kazak vs Santa Quitería, Brunei vs Twenty/20 and The Emerging/FCT vs Royal Salute.
Last but not least, with The Isoloas Bronze Cup all wrapped up, with Sotovila crowned champions on Sunday 31 July, the low goal focus has turned to the Isolas 1892 Silver Cup action. Saturday 6 August saw four matches played; La Clarita flew the flag for England with a 10-6 defeat over Valdeparras, Bronze Cup champions Sotovila continued their winning streak with a close 10-9 victory against Richard Thomas' Chester Race Course. The action continued with wins for Lechuza John Smith against El Campito, and Bayswater defeated Jolly Rogers, 7-8. Today's matches will see Lechuza John Smith vs Jolly Rogers, El Campito vs Bayswater, Chester Race Course vs Valdeparras and Sotovila vs La Clarita.
Photograph: Dubai have qualified to play in The Casa de Campo Silver Cup Final. By Santa María Polo Club
http://www.polotimes.co.uk/?pg=35