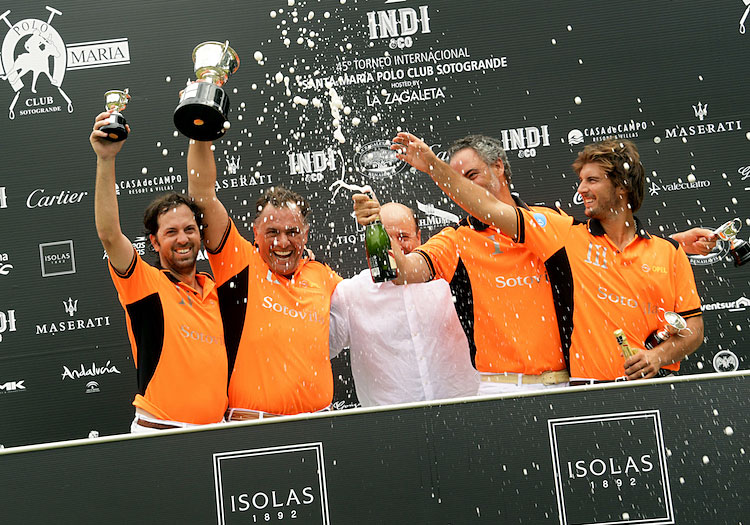 Low goal was defined, while medium goal started and high goal continued the battle
Sotovila was crowned champion of the Low Goal Bronze Cup Isolas 1892 after defeating Jolly Rogers in the finals by 10-9. The win by the quartet formed by Daniel Entrecanales, Carlos Piñal, Diogo Gallego and Pedro Beca reached OT and won thanks to a 60-yard penalty converted by Diogo Gallego. It was a very rowdy match as both teams alternated the lead in the scoreboard, and the widest goal difference was just two goals (Jolly Rogers 7-5 in the fourth chukka), which proves the level of both teams of this final was even. Sotovila then, was the first team to raise a Cup in the 45th INDI International Polo Tournament. The subsidiary final was also defined during OT and it went to La Clarita (Claire and Chris Mathias, Tiago Gallego and Freddie Horne) that defeated El Campito by 8-7.
Medium Goal Aerolineas Argentinas Silver Cup
The match between Seven Sevens and GSA inaugurated the Aerolineas Argentinas Silver Cup in the medium goal category. Seven Sevens, the team formed by Dimitri Vozianov, Nicolás Espain, Santiago Laborde and Ollie Cork defeated GSA by a tight 13-12. The medium goal will continue next Tuesday with a double match day in the Río fields of Santa María Polo Club from 17.30 hs.
High Goal Casa de Campo Silver Cup
On Friday, Ayala Polo Team defeated Dos Lunas A&G Banca Privada by 13-11 in the second day of the Casa de Campo Silver Cup of the 45th INDI International Polo Tournament organized by Santa María Polo Club. The match, played on the Los Pinos field 3, put the two strongest Sotogrande clubs in the whole tournament against each other. Finally, it was the team from patron Íñigo Zobel with the talented brothers Facundo and Nicolás Pieres and the Englishman Jack Hyde, the victorious team in a very rowdy match in which the leadership fluctuated constantly. The Casa de Campo Silver Cup will be played tomorrow, two matches will take place on this third day.Lechuza Caracas, the team of Venezuelan patron Victor Vargas will make its debut this season in Sotogrande facing Dubai from Emirati patron Rashid Albwardy and Adolfo Cambiaso. Dubai has defeated Brunei by 16-12 in the first day and is awaiting the debutante Lechuza Caracas in the match that will be played at 19:00 on the Los Pinos field 3. Simultaneously, in the Los Pinos field 2, Brunei will play against Dos Lunas A&G Banca Privada. Both teams have been defeated in their respective debuts and need to win to keep on the race for the Casa de Campo Silver Cup.