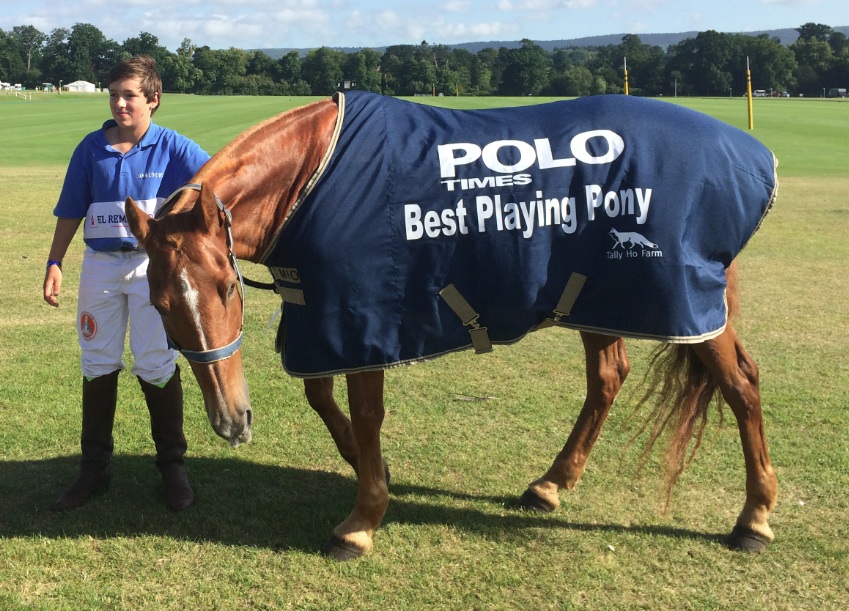 Fun in the Sun at RCBPC
Sunshine bathed large crowds who descended on the Berkshire Club for a Sunday packed full of polo action, picnics and a great finale party.
The polo action kicked off with the 10 goal Final for the Jeff Thomas Trophy. A healthy eight teams had entered the tournament, with Mansfield Advisors and Altai Himalaya/Emsworth making it through to the hotly contested Final which saw the red-shirted Mansfield Advisors run out the winners. Julie Thomas and Chris Adkins of Tally Ho Farms made the presentations, with Miguel Ayala picking up The Polo Magazine Most Valuable Player Award, whilst Pancho Torres on the opposing team was delighted to see his seven-year-old mare Maria awarded the Polo Times Best Playing Pony prize.
The second contest of the day was between Asian Art and Emsworth Polo Grounds who had emerged as the -2-2 goal Polo Festival Finalists, out of a strong entry of 13 teams. In an extremely close game, which went to an extra chukka and widened goals, it was eventually Asian Art who clinched the win. The team's success was further compounded by young 1 goal player Jamie Grayson picking up both The Polo Magazine Most Valuable Player Award and also the Polo Times Best Playing Pony rug for his mare Apache.
As the temperatures soared it was the turn of the ladies to do battle as Fit 4 Polo took on La Brava Polo School in the Ladies' Final. It was a closely matched game which saw strong play from all involved, but as the final bell rang the red-shirted La Brava Polo School had run out the winners. Their success was boosted further at prize-giving as Alex Jacob was presented with The Polo Magazine Most Valuable Player award and Rosie Ross' distinctive pony Bush Pig was the deserving winner of the Polo Times Best Playing Pony prize.
It was a fun day out with families enjoying pitch-side picnics, trade stand shopping and great offerings from the food village. As the afternoon turned into evening, the party mood revved up as did the music flooding onto the polo field. Informal football games, drinks on the terrace and polo chat into the evening was a fitting end to a wonderful day and the conclusion of a great Tally Ho Polo Festival.
10 Goal Jeff Thomas Final teams:
Mansfield Advisors: Andrew Burke (0), Phil Sellar (2), Fabio Lavinia (4) & Miguel Ayala (3)
Altai Himalaya/Emsworth: Emil Arber (0), D'Artagnan Giercke (1), Benja Urquiza (5) & Pancho Torres (3)
-2 –2 Goal Polo Festival Final teams:
Asian Art: Jack Aldridge (-2), Jamie Grayson (1), Miguel Ayala (3) & Chris Bruckner (0)
Emsworth Polo Grounds: Mani Arber (-1), Emil Arber (0), Mariano Darritchon (3) & Joe Arber (0)
Ladies' Final teams (HPA women's handicaps):
Fit 4 Polo: Lucy Sones (1), Nell Jacob (3), Steph Haverhals (4) & Sarah Wiseman (7)
La Brava Polo School: Alexandra Bencikova (1), Dayna Waechter (1), Alex Jacob (4) & Rosie Ross (4)
Photograph: The Tally Ho Polo 10 Goal Polo Times Best Playing Pony was presented by Chris Adkins of Tally Ho to Pancho Torres. By Polo Times
http://www.polotimes.co.uk/?pg=35