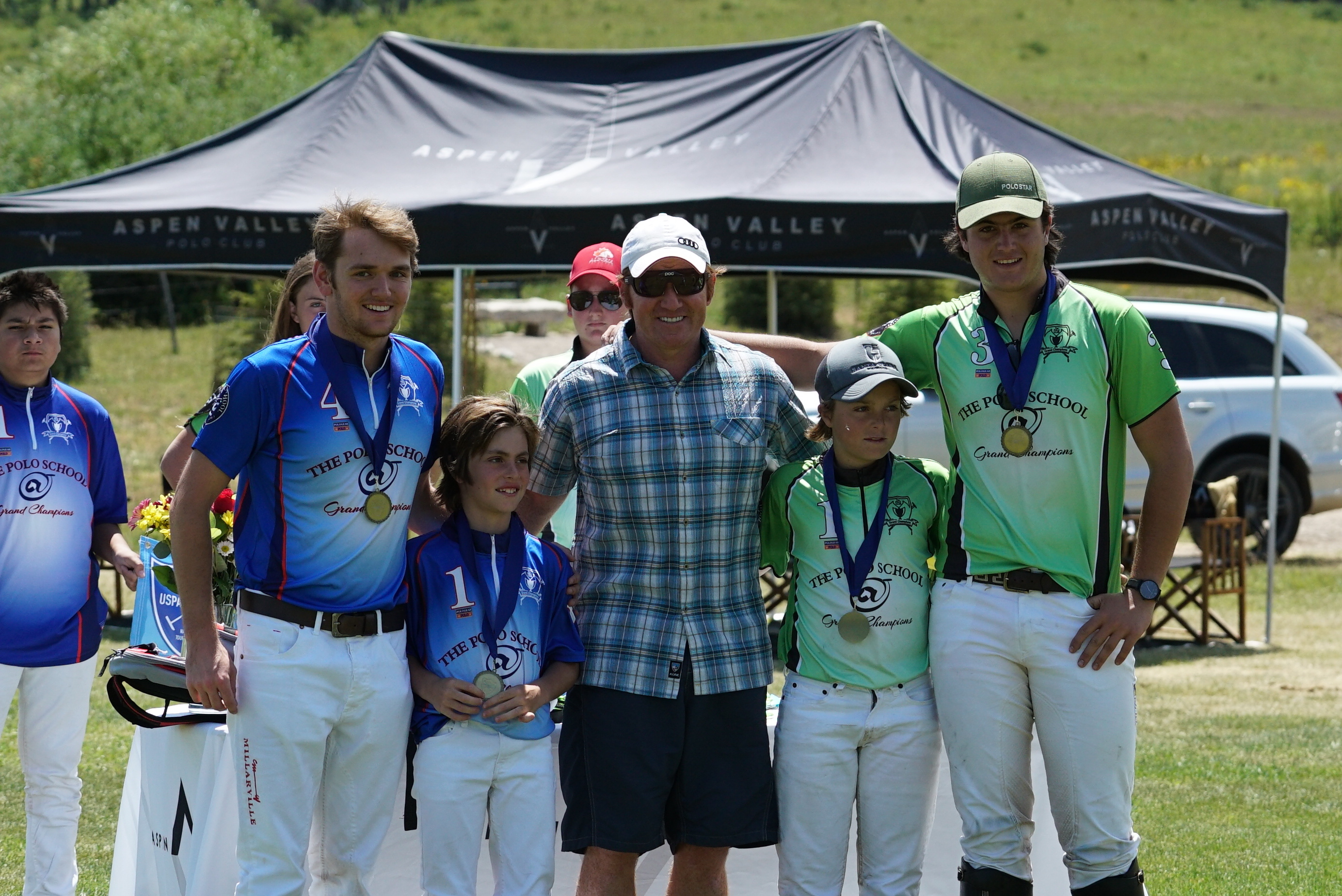 Nine players faced off against one another Saturday afternoon in a four chukker match for Aspen Valley Polo Club's NYTS Tournament at the Sopris Mountain Field with Polo School Blue (Nikko Ramirez/Rufino Merlos, Riley Ganzi, Santos Bollini and Grant Ganzi) meeting Polo School Green (Santos Merlos, Olivia Merlos, Segundo Merlos and Michael Calle), and Polo School Blue escaping with a last chukker, 5-4 victory.
A scoreless opening chukker saw great individual efforts made by both sides but the teamwork and rhythm weren't there as neither team was able to coordinate an effective attack, 0-0.
Polo School Green came alive in the second period with Olivia Merlos scoring the first goal of the game followed by a goal from her brother Segundo Merlos, 2-0. Polo School blue responded with a goal from the field from Santos Bollini followed by a 60-yard penalty conversion from Grant Ganzi. At the end of the first half it was all even at 2-2.
Both defenses tightened in the third period. Grant Ganzi missed on a 60-yard penalty shot as Segundo Merlos converted on a 30-yard penalty shot. With one chukker left to play, Polo School Green held a delicate one goal lead, 3-2.
Santos Merlos opened the scoring in the fourth period that stretched the Polo School Green lead to two goals, 4-2, but Polo School Blue wasn't done. Fourth chukker fouls by Polo School Green provided to be costly as Rufino Merlos converted three consecutive 30-yard penalty shots for goals and a 5-4 Polo School Blue victory.
Rufino Merlos led all scoring with three goals. Grant Ganzi and Santos Bollini each added a goal for the win. Segundo Merlos was high scorer for Polo School Green with two goals. Olivia Merlos and Santos Merlos each added a goal in a losing effort.
Four All-Stars were selected from the match to be considered for national competition. They were: Santos Merlos and Segundo Merlos from Polo School Green and Rufino Merlos and Grant Ganzi from Polo School Blue.
Santos Merlos, Segundo Merlos and Olivia Merlos are the children of Argentine 9-goaler Sebastian Merlos. Rufino Merlos is the son of Argentine 9-goaler Agustin "Tincho" Merlos while Grant Ganzi is the son of Aspen Valley Polo Club founders Melissa and Marc Ganzi.
Polo action returns to the Aspen Valley Polo Club on Sunday with the 11am final of the Emma Challenge Cup between Tonkawa (Jeff Hildebrand, Teo Calle, Tincho Merlos and Jimmy Seward) and Flexjet (Marc Ganzi, Tony Calle, Nic Roldan and Alex Gooding). A subsidiary round-robin will follow featuring Aspen Valley (Ale Poma, Grant Ganzi, Julio Novillo Astrada and Juancito Bollini), Los Amigos (Alejandra Foster, Carlitos Gracida, Lucas Lalor and Stewart Armstrong) and La Karina (Paul Foster, Brian Boyd, Sebastian Merlos and Gabriel Gracida).
The Aspen Valley Polo Club is located at 3275 County Road 100, Carbondale, CO. The public is welcome to watch polo in a relaxed atmosphere. Admission and parking are free. The club's Polo Hotline is 970-710-1663.
Three goals by Rufino Merlos lifts Polo School Blue to a 5-4 win in NYTS competition at Aspen Valley Polo Club