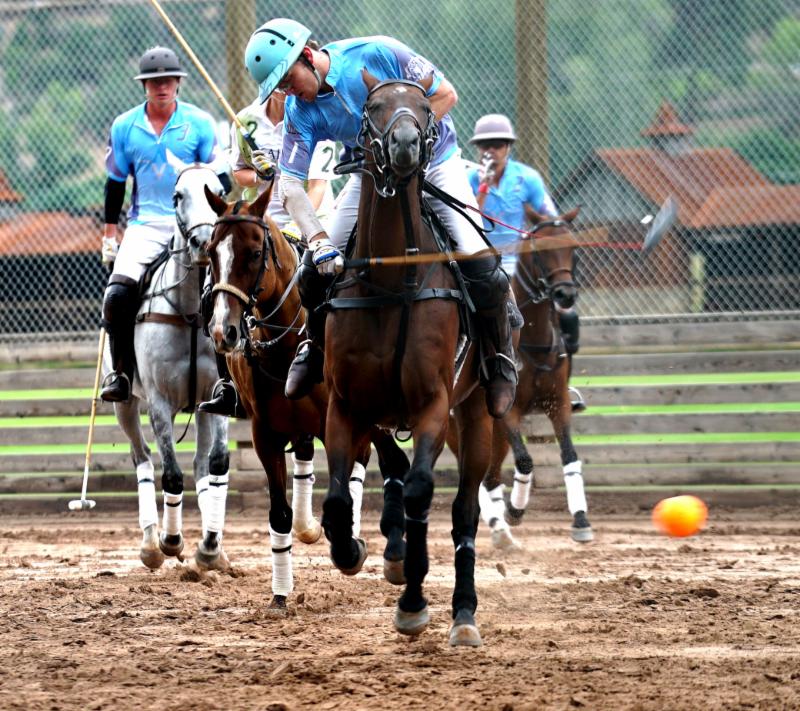 Aspen Valley Polo Club, Flexjet To Play For USPA National Arena Chairman's Cup Thursday At Aspen Valley Polo Club
By Arianna Delin, Sharon Robb for Aspen Valley Polo Club
Aspen Valley Polo Club and Flexjet advanced into the championship final of the USPA National Arena Chairman's Cup.
Aspen Valley Polo Club's trio of young up-and-coming players Grant Ganzi, Juancito Bollini and Lucas Lalor defeated La Karina, 12-2.5, and Sopris Mountain Ranch, 5.5-3, in the opening qualifier Tuesday at windswept Aspen Valley Polo Club.
The veteran team of Melissa Ganzi, Juan Bollini and Carlitos Gracida knocked off Grand Champions Polo Club, 6-2.5, and Audi, 5-3, in the other qualifier.
The final is scheduled for 5:30 p.m. Thursday and will be live streamed by ChukkerTV. The game will pit mother against son (Melissa and Grant Ganzi) and father against son (Juan and Juancito Bollini) in what promises to be a highly competitive game.
Grant Ganzi, 18, a freshman at Lynn University, led scorers with six goals in the opening game against La Karina. Lalor added four goals including a two-pointer. Ganzi added another goal to finish with seven and Lalor had two in the win against Sopris Mountain Ranch.
Flexjet got balanced scoring. In the opening game against Grand Champions Polo Club, Gracida led with three goals, Bollini had two and Ganzi added one. In the second game, Bollini and Gracida each had two and Ganzi had one.
In other qualifying two-chukker games:
Sopris Mountain Ranch (Segundo Merlos, Stewart Armstrong, Tomacho Pieres) defeated La Karina (Darren Tamplin, Ace Boyd, Julio Novillo Astrada), 5-3.5.
Audi (Marc Ganzi, Hilario Figueras, Nic Roldan) defeated Grand Champions Polo Club (Olivia Merlos/Santos Merlos, Will Jacobs, Tincho Merlos), 7-4.5.
Six two-chukker games determined the finalists.
The two-day, 8-12-goal outdoor arena tournament, resurrected after a 10-year absence, featured top players Nic Roldan, Tincho Merlos, Julio Novillo Astrada and Tomacho Pieres as well as players making their USPA arena national tournament debut including Stewart Armstrong, Ace Boyd,
Darren Tamplin, Will Jacobs, Hilario Figueras and siblings Secundo, Olivia and Santos Merlos.
"It's great to see all these young kids playing," said Aspen Valley Polo Club owner Marc Ganzi.
"These kids are playing great up here. They are going at it and playing hard. It's fun to watch everyone's skills come up this season."
It is the first time the nation's fastest-growing USPA polo club has hosted the prestigious event.
"It's huge, it's really great to play one of the big national tournaments here," Marc Ganzi said.
"There's only a couple of big major national tournaments that the USPA plays. We feel really privileged to host a USPA event and certainly to do it here on a great night like tonight. The competition is great. Aspen Valley Polo Club has played together for three years in the arena and know each other extremely well."
The last time the tournament was held was 2006 at Great Meadow Polo Club in The Plains, Va. Some of America's most notable names have competed including Billy Linfoot, Tom Goodspeed, Allan Scherer and Will Farish.
Aspen Valley Polo Club is one of the busiest polo clubs hosting various grass, indoor and outdoor arena tournaments and has been the hottest ticket during the 2016 summer season.
Polo has increased in popularity in Aspen and surrounding cities with the club's offerings of various
weekly tournaments, Gladiator Arena Polo, Kids Polo and The Polo School at the club owned by Marc and Melissa Ganzi since 2014, in addition to practice sessions for teams competing in the weekend tournaments.
ChukkerTV, leaders in polo broadcasting, is live streaming the USPA National Arena Chairman's Cup along with the remainder of the 2016 summer season in Aspen and USPA East Coast Open later this month in Greenwich, Conn.
ASPEN VALLEY 2016 SUMMER SCHEDULE
Thursday, USPA National Arena Chairman's Cup Final, 5:30 p.m.
Friday-Sunday, Rocky Mountain Open
Aug. 24-28, The Carbondale Classic
http://www.hurlinghampolo.com/news/read/2280/USPA-National-Arena-Chairmans-Cup