On an exceptionally warm summer day, Oak Brook Polo Club officially kicked off their 2017 season with a 12-goal polo match against rival Arranmore on Sunday, June 11, at the Prince of Wales Field in Oak Brook, Illinois. Captained by John Greene (1), Arranmore defeated Oak Brook 13-11 in a close match with the score difference never more than two goals for either team. Team members included Del Walton (3), Tod Rackley (3) and Maco Llambias (5).
Oak Brook, captained by Chicago business leader Jim Drury included Horacio Onetto (4), Tomas "Toto" Obregon (4), Mariano Gutierrez (4) and substitute Pamela Flanagan (0). Drury began the match with some introductory remarks and welcomed the crowd from atop his horse before reality star Danni Allen, winner of Season 14 of NBC's Biggest Loser, sang an impressive rendition of the national anthem.
After the ceremonial bowl in, the match was underway and Oak Brook's Onetto scored the first goal of the afternoon off an open goal penalty 3. Not too long after, Walton did the same for Arranmore, again on a penalty 3.
Over 400 spectators were in attendance amidst the heat to enjoy a full six chukkers of polo in addition to participating in contests such as the Barrington Saddlery's Mallet Challenge, Best Hat Contest, Polo Trivia and the traditional halftime Divot Stomp. Players ran the ball several times up and down the west and east side of the field to give field-side spectators an understanding of the speed and urgency of a 12-goal polo game.
"Despite the temperature, an enthusiastic crowd came out to enjoy a thrilling match of 12-goal polo, which has not been seen in over a decade at Oak Brook," explained Drury. "We saw record attendance in our club and sponsor seating areas and everyone expressed excitement at seeing the new venue configuration and amenities, including elevated stadium seating, Room & Board patio furniture, the Pimm's Chukker Bar and more."
The winning goal was shot by Del Walton who had 10 goals total and received MVP honors. Other high goal scorers include Oak Brook's Onetto and Obregon who tied with four each.  Best Playing Pony went to "Peacemaker" owned by Onetto.
"Jim Drury and the Oak Brook Sports Core have done an amazing job with the field and bringing it back to where high-goal, competitive tournament polo can be played again," added Arranmore captain John Greene.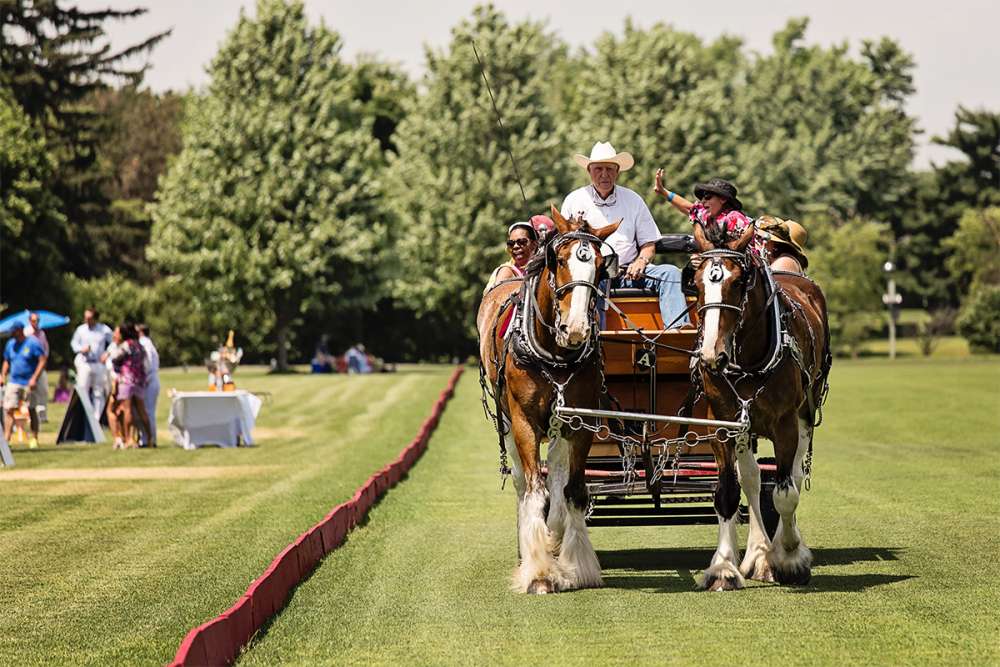 The Oak Brook polo team's home schedule features seven matches and includes the return of the "Commander's Cup" and "Horses & Horsepower" events in addition to the "International Polo Series."  The team will also be competing in several 8- to 12-goal competitions and tournaments outside of Oak Brook including matches at Arranmore Farm & Polo Club (Oswego), Morgan Creek (Yorkville), Due West (Chicago), Font Farm (Plano) and other Chicagoland area polo clubs and fields.
2017 marks Oak Brook Polo Club's 95th season as one of the nation's oldest polo clubs in operation today and fourth oldest sports property in Chicago. Once considered the "polo capital" of the world, Oak Brook was a destination for American polo players and enthusiasts.
Oak Brook Polo Club is located at 2606 York Road, seventeen miles from Chicago's Loop.  A variety of ticket options are available at www.oakbrookpoloclub.com. For general information, event scheduling, and parking directions, please call 630-368-5095.