The helicopters usually deliver the well-heeled guests to the polo, but today they were used to dry the ground ahead of tomorrow's Land Rover NZ Polo Open.
After more than 90mm of rainfall in the last 48 hours, open organisers have taken extra steps to stabilise the field at Clevedon ahead of the tournament.
The twin engine squirrel chopper hovered over the playing arena for four hours today to ensure it was up to the rigours of the fast and furious polo event.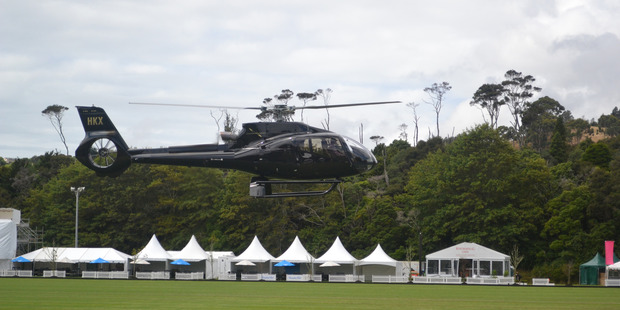 Choppers are commonly used in America to dry football fields before high profile matches and this technique has also been used twice at the Argentine Polo Open, the world's most illustrious polo tournament.
"The Land Rover NZ Polo Open is Australasia's premier Polo tournament," executive director Hannah Marshall said.
"With a strong reputation on the global Polo calendar and players from around the world here to participate, we are doing whatever it takes to ensure the competition is a great one."