Oklahoma City is widely known for great farm land, oil wells and cowboy culture, but many may not be as familiar with the active polo facility in Jones, Oklahoma, only 19 miles from the city known as the "Big Friendly." Owned and operated by Great Plains Circuit Governor David Ragland and his wife Judy, OKC Polo Club serves as the go-to place for fun, family-oriented polo for players of all ages in the region. No amenity was left out when designing the club—two polo barns, an arena, two practice fields, a track and a wooden practice horse, all compliment a regulation size polo field. After practices and games, players and guests can enjoy a lovely shaded area perfect for relaxing on a hot day.
"In the 1980s and 90s there was quite a bit of polo in Oklahoma because of two local families involved in the sport," David Ragland said. "By the early 2000s polo had subsided in the area and we came up with the idea of creating a polo club and teaching safe riding and the basics of polo. There were not any pros here at the time, so we had to develop the club from the grass roots up."
OKC operates a full summer season each year May through October with the Raglands at the helm of operations. Barn manager Alberto Tadeo, along with several dedicated members, serve as support during the six-month season each year. A first for the club this summer was the addition of intercollegiate player Devan Groves, USPA Polo Development 2017 Excellence Award winner. "We have seven or eight school horses that we use in our lesson program," said Ragland. "As people advance we have horses for sale and horses that we rent. I started out teaching. and have taught for several years, but just this summer I worked as back up for Devan, who is a senior at Oklahoma State University, captain of the polo team, and very close to becoming a USPA Certified Polo Instructor." Aside from teaching at OKC Polo Club, Ragland serves as coach and advisor for the Oklahoma State University (OSU) men's and women's polo teams an hour away from the club in Stillwater, Oklahoma. Ragland's continued efforts with OSU further his mission to enhance polo in the area, and his years of experience combined with excellent help from Groves, made the summer lesson program at OKC Polo Club fun and enjoyable for many students.
Of the 12 USPA circuits, the Great Plains is the smallest. Despite encompassing Oklahoma, Kansas, Arkansas and part of Missouri, only a handful of clubs offer polo to those in the region. OKC Polo Club is on a mission to change these statistics with a solid approach to teaching and working with surrounding clubs. "We have a limited number of players spanning the region, so we try to travel and mix with several of the other clubs in the circuit," said Ragland. "However, those clubs are also working on advancing the skill level of their players in their respective areas, so it continues to be a work in progress. Susan Koehler is the Lieutenant Governor of the circuit and she has done an amazing job with her farm and facility of NWA Polo Club [Gravette, Arkansas]. USPA Polo Development, LLC has done a tremendous job helping us to develop polo in our areas, but it takes time and we are continuing to work on it."
The dedication to growth starts with a solid foundation for all horses and riders. "We try to start everybody in the arena," Ragland explained. "What that does is create a confined environment for both the horse and rider. You can quickly dispel any fear someone might have and help someone progress more quickly. Typically, summer clubs like ours are more oriented towards the grass. While we are promoting that, we are also building a reputation for having a great arena program. We find that some people enjoy staying in the arena and some like to go on grass, so we try to do both." OKC Polo Club begins each new player's education on the wooden horse to develop their position and swing; the students then get accustomed to tack and safety around horses, before moving on to mounted lessons and a coaching league.
Once a student has demonstrated their skills and passion for the game, he or she is encouraged to work towards becoming a horse owner. Ragland stresses, "we promote that all of our students buy horses. We think that if you really want to be involved and play the sport to its fullest, then a commitment to purchasing one horse can help get you there and get you in the spirit of the game. We are upfront about the fact that polo can be an expensive sport, but we try to make it as easy and inexpensive as possible, by providing opportunities to play with just one horse. Most importantly, everyone here learns and has fun from day one, when they start their first lesson, to the day they buy their own horse."
Horse ownership is taken seriously at the club and the process is carefully considered for each rider. "My husband and my boys began playing polo through OKC Polo Club," said member Espanta Steppe. "David is so good at helping match riders and horses. Sometimes building your string can be a gamble if you are inexperienced, but David takes the time to help us try and play horses that work for us. When you have the right horses, that someone with your best interests at heart has helped you pick out, then it just adds so much to your confidence and makes playing the games even better."
Although spectating games is encouraged at OKC Polo Club, the main goal is to get new riders playing polo. "We are a private club, and we have a social membership that works on a recommendation basis," said Ragland. "Our goal is to get more players involved in polo. We are very happy to have people come and observe and participate, but the ultimate objective is to get new people on horses." This goal has been repeatedly met as new members embrace the sport and encourage their families to play as well. "I was asked a couple years ago to photograph an event at the polo club and found it very intriguing," said member Michelle LaVasque. "I had done hunter jumpers in the past but quickly developed a love for polo. Fast forward a few years later and I have convinced my husband to play and he is loving it too! I guess you could say are both hooked on polo thanks to OKC Polo Club."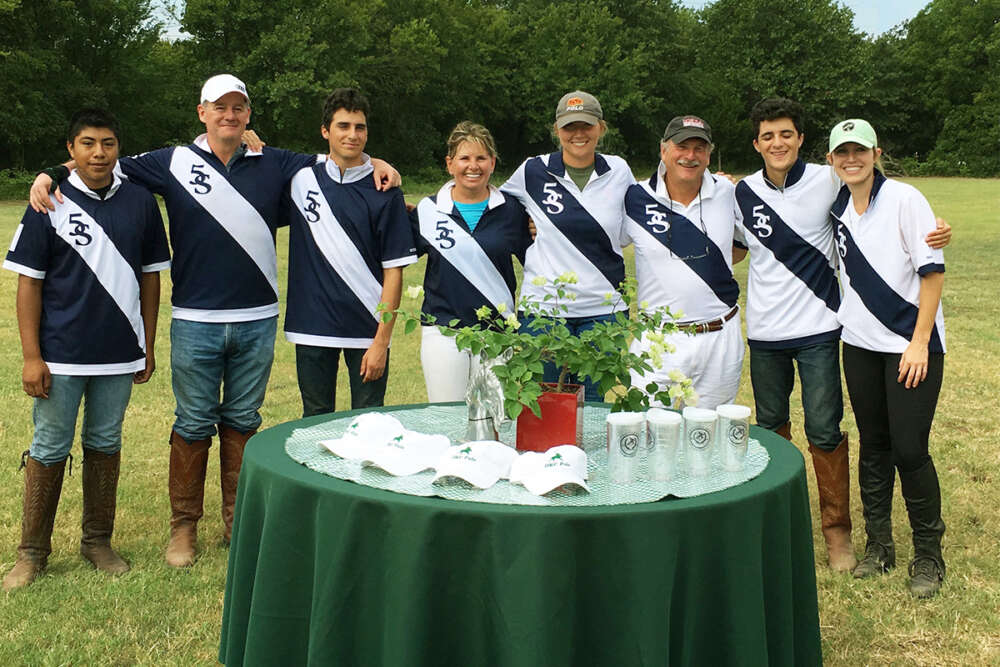 Whether for a lesson, practice or game, most Sundays turn into an event with polo as the focal point. "It has kind of turned into a family," said Steppe. "Every Sunday we all hang out and barbeque or potluck after games. Judy does a great job of coordinating everything for the asados and people pitch in and bring guests. I have never heard of anyone having a bad time when they come out. David and Judy have opened up their home to all of us and there is not a time that we go out there and do not have fun. We bring friends and family out to watch and we get so many compliments from people about how great it is to be at the club."
Polo surely has the potential to grow in the Great Plains Circuit thanks to the hard work and dedication of the OKC Polo Club. "I think both grass and arena polo have the potential to grow at our club," said Ragland. "There is an equestrian program developing in our area with the use of an equestrian trail that has recently opened in the downtown area, as well as a facility called Stockyard City that is in the urban area of Oklahoma City. We would love to see an arena eventually built at Stockyard so that we could teach some of our lessons there. For now, we are focused on continuing to educate and grow the sport in our area and look forward to the future."
For those interested in learning more about OKC Polo Club, please visit their website at www.okcpoloclub.com and make sure to "Like" them on Facebook (@OKCPolo) and Instagram (@okcpoloclub).