The San Diego Surf Polo Club Opening Day for the Season this past Sunday June 11th set a new record in several areas including paid attendance, VIP table sales, tailgating. Media and corporate sponsorships
USPA Club Delegate and President, Nour-Dean Anakar, who has been playing polo at the facility since for 22 years stated   "we have worked closely with Surf Cup Sports to preserve the sport of polo at the facility for many years to come and our goal is to make sure that the San Diego Surf Polo Club becomes the best polo events venue in the Country. Significant resources are being invested into the property including the restoration of all five existing polo fields and expanding open grass field space, building a new arena and new stabling facilities with a new year around polo school and equestrian operations, and the restoration of the Coast to Crest Trail to bring the facility back to its original beauty."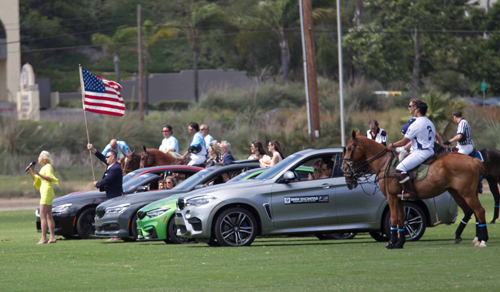 As an integral part of the Surf Cup Sports Venue, the Club set out on Opening Day to present the sport of polo in a well-planned and accessible way at the facility for all of members, players, sponsors, guests, and spectators to enjoy and the day was a huge success.. The Club featured the Rancho Santa Fe Cup low goal finals at 1pm with Team Venter Institute defeating Team Mckinney Capital by one goal in a very close battle, followed by the launch of the Club's 8 goal World Ambassadors Polo Cup Series, with an International match featuring the Club's team USA with three American pros and one American sponsor versus team Argentina with three Argentine pros and one Argentine sponsor. Team Argentina won by two goals in a fast, competitive, and exciting match enjoyed by the record attendance crowd, and the Club plans similar feature International matches throughout the summer and fall season with visiting teams and their sponsors representing other nations including Mexico, India, China, Switzerland, and Morocco.
The Club's 2017 season kicked off the first week of June consisting of bi-weekly Club tournaments with low and medium goal feature matches every Sunday.. In the second half of the season the Club will feature the USPA Officers Cup and will close the season with the USPA Spreckels Cup and the Celebrity Ranch Ladies tournament .
The full calendar for a full schedule anr td all details on the Club can be viewed online at at www.SanDiegoSurfPolo.com and information on all all Sunday polo feature matches can be be found at www.NighOut.com
The Club's sponsors for this season include, BMW Encinitas, San Diego Magazine, Charco Design & Build, Mckinney Capital & Advisory, Daou Vineyards , urf Cup Sports, SCelebrity Ranch Foundation, , Shubach Aviation, The Inn at Rancho Santa Fe, SnakeOil Cocktail Company, The Wild Thyme Company, and Classic Party Rentals.