When Good Thunder and Skaneateles met in the first match of the Northrup Knox Cup at New Bridge Polo & Country Club in Aiken, South Carolina, the competition showcased two very closely matched 12-goal teams. Skaneateles pulled ahead 11-10 to take the victory over Good Thunder and continued their winning streak into the Northrup Knox Cup Final undefeated. In a rematch of the first game of the tournament, their opponent Good Thunder arrived at the end with a (1-1) record.
Skaneateles' Costi Caset carries the ball along the boards.
A goal from Good Thunder's Pelon Escapite opened the game, but was answered by Skaneateles' Costi Caset * and Mariano Obregon, scoring a goal apiece to lead 2-1 in chukker one. Skaneateles then went full throttle, scoring in less than nine unanswered goals, to hold a commanding 11-1 advantage at the half.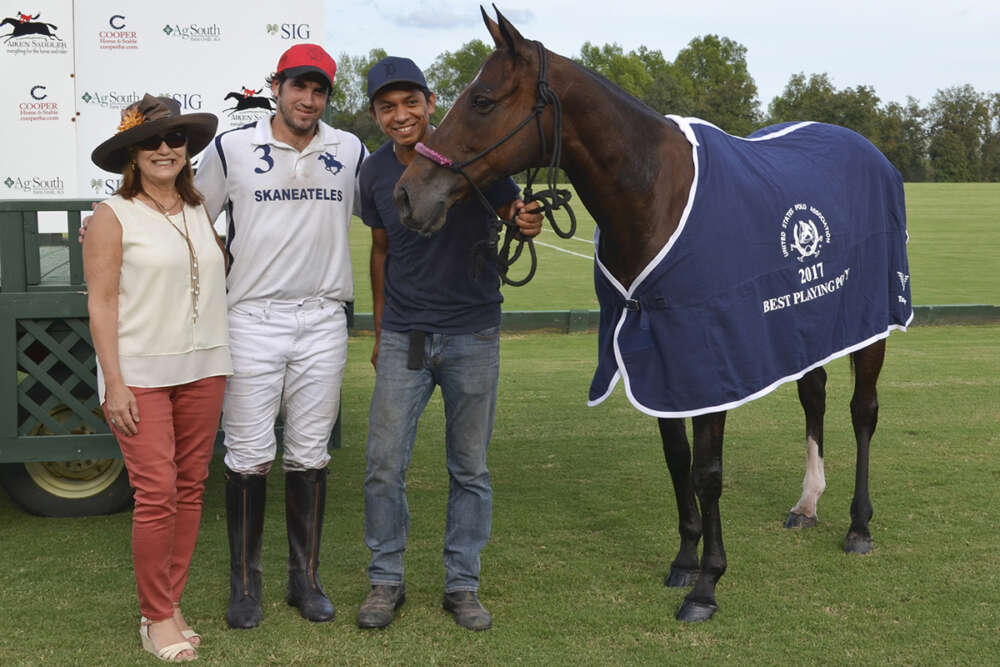 Best Playing Pony Fancy owned and ridden by Mariano Obregon, presented by Brenda Lynn and pictured with Marcos Esquivel.
Good Thunder had their work cut out for them managing to keep Skaneateles scoreless in the fourth. Finally making a valiant comeback effort in the fifth, another goal from Escapite followed by a Penalty 3 conversion from Eddy Martinez put Good Thunder back on the board. It was not enough however, the Skaneateles knocked four more between the uprights to maintain a substantial lead. Good Thunder continued their forward momentum into the final chukker scoring two unanswered field goals, including Matt Sekera's first goal of the day, but it was not enough to beat their second and third chukker deficit. Skaneateles took home the prestigious Northrup Knox Cup, and the first leg of the New Bridge 12-Goal Trifecta, with a final score 15-3. Most Valuable Player was awarded to Cesar Jimenez and Best Playing Pony honors were presented to Fancy owned and played by Mariano Obregon.
* Costi Caset is a member of Team USPA. Team USPA is a USPA program designed to enhance and develop the sport of polo in the United States by identifying young, talented American players and providing mentored training and playing opportunities leading to a pool of higher rated amateur and pro players and the resultant giveback to the sport of polo.
All photos courtesy of © Katie Roth.