The USPA is first and foremost an association of people who share a common love for the sport of polo. We are always sad to hear of the passing of those who have shared in our love of polo for such a long period of time. We share with great regret the passing of Mary Walton and Robert Schlesinger.
MARY LEE WALTON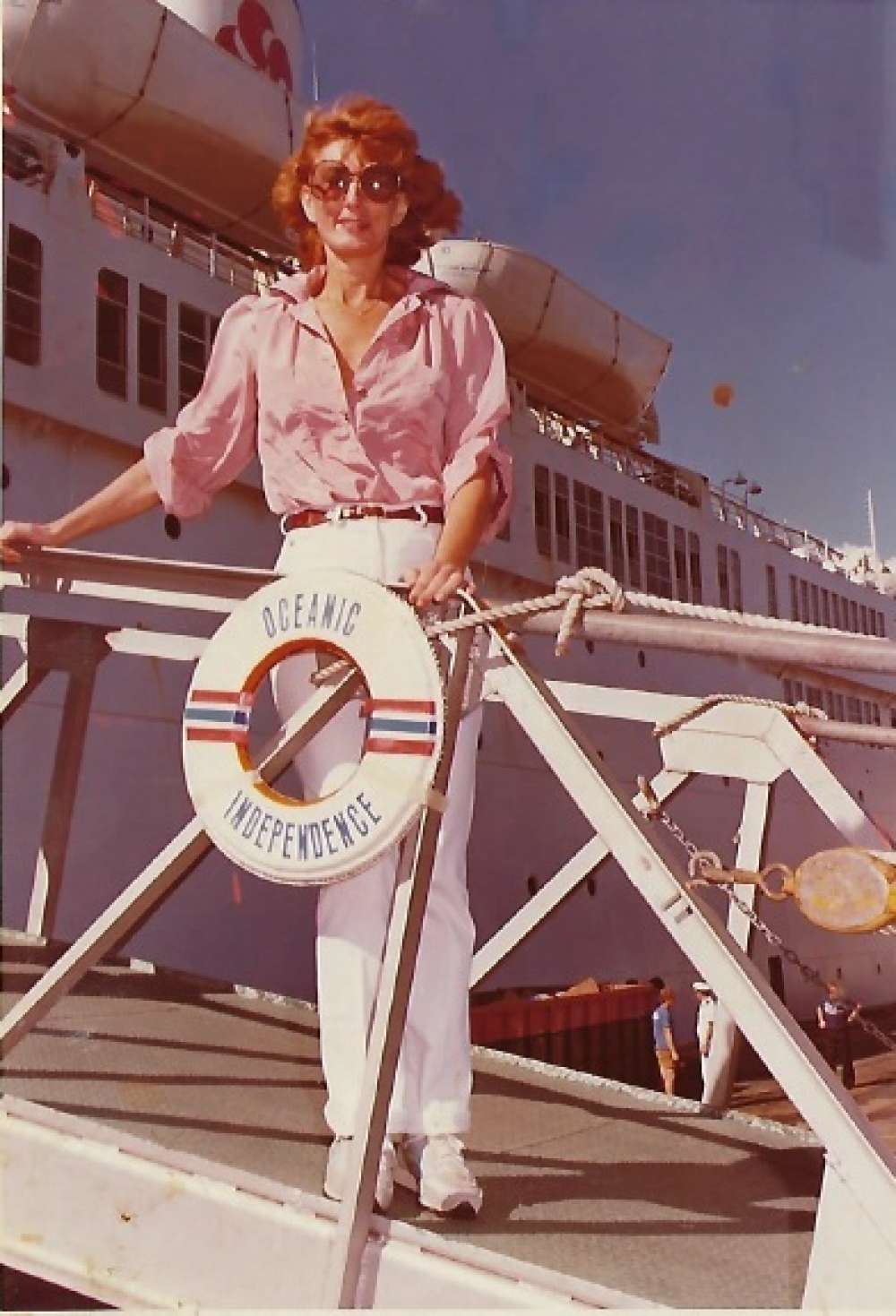 Mary Lee Walton, of Modesto, California, entered eternal life on July 15, 2017, surrounded by her family.   Loving wife of 64 years, devoted mother of six, doting grandmother and great-grandmother of eight, energetic businesswoman, generous giver, world traveler, instigator of so many things – that is a small way to sum up the fascinating life of Mary Elizabeth Lee Walton. Her spirit will be carried on by her immediate and extended family of relations and friends from every walk of life. We were blessed to learn many valuable lessons from Mary during her 86 years on earth. Among them: always enjoy the present company, women's equality is pertinent, sacrificing for the betterment of family is necessary, and ultimately how to make cinnamon rolls – the enticing smell which brought everyone in the neighborhood to the kitchen.
Mary was always more interested in you than herself. She would leave a party, having spoken to every person there.  If you told her times were hard, she would say, come on, you can do it.  Her travel agency business took her all over the world.  No detail was too small, as in what to eat in Hong Kong. She was athletic, rode horses, ran marathons and scuba-dived. She would order the appetizer with the intention to share what her companions were eating.  And, those cinnamon rolls? That was another side of Mary: hot, yeasty rolls laced with tons of butter, sugar and cinnamon. Her very own recipe, thank you very much.
Mary was born November 23, 1930, as the youngest child and only daughter of Edgar Sias Lee and Norma Irene Wight.  She grew up in Midland, Michigan and graduated from Midland High School. Her lucky choice to attend Stephens College in Columbia, Missouri, the country's second-oldest women's college, was perfect for this precocious teenager.  Stephens encouraged their students to be whatever they wanted despite what society dictated – and this was the late 1940s!
With her Stephens associate's degree, Mary transferred to the University of Michigan to study nursing.  While there, she happened to take a class taught by a young British-born doctor. He later became her husband, Dr. Robert G. Walton. The two were married in 1953 and decided to settle in Modesto, California where Dr. Walton opened a dermatology practice. Their dream was to have a large family and raise them on a ranch.  They succeeded on both accounts.
Mary was known for encouraging, hovering over and prodding her children, niece and nephews because she believed fiercely in their successes. Many holidays were spent in the Walton house where Mary always organized some outlandish game, such as passing out T-shirts with her picture and the caption: "Damn, I'm good." Or the high-energy balloon game where everyone had balloons tied to their bodies and held newspaper bats. The object was to break everyone else's balloons and be the last person standing with the most balloons. What a great excuse to break the ice!
The ranch was no ordinary one. Coming from the Midwest and with a brother studying with Frank Lloyd Wright, Mary wanted a custom designed home from the Old Master. She wrote him a letter and once he approved her site, he said yes. The house was in Wright's Usonian style with his signature wood furniture.  Mary became a member of the Frank Lloyd Wright Conservancy.
The presence of horses on the ranch led Dr. Walton to play polo in Golden Gate Park in San Francisco. Polo wouldn't be the same afterwards. Mary encouraged her children to participate in all equestrian activities. Her three sons became professional polo players and her youngest daughter was the first woman polo player at her high school.
That wasn't enough for Mary. A polo field was constructed on the ranch property and Mary and her daughter Betsy set up a tack shop. Their polo association led them to meet many famous people including the British Royal Family, Tommy Lee Jones, Sylvester Stallone, William Devane and Stephanie Powers; all of whom one or more Waltons competed with or against on various polo fields. When their oldest son suffered a serious accident playing polo, Mary and Bob became involved in supporting groups raising money to help severely injured players. In addition, they put on many polo benefits at the Walton Ranch to raise money for Hospice and Memorial Hospital.
As if running her children's lives, the family real estate and polo business weren't enough, Mary decided to open a travel agency.  She owned and ran Passport to Travel for 40 years, up until her death. She put together fascinating trips and her clients loved her.   When her daughter started Lady Walton cookies, the cookie recipe came from Mary.  But she did more than contribute a recipe; she became a founding investor in the business which expanded to become LWC Brands, Inc.
When women were admitted to Rotary in 1987, Mary didn't miss a beat.  She helped establish the Escalon Sunrise Rotary Club and served as its president. Her community involvement didn't stop with Rotary.  She was the president of League of Women Voters and Omega Nu Sorority; member of the Stanislaus County Grand Jury, the Republican Central Committee and the California Polled Hereford Women's Auxiliary; and an alumnus of Gamma Phi Beta sorority at the University of Michigan.
Mary is survived by her husband, Dr. Robert G. Walton; by her children: Betsy Walton of Pacific Palisades, California; Rob Walton of Foothill Ranch, California;  Bill, Susan and Mary Alizon Walton of Dallas Texas; and FD Walton of Modesto, California; her grandchildren: Del, Madeleine, Will, Sophie and Ali; by her three great-grandchildren: David, Calhoun and Harrison Walton; by her brother Fred Lee, her niece and godchild, Sarah Lee and her nephews, Robert and John Lee.  Mary has undoubtedly sought out in heaven her parents and her beloved brothers, Doug and Bill Lee, and most certainly has organized a card game.
The importance of Mary's profound effect in the lives of all she touched, particularly as a mother, women's advocate and initiator, will be celebrated in a Party to Honor Mary on Sunday, August 6, 2017 at the Del Rio Country Club, 801 Stewart Rd., Modesto, California 95356.  The family will receive friends from 1pm to 3 pm PST, at which time those who would like to share memories may do so. Private burial at Knight's Ferry cemetery.
In lieu of flowers, the family would appreciate contributions in Mary's memory made to one of her favorite organizations: Planned Parenthood of Los Angeles, (supportpp-la.org), Community Hospice of Modesto (hospiceheart.org), Escalon Sunrise Rotary Club, Salvation Army Modesto and the Polo Players Support Group, Inc., to support severely injured players, (www.polosupport.com).
ROBERT JOHN SCHLESINGER
Robert John Schlesinger passed away peacefully at his residence in Naples, Florida, after a long battle with cancer. Bob was born in Scarsdale, New York and was preceded in death by his parents, Marion and Henry Schlesinger and his sister, Joan. His daughter, JoAnne and her husband Michael are the proud parents of granddaughter, Lucia. His son, Jeffrey and wife Michele are the proud parents of grandson, Matthew. Bob is survived by his loving wife and constant companion, Jeannie.
Bob's formal schooling, as it were, was at the University of Virginia, where be belonged to the Zeta Beta Tau Fraternity and studied business management. However, Bob never stopped learning and applying knowledge, technology and guidance to the many different businesses he owned and/or managed over his lifetime. He was a totally committed business executive. He was a respected member of the Sports Builder's Association, where he continued to develop his adopted nickname of "Sweet Old Bob" (SOB).
SOB's passion for the ocean writ large was truly represented in his captain's knowledge and abilities at sea. In addition, he loved to fly and was equally adept at small craft piloting where he was an early in life enthusiast. But, his most serious pre-occupation in sports was in polo and the horses he rode and his insight and undeniable exuberance for the game of polo where his son, Jeffrey, became proficient and was his sporting highlight. He loved sports cars and being challenged by games. He was a great friend to those he connected with and could always be counted on for integrity, support and assistance. He was special.
Private cremation services had been arranged with the Fuller Funeral Home, Naples, Florida, and Bob's ashes will be appropriately placed at venues of his passions. We will miss his enthusiasm and verve. He was one of a kind, for sure
For online condolences, please visit www.fullernaples.com. Remembrances may be made in the form desired by friends, or by a donation to: Mass. General Hospital Thoracic Oncology Fund, www.giving.massgeneral.org/donate.