The 54° Jockey Club Open resumed on Saturday in Pilar with the first semifinal. The match saw 12 year old Poroto Cambiaso take to the field; the youngster has already won the Sterling Cup (20 goals) in the United States, and the Royal Windsor Cup (15 goals) in England. He was playing alongside his father on both occasions.
La Dolfina Brava I qualified for next Saturday's final after beating La Dolfina Valiente. Now Adolfo Cambiaso is looking for his third consecutive Jockey Open title.
LA DOLFINA BRAVA I 10-5 LA DOLFINA VALIENTE
La Dolfina Brava I: Diego Cavanagh 8 (2 penalties), Magoo Laprida 8 (4), Poroto Cambiaso 1, Adolfo Cambiaso 10 (4, 2 penalties). Total: 27.
La Dolfina Valiente: Rob Jornayvaz 1, Pelon Stirling 10 (1 goal), Pablo Mac Donough 10 (4, 2 penalties), Juan Martín Nero 10. Total: 31.
Score La Dolfina Brava I: 2-0, 4-0, 5-2, 8-2, 10-3, 10-5.
Umpires: Federico Martelli & Martín Pascual.             
Referee: Esteban Ferrari.
The Jockey Club Open is yet to confirm the new date for the second semifinal:
Las Monjitas vs Pilará Etiqueta Negra
JOCKEY CLUB OPEN: Fixture & Teams
PICTURE GALLERY:
La Dolfina Brava I vs La Dolfina Valiente
16 September, 2018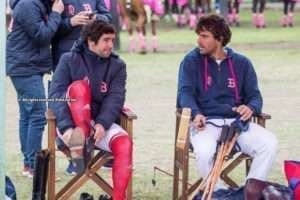 Jockey Club Open
Photos by: Matias Callejo