Sunday's finals of the Polo Masters were set after the matchday which took place on Friday at Polo Club Saint Tropez. The only spot available was taken by Marquard Media after beating Dark Ice in the 15-goal category. Thus, Thomas Rinderknecht's team will be playing its second final in the month in the Cote d'Azur after they also played the International Polo Cup two weeks ago. They will face Antelope.
15-GOAL CATEGORY
MARQUARD MEDIA 8-7.5 DARK ICE
Marquard Media: Ramiro Zavaleta 4, Nacho Kennedy 4 (1 goal), Martincito Aguerre 7 (5), Sacha Fedier 0 (2). Total: 15.
Dark Ice: Helen Goddard-Watts -1, Santiago Zubiaurre 5 (2 goals), Matías Carrique 4, Juani González 5 (4).Total: 14.
Umpires: Esteban Ferrari y Gastón Dorignac.
Score Marquard Media: (0-0.5) 2-1.5, 4-2.5, 5-2.5, 6-5.5, 8-7.5.
15-GOAL CATEGORY
CHATEAU D'AULNE 11-7.5 LAS PLANTAS
Chateau d'Aulne: Santiago Harriott 2T, Alexis Pouille de Balkany 2, Nito Uranga 6, Sebastián Harriott 6. Total: 15.
Las Plantas: Peter Kis 0, Tete Storni 5, Silvestre Fanelli 4, Esteban Panelo 4. Total: 15.
Umpires: Gastón Dorignac and Alex Roldan.
The Polo Master 2018 will resume on Saturday:
10am, 10-Goal Category: Battistoni vs Sagax
11am, 10-Goal Category: La Concepcion vs VT Wealth Management
POLO MASTER 2018 (15): Fixture & Teams
POLO MASTER 2018 (10): Fixture & Teams
PICTURE GALLERIES:
Marquard Media vs Dark Ice
28 July, 2018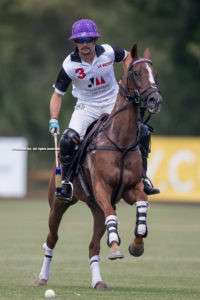 Polo Masters
Photos by: Matias Callejo
Chateau d'Aulne vs Las Plantas
28 July, 2018