His Royal Highness Prince Abdul Mateen, 26, loves Manchester United, cuddling tiger cubs, snorkelling – and yes, posting photos on social media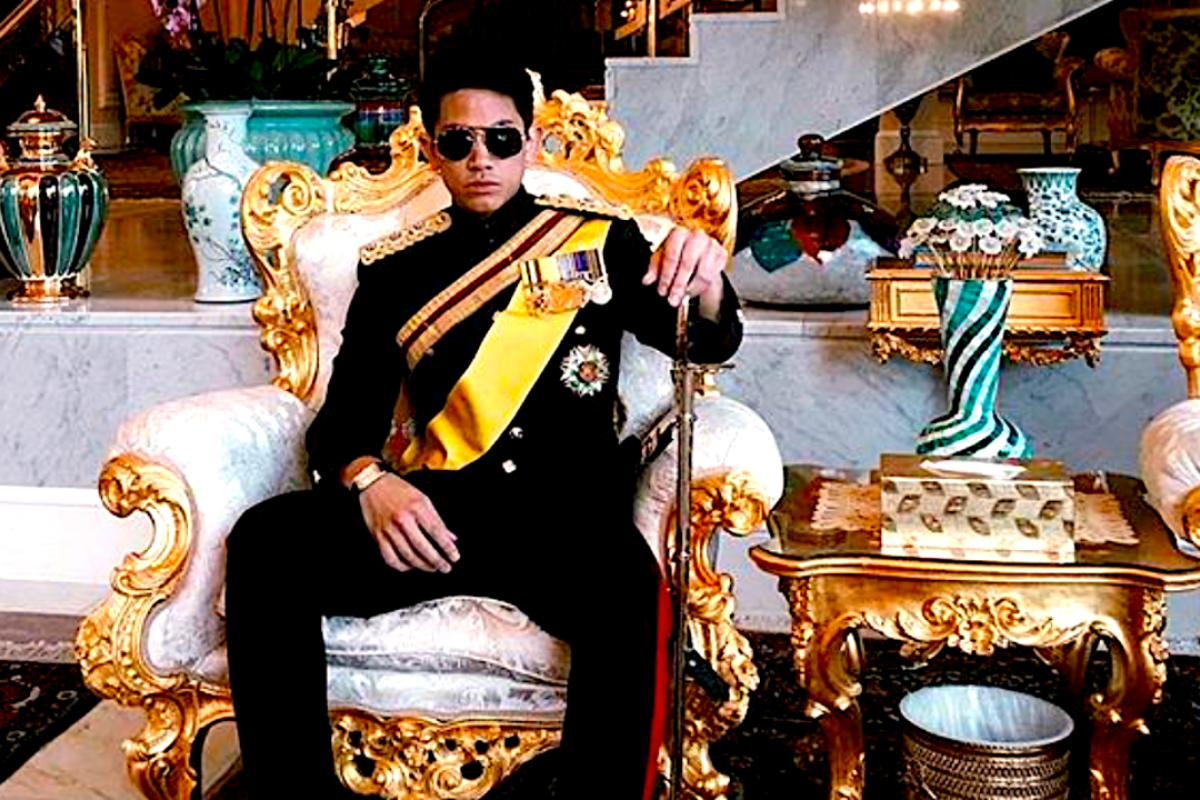 Brunei's Prince Abdul Mateen. Photo: Instagram
There are many things we don't know about the Asian country of Brunei, a tiny nation on the island of Borneo, but one thing we do know is it has a Prince who is not shy about showing off his wealth.
At the age of 26, His Royal Highness Prince Abdul Mateen shares photos of his insane life and adventures with his 733,000 followers on Instagram, where he is known simply as "Mateen".
He is one of five sons and seven daughters born to Brunei's ruler, Sultan Hassanal Bolkiah, according to Elite Daily.
With a father who has an estimated net worth of US$20 billion, his lifestyle is pretty lavish. He plays a lot of polo, flies private planes, and appears to spend a lot of time on relaxing on stunning beaches or cuddling up with wild animals.
However, when GQ Thailand interviewed the prince at the age of 24, they called him "a grounded man who doesn't like to flaunt his family's wealth", and is "more interested in the simple life, his passions, time with family and friends, and his other noble pursuits".
Scroll down for a look at the life of Brunei's super-rich Prince Mateen, who GQ named as "one of Asia's most eligible blue-blood bachelors".
This is 26-year-old Prince Abdul Mateen of Brunei, a tiny Asian nation on the island of Borneo, which is surrounded by Malaysia and the South China Sea.
He was born on August 10, 1991 to His Majesty Sultan Haji Hassanal Bolkiah, Sultan of Brunei, and his second wife, Puan Hjh Maryam. The couple divorced in 2003.
He is one of five sons and seven daughters – the 10th child – born to the Sultan, who has an estimated net worth of US$20 billion.
He lives a pretty incredible life, full of chilling in palatial-looking places …
… including a bedroom fit for a royal (complete with what looks like a leopard cub) …
… wearing insanely expensive watches …
… and often being surrounded by some pretty nice cars.
He often appears with exotic and expensive-looking animals, including tiger cubs, and reportedly calls himself the "father of tigers".
Here he is with a miniature horse …
… and a very fluffy cat.
He appears to spend a lot of time travelling, too, whether it's cruising the Mediterranean …
… exploring the dessert …
… hanging out on tropical islands …
…or riding a horse in the sea.
Mateen is pretty familiar with Britain, too. Now a lieutenant in the Brunei army, he graduated from the Royal Military Academy Sandhurst in 2011, which he called "the greatest thing he's ever done".
He told GQ Thailand that he entered Sandhurst when he was 18, and was one of the youngest candidates.
"Sandhurst is basically a 44-week gruelling course of leadership, mental strength and physical strength basically testing your ability to function under extreme pressure," he said.
Mateen said the most gruelling thing he did at Sandhurst was a digging exercise.
"We had to dig trenches for three days straight non-stop with no sleep, and every time I started to fall asleep, the instructors would kick me and wake me up – because that's what they are trying to do, physically exhaust you to your limit," he told GQ.
"At the end of it, having been physically exhausted beyond my limit, they would make us think, and solve problems – and that was one of the toughest things I've ever had to do."
He later graduated from the University of London's School of Oriental and African Studies where he earned a master of arts degree in international studies and diplomacy.
He got to take a few above-average "weekend getaways" while living in Britain.
He's also a Manchester United fan, and played a lot of football growing up.
"Honestly growing up I was a big football fan and David Beckham was my biggest idol, even till today I think he's a pretty incredible guy," he told GQ.
He played for the Bruneian football team AM Gunners, according to The Culture Trip.
His love of sport and athletics knows no bounds.
He found a passion for boxing after hiring a trainer during his time in London, and is interested in getting into mixed martial arts, especially Muay Thai.
You can watch Mateen — who has said he's a big fan of UFC fighter Conor McGregor — practice his fighting here.
He's a keen polo player, and represented Brunei at the South East Asian Games held in Malaysia this year.
He competed with his sister, Princess 'Azemah Ni'matul Bolkiah.
He told GQ Thailand: "Unlike any other sport where you have complete control over where you want to be, or go, commanding a wild animal to do what you want it to do is in itself very difficult."
"Now imagine doing that with one hand, and at the same time, trying to hit a ball with a mallet in your other hand," he added. "There's so many things going on, and you really have to multitask and have perfect control of not only your own body, but also the horse a well. It's such a complex sport and the challenge of having that kind of control is also what I love about polo."
"I was in the military, so anything that keeps me fit and going makes me happy," he told GQ.
"The moment I feel my fitness level dropping, it makes me feel funny, so being active and staying in shape is very important to me."
Staying active involves golfing …
… skiing …
… diving …
… rowing, which he's shown doing here with his father …
… and even bungee jumping.
Still, he allows himself a cheat day now and then, and favours spicy food …
… and despite claiming to be a bad cook, seems to know how to man a grill.
He's also a keen flier, which isn't surprising since his father flies his own plane and owns a helicopter.
You can watch him fly here.
He's musical, too. He used to play the drums, and now plays "a bit of guitar."
Somehow, he claims that when he's not doing sports or his royal or military duties, he's a "simple guy" who likes to spend his free time "with my close friends chilling and watching movies."
He told GQ his three closest friends Soon, Danny, and Prawan "are my pack and they are another important factor in keeping me grounded".
However, he said his family are the most important influence in his life, pictured here together at Brunei's Golden Jubilee.
"I have a really big family, but I'm closest to my elder brother and two sisters," he told GQ . "We do everything together, grew up together, and live together."
"I mean, I have my friends, but you can't go away from family, they are blood and we are very close," he added. "
"Their love and support has been a very positive influence in my life."
His Instagram posts would suggest he also has a close relationship with his father.
His royal duties involve representing his father all over the world.
He attends military functions in uniform, wears a suit for state activities, and has some other incredible outfits for banquets, such as this one.
In one Instagram post he said he's "always backing Brunei".
He's involved in various charities, and attended the Commonwealth Heads of Government Meeting in Malta and spoke about terrorism in 2015, according to Britain's Daily Mail.
He reportedly urged governments "to tackle the root causes, as well as share intelligence and information on best practice."
And now, he's known for more than his politics. His GQ interview at the age of 24 made him "blow up" on Instagram.
He now has 733,000 followers, and says social media is a great way to "show your interest, your passions and hobbies, and where you come from."
"Of course, all I want to do with social media… is to show how beautiful Brunei is and what my passions are," he told GQ.
"Brunei may be a small country but it's a beautiful country with many things to do during the day."
"I think if you're born into it, being in the spotlight constantly since you were young, you become used to it, and it doesn't really get into your head and so it doesn't bother me."
"Maybe it's a good thing as well, because if you become the centre of attention all of sudden, it really gets to your head, and then it becomes hard to remain grounded, or humble."
Related