Midland Polo Club in Midland, Texas, recently hosted a clinic for their girls' interscholastic team and youth players. USPA Certified Polo Instructor Robin Sanchez traveled to Midland for a full weekend of intensive instruction and coaching in the arena. Teammates Madi Lange, Avery Evans and April Galindo, along with coach Ashley Owen, participated in classroom and mounted sessions.
Due to the new tournament conditions being added to interscholastic polo, learning the changes in the conditions and penalty shot strategies were an important subject. Horsemanship, swing and additional arena strategies filled out the clinic schedule.
A highlight from the weekend was the coached scrimmages. "We were so fortunate to have some very experienced arena players on-hand at Midland Polo Club to scrimmage against the girls' team," said Sanchez. "Jared Sheldon* was an amazing help to the girls, and I learned a few tricks from him too. It's so beneficial to have an arena player of that caliber giving advice to young players."  In addition to Sheldon, Megan Flynn, Isabella Wolf, Brady Williams and Mitch Horne filled out the opposing team in two days of scrimmage chukkers.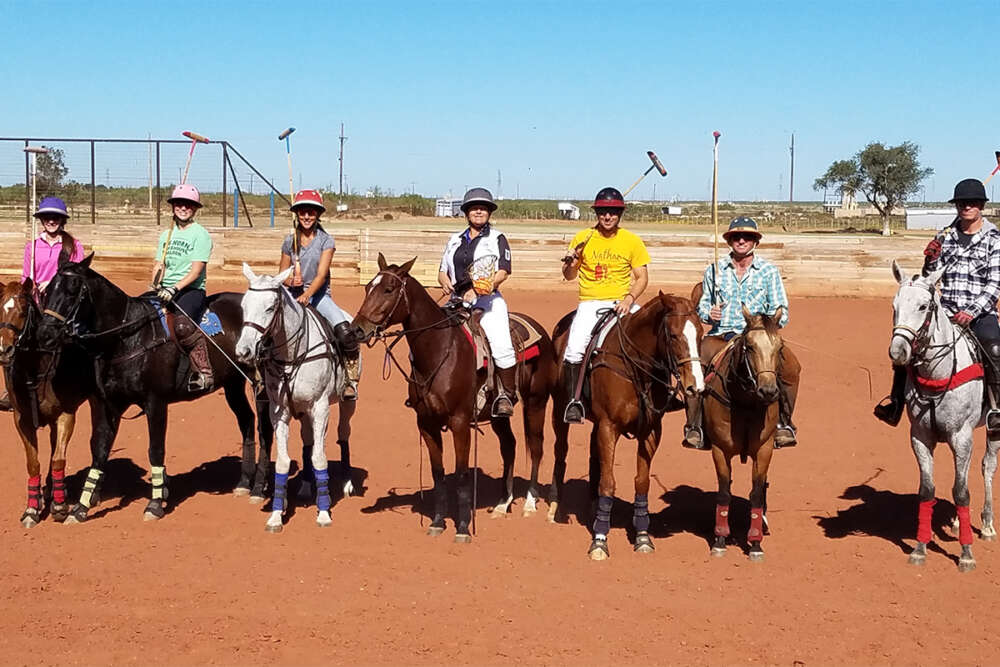 On Saturday, while the varsity women participated in the outdoor polo pro-pool games, Sanchez worked with Midland's up-and-coming youth players who are becoming familiar with the sport in the beginner polo school operated by Molly Musselman. "This group is getting a good foundation on riding and safety with Molly," said Sanchez. "I decided to work with them on backshots and basic game flow." The participants all had a good time and wished their session could have lasted longer.
Coach Ashley Owen summed the clinic up, "I would like to thank Robin Sanchez for coming to Midland to put on a clinic for the Midland Polo Club. She helped the advanced group on the Midland interscholastic team with their riding, hitting skills and team strategy, while also helping, the beginner group of polo school students with their horsemanship and polo skills. As the coach, she gave me some drills and strategies and I feel she taught the girls to work as a team. We enjoyed having Robin and appreciated her instruction."
*Jared Sheldon is a member of Team USPA. Team USPA is a USPA program designed to enhance and grow the sport of polo in the United States by identifying young, talented American players and providing mentored training and playing opportunities leading to a pool of higher rated amateur and pro players and the resultant giveback to the sport of polo.