On Friday, February 16, 2018, Sunset "Sunny" Hale, Ruben Gracida, Jimmy Newman, Roy L. Barry and the horses Lovely Sage and Ruifinowill be joining the elite group of individuals who have been honored in the Museum's Hall of Fame since it began in 1990.
The Gala has been called "the Academy Awards of Polo" attracting superstars from around the world and with an amazing group of Hall of Fame honorees, and as a result, reservations are at an all-time high. However, there is still room to join in and celebrate the inductees' accomplishments and contributions to the sport of polo and welcome them to the Hall of Fame.
The Grand Reception begins at 6:30pm ET and guests will be greeted with passed hors d'oeuvres and free flowing champagne at the Korbel Bubbles Bar. Other wine and cocktails will also be served for the reception and dinner courtesy of Lipman Brothers LLC, Brown Forman, Bacardi USA, Tito's Handmade Vodka, Korbel and 14 Hands Winery.
Immediately following the reception is a chic seated dinner courtesy of main Gala Sponsors Marc and Melissa Ganzi and Grand Champions Polo Club. The evening's entertainment will be sponsored by Wayne and Pamela Garrison. As a special gift, guests will also be given a copy of "POLOART – the 2017 Polo Season by Melinda Brewer," a commemorative book of the past year's star polo ponies captured in her artwork and photographs. This collectible book is a new Museum fund-raising project made possible with underwriting from Maureen Brennan and the Brennan Family Foundation as title sponsor; and additional sponsorship support from Gillian Johnston and the Tucker Foundation
Photographers Alex Pacheco, Krystalzaskey Photography, and Frederic Roy of the Morning Line are also sponsors/donors of their services to the event and for the exhibits during the year. The Museum is grateful to all sponsors and asks that you to please support them whenever you can!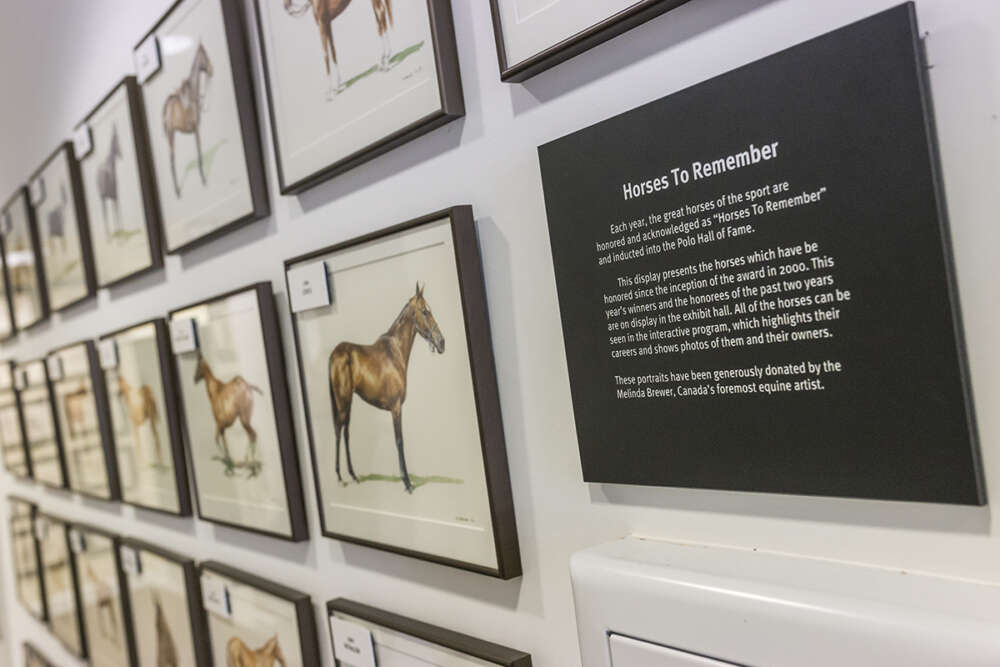 WALK OF FAME BRICKS– The Museum is currently taking final orders for the Walk of Fame Bricks to be installed prior to the Hall of Fame Dinner on February 16. The Bricks are a wonderful gift idea and a great way to honor a friend, family member, favorite pony, club or team with a place in polo history, a brick in the Museum's Walk of Fame. Bricks are 8 x 8 and allow five lines, from 14-18 characters per line. $250.00 per brick, 100% Tax deductible
The dinner will take place at the Museum of Polo at 9011 Lake Worth Road, Lake Worth, Florida, 33467. Reservations are $250.00 each (tax deductible portion $125.00). The Hall of Fame Awards Dinner is the most important fundraising event for the Museum each year, and the polo community is encouraged to help support the Museum, a 501 (c) 3, not-for-profit organization. Contact Brenda Lynn at the Museum of Polo, (561) 969-3210 or (561) 969-7015, e-mail: polomuseum@att.net for further details, information, or to make reservations.
The museum wishes to extend thanks to the USPA for providing support by making this information available to online members. The Museum of Polo is a 501 (c) 3 organization not affiliated with or funded by any other polo group or organization.