Taking the field with Old Hickory Bourbon, one of 16 teams competing in the inaugural GAUNTLET OF POLO™, USPA Florida Circuit Governor Stevie Orthwein Jr. is just as active and involved behind the scenes as he is in the game. The oldest of Ginny and Hall of Famer Stephen A. Orthwein's three sons, he assumed the reins of his father's Port Mayaca Polo Club in Okeechobee, Florida, dedicating his life to the advancement of polo as generations of Orthweins have done before him. Originally from St. Louis, Missouri, Orthwein played intercollegiate polo for the University of Virginia (UVA), balancing the demands as a Cavalier team captain while studying government and foreign affairs. As a three-time Federation of International Polo (FIP) competitor, Orthwein's career as a 4-goaler has taken him across the United States, Canada, Argentina, Brazil, Malaysia, Mexico and France.
Residing seasonally in Wellington, Florida, Orthwein spends his summers at Graymar Farm (his wife's childhood home) in Franklin, Tennessee, playing at the Nashville Polo Club and instructing at the nearby Franklin Polo Academy. His marriage uniting two families with a shared passion for polo, Orthwein unexpectedly reconnected with Margaret Lipman (daughter of Robert Lipman) at her sister's wedding, the pair getting engaged at Robert's Western World, a famous honky tonk on Broadway in the heart of Nashville. A competitive tennis player growing up, Orthwein's pastimes include vegetable and flower gardening with his wife and a love for all things sports related, including the occasional round of golf. Hoping to one day share the sport with his two-year-old daughter Hazel, Orthwein is excited to make an impact in polo's upward trajectory, consistently striving to enhance the experience for all who play in the nation's polo capital.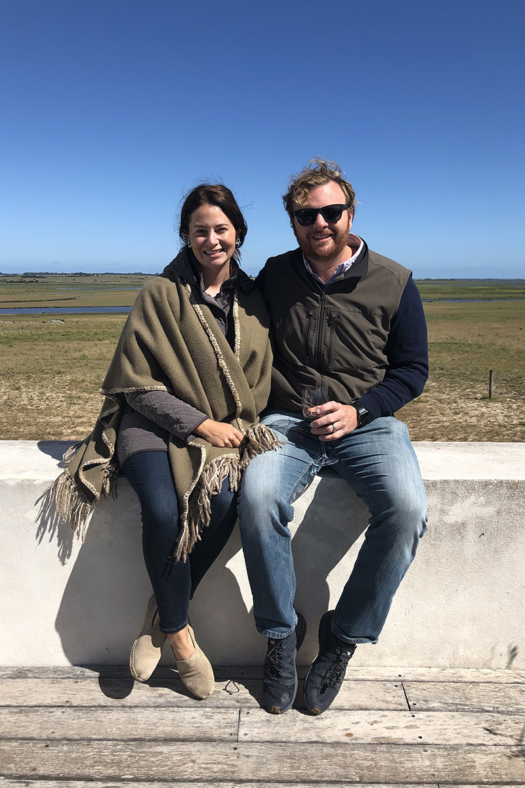 Stevie and his wife Margaret Lipman Orthwein.
What is your equestrian background and how did you become involved in polo?
"I come from a long line of polo players as a third-generation player myself. My grandfather was a fox hunter who started playing polo after World War II at the St. Louis Polo Club in St. Louis, Missouri. His five sons all played polo at some point in their lives and many of their children play and/or married polo players. My father, Stephen Orthwein, had a deep passion for the sport so it was very natural for him to teach me and my brother Robert how to play when we were growing up.
The first horse I learned to ride as a kid was a palomino pony named Daffodil. Most of my early riding lessons were taught by my mother leading me around our farm and the neighboring farms which included my grandfather's. Later, I got the polo bug and started to play with the St. Louis Polo Club in beginner chukkers because there wasn't a junior polo program at the club.
I would also sometimes travel with my dad when he played in Florida, and there I was able to get involved in some junior polo, but the junior polo at that time was much smaller and less organized than it is today. In the summertime my dad would travel up to Chicago and play at Oak Brook and Naperville Polo Clubs in Illinois and he would bring me along. The first tournament I ever played was a Governor's Cup 6-goal against Robert Yackley at Blackberry Polo Club in Batavia, Illinois. I was around 12 years old at the time and I ended up substituting for Carlucho Arellano."
"For me the most important part is playing on a team with the people you enjoy spending time with, that's huge. It really means nothing to win if you don't enjoy the people you are playing with and it's certainly feels a lot worse if you lose." – Stevie Orthwein
What is your favorite memory from playing intercollegiate polo at UVA?
"In 2002 my senior year, our men's team [Stevie Orthwein, Santiago Avellan, Richard W. Hartnett Jr.] finally beat Texas A&M after many close defeats to win the National Intercollegiate Championship 19-14. Winning the championship in my final year of college was a big deal for me. Becoming a team captain in college was a great opportunity because it allowed me to take on a leadership role at a young age. Young players usually don't get to experience leading a team so that is one of the best things about intercollegiate polo. That role was very valuable to me both in my polo development and in general, at that time in my life."
Do you have a favorite horse or most memorable horse throughout your career?
"I had a bay gelding named Star Man that stands out as one of my favorite horses. He always played with a lot of heart and was very strong in a ride off. His quickness, handiness and strength made up for not having a lot of speed, but he was willing to perform whenever I brought him to the field.
He came from my grandfather's breeding program and I got him from one of my uncles when he was 18 years old. We were the same age when I got him, and I had the chance to substitute in a U.S. Open Polo Championship® game with him when he was 26, which may or may not be a record!"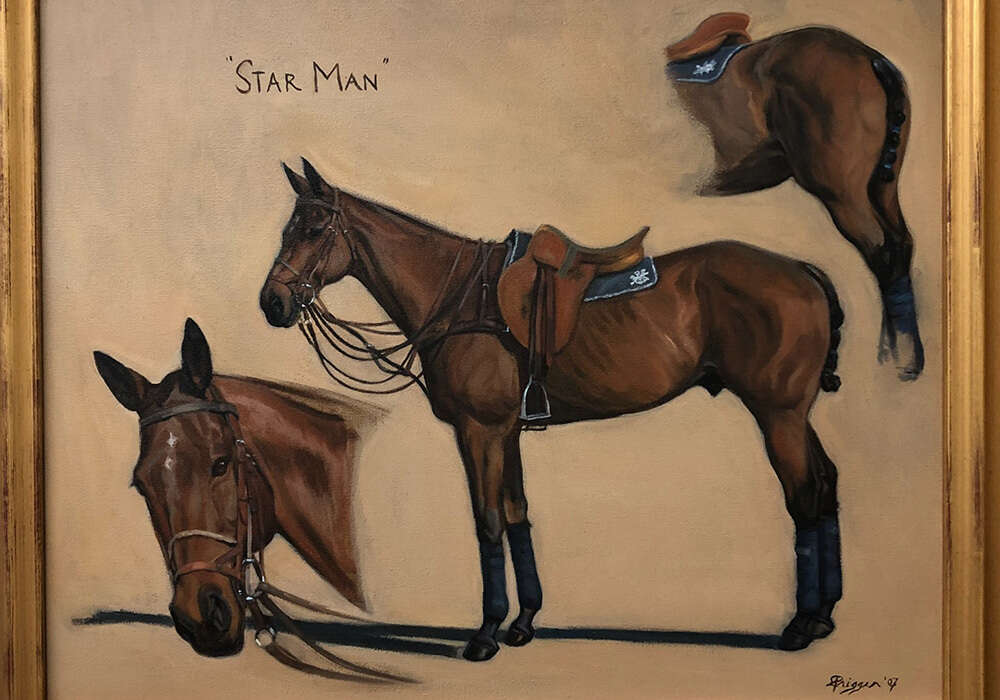 What have you been able to accomplish for the Florida Circuit that you are most proud of?
"Florida is such a unique circuit because most of the players travel from all over the world and only play here seasonally. It invites a real convergence of a diverse group of polo players who play at all levels. A lot of the work I'm involved with has more to do with the broader USPA agenda rather than the local one. I was the head of the High-Goal Committee when elected spots were added to the committee to ensure accurate representation of the high-goal stake holders, so I was proud to have accomplished that.
I'm really excited about what is happening in the world of Polo Development. I see progress is being made in terms of isolating focus and improving on the successful programs that were started when Polo Development was created. For example, PDI [Polo Development Initiative] grants have opened up to a broader range of reimbursements, including capital expenses. There is no longer a cap on the amount that a club can request and we are really looking for match funding opportunities with clubs. This has allowed for PDI grants to become much more targeted and effective in their impact. The Team USPA program historically focused on a broad range of polo skills, is now focused solely on producing elite high-goal players, and has shifted the executive and industry professional portions of Team USPA into other programs and into the Intercollegiate/Interscholastic program's renewed focus on alumni retention in the sport.
Before my involvement with Polo Development, I was on the Handicap Committee and as the handicap chairman I was able to establish a clearer policy which put to paper the process for handicapping, including anonymous voting within the committee. The policy clarified and standardized the handicap process so every player gets an equal evaluation."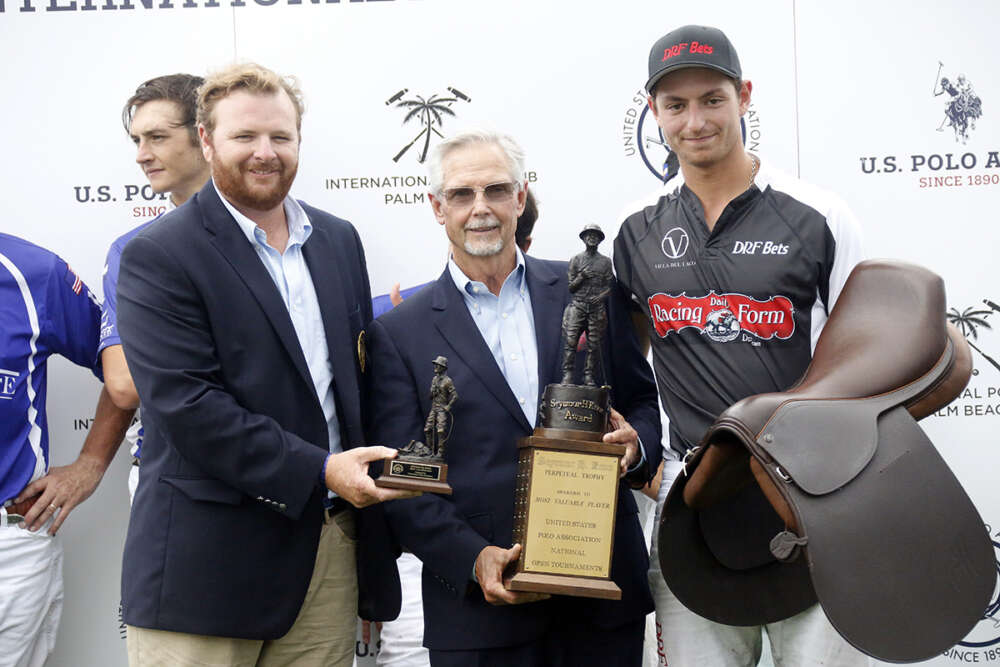 Florida Circuit Governor Stevie Orthwein and David Cummings, Chairman of USPA Global Licensing, present Jared Zenni with the Most Valuable Player award in the 2018 U.S. Open Polo Championship® Final at International Polo Club Palm Beach in Wellington, Florida. ©David Lominska
What have you learned in your time as the club president of Port Mayaca Polo Club?
"Building a polo club takes a lot of time and it can definitely be a slow process. As with any project you can become frustrated with the pace so it's important to look back and see where you started to realize how far you've come and all the progress you've made. For me the most important and hardest thing about being club president is keeping the best interests of all in mind, but still having the ability to make decisions that are not popular, but are to the benefit of the majority. It's also important to have a great Club Manager which Port Mayaca has with Laura Townsend."
"Building a polo club takes a lot of time and it can definitely be a slow process. As with any project you can become frustrated with the pace so it's important to look back and see where you started to realize how far you've come and all the progress you've made." – Stevie Orthwein
What is most important to you when building a team to compete in high-goal polo?
"For me the most important part is playing on a team with the people you enjoy spending time with, that's huge. It really means nothing to win if you don't enjoy the people you are playing with and it's certainly feels a lot worse if you lose. As I've gotten further in my polo career I've realized how much of a difference that makes, more and more. It's really comes down to the chemistry between teammates because that's what makes playing the game special. To win with friends, people you are committed to and have camaraderie with, is so much more special than winning with a team that does not share mutual trust."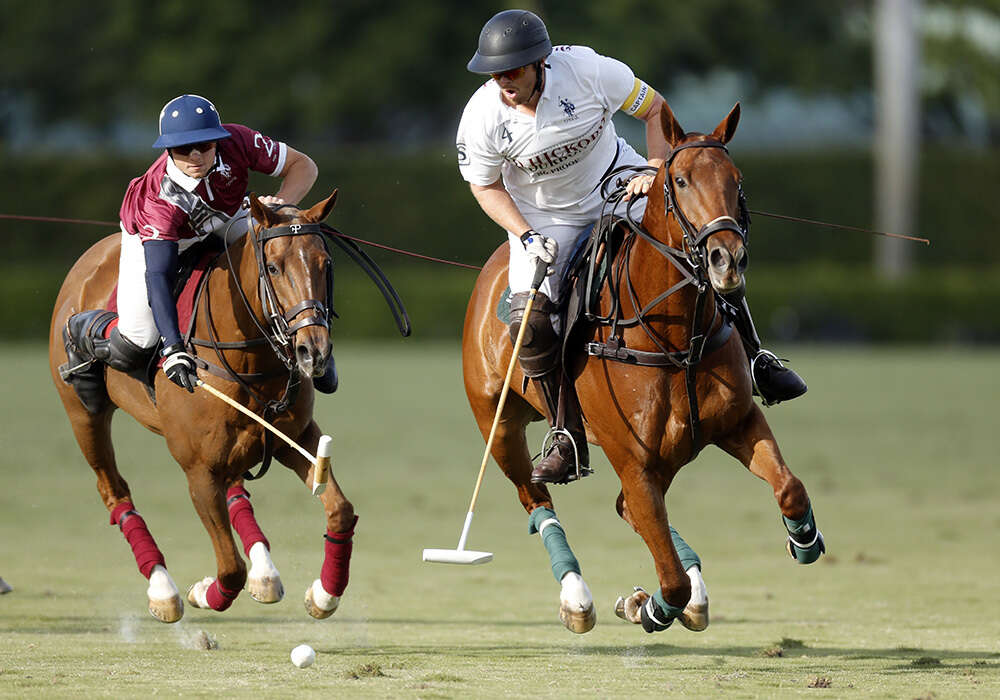 Orthwein and Pilot's Matias Gonzalez fight for possession. ©David Lominska
What positive impact did you see the GAUNTLET OF POLO™ having on the Florida Circuit this year?
"I thought the inaugural GAUNTLET OF POLO™ was a huge success! There were more polo players in Florida and more polo being played at all levels than in recent years. Many of the clubs in the South Florida area felt the impact of the increased number of players which meant more stalls being rented, more horses being bought, and more polo being played. In short, the GAUNTLET had a huge trickle down effect on the Florida polo economy.
Also, not only was the economic impact made by polo and the GAUNTLET significant, but for the first time in a long time the players seemed excited for the season. Every team felt like they could beat any other team so every game was high stakes, making for some really exciting and competitive polo. The GAUNTLET also brought many new, talented polo players to Florida which brought life to the tournament and I think showed players not competing that the tournament was accessible. I'm excited to see it elevate in 2020 and hopefully play again."
If you would like to contact Stevie about your club he can be reached at sorthweinjr@gmail.com.
Stevie Orthwein playing for Old Hickory Bourbon in the inaugural GAUNTLET OF POLO™. ©David Lominska