Support the new Westfield Playhouse this Friday
Do you enjoy polo? Do you want to learn about polo? Do you not care at all about polo but want to get out of the house with the family, enjoy sports with plenty of social distancing, support the new Westfield Playhouse and just have fun you can talk about for years to come? Then a polo match could be just what you are looking for.
This Friday, Aug. 28, Westfield Playhouse is partnering with Hickory Hills Polo Club, 7551 E. 100 North, Whitestown, to bring you a fun, family-friendly evening outdoors. Hickory Hills is located north of Zionsville, approximately 12 minutes from the old playhouse location.
This polo match is a fundraiser for both Westfield Playhouse and Servants At Work (SAWs), an organization that builds home wheelchair ramps for those in financial need.
According to Carol Shadle from Westfield Playhouse and Main Street Productions (MSP), this event will be fun for adults and children alike.
For the adults, there will be a "wine pull."
"You pick a cork from a display and you win a bottle of wine for $20," Shadle told The Reporter.
It is a blind pull, so you some of the fun is in not knowing what you are going to get and having the chance to try something new.
"You won't know exactly what you'll get, but I am going to line them up and number them from dry to sweet and from whites to red, so if you don't like white wines I will point you toward the red wines, and the same for dry and sweet," Shadle said. "It also gives you a chance to win a beautiful wine basket that one of our volunteers has fixed up with a bottle of wine, nuts, two comp tickets to the theater and a bunch of goodies. We will have wines from Urban Vines, Running Vines and Blackhawk Winery."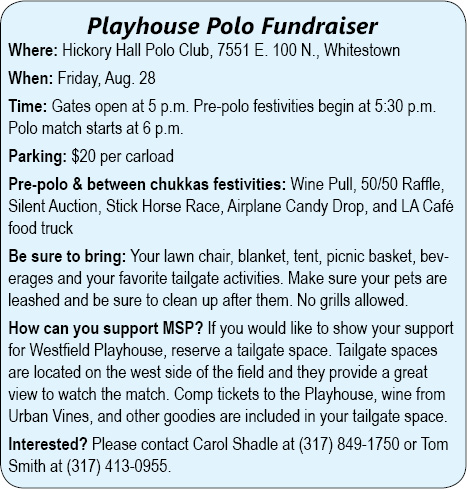 There will also be a 50/50 raffle pull at the end of the night, which could be worth up to $2,500.
"The event will be from 5 to 8 p.m. with the raffle pull after the last chukka [period of play]," Shadle said. "There are four chukkas and they are 7 minutes and 30 seconds long unless the referee calls fouls."
For the kids, there will candy falling from the sky and hobby horse races.
"There will be a candy-drop flyover for the kiddies between the second and third chukka," Shadle said. "SAWs is also putting on stick races with hobby horses for the kids. It's just a fun way to include the kids and help stomp down the divots on the polo field."
The event will adhere to state and local guidelines for social distancing and public safety.
The cost to attend is $20 per carload. If you want to add tailgating to the evening, am MSP sponsorship will get you tailgating space and several perks.
For a $300 donation to Westfield Playhouse you can have a tailgate space and a cooler with two bottles of wine, two wine glasses, goodies from the playhouse, comp tickets for a show of your choice, and your name listed as a donor in playhouse programs for a year.
You can learn more about polo in general and this event in particular at the Hickory Hall Polo club website at this link.
If you want to donate to Westfield Playhouse without attending the polo event, you can do so online at westfieldplayhouse.org.
About Hickory Hills Polo Club
For over 20 years the Hickory Hall Polo Club has been servicing Indiana with a unique family-centered social and sporting venue that helps raise money and awareness to the charities it serves. You are invited to come and watch the Sport of Kings and enjoy what polo has to offer the entire family.
About MSP
The mission of Main Street Productions, Inc. is to create and present quality theatre which balances artistic vision and expression by producing theatre that involves, reflects, and nourishes Westfield and the surrounding areas. Proceeds for this event benefit Westfield Playhouse and Main Street Productions.