Becoming partners by pure chance, @One's destiny was set before the mare was even born, granting Miguel Novillo Astrada the opportunity to develop the competitive talent of his beloved Manzanita in her progeny. Descending from a lineage of greatness with both racing and polo blood in her veins, Novillo Astrada's @One (Rayo Gringo x Manzanita) is the result of a superior combination of bloodlines from around the world. Her mother Manzanita a two-time Argentine Triple Crown* winner, @One proved the quality of her pedigree at the early age of six, winning Best Playing Pony at the 26-goal level during her first year in the United States. The promising odds working in Novillo Astrada's favor, the 9-year-old bay is both calm and collected in hand and easy to navigate on the field making her one of the most reliable horses in the former 10-goaler's string.
Broken at the family farm La Aguada in Argentina by Bucky Pistone, @One's greatest asset is versatility at a high level, competing in tournaments such as the Copa Cámara de Diputados** and the Susan G. Komen U.S. Open Women's Polo Championship™ with Novillo Astrada's daughter Mia. Hoping to carry on the exceptional bloodline after her competitive career is over, Astrada sees many qualities reminiscent of her accomplished mother. Sitting down with Miguel Novillo Astrada, we spoke about his stroke of good luck in receiving @One, the mare who was seemingly destined to be a part of the current 9-goaler's 2020 GAUNTLET OF POLO™ Old Hickory Bourbon lineup.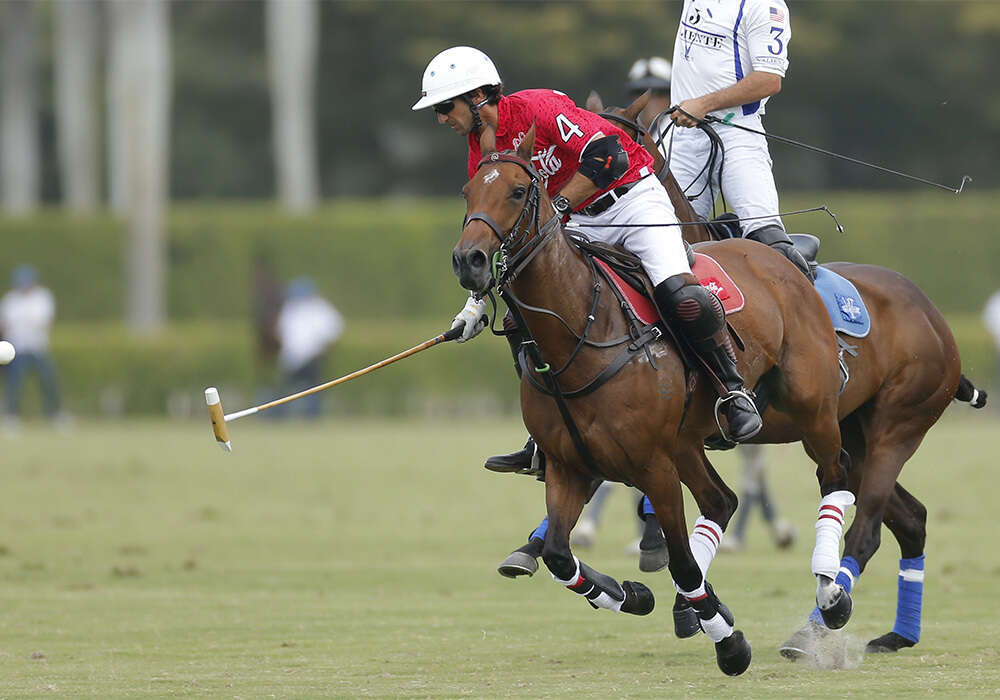 @One and Miguel Novillo Astrada representing Coca-Cola during the 2017 U.S. Open Polo Championship®. @David Lominska
What is her breeding?
"@One is by Rayo Gringo and out of Manzanita. Rayo Gringo (River Slaney x Giusti) was a stallion who was playing in the Argentine Open and we thought it was a great opportunity to breed him with a good mare which worked out really well. Ellerston Australia originally acquired Manzanita from New Zealand and from Australia she went to England and then Argentina. We decided to breed Rayo Gringo and Manzanita because we already had some babies from Manzanita and River Slaney who were successful polo ponies.
River Slaney (Irish River x Chancy Prospect) is an American Thoroughbred we purchased from Gulfstream Park in Hallandale Beach, Florida, and brought to Argentina. Gil Johnston was helping me search and actually found River Slaney. We were searching for a direct bloodline to Riverman, a well-known American Thoroughbred stallion, but we couldn't find one so that's why instead we chose one of Riverman's best sons, Irish River."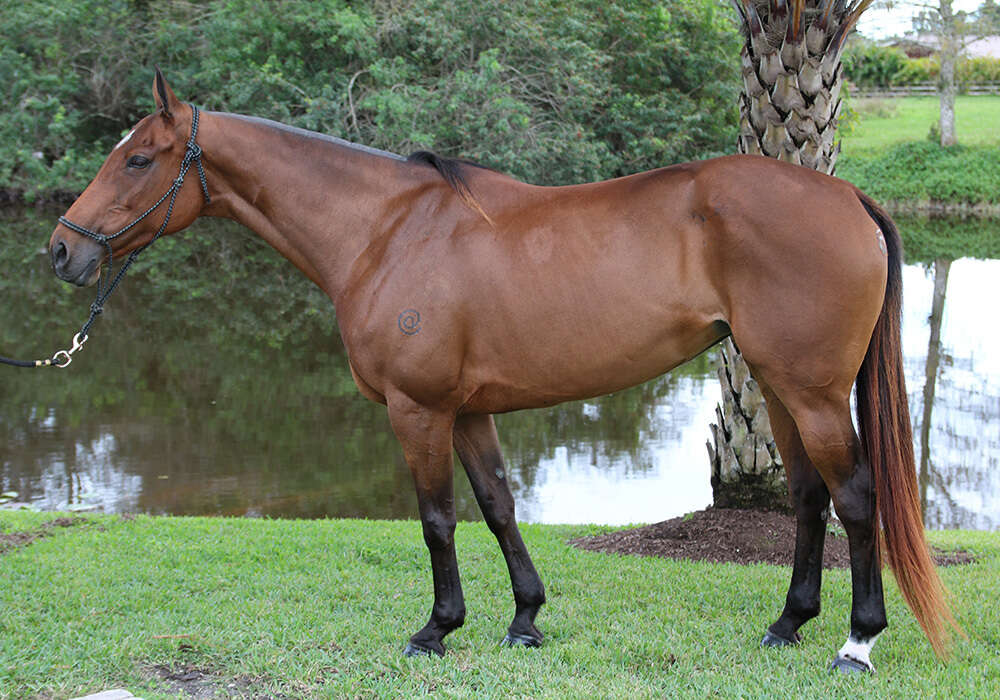 How did @One come to be in your string?
"I played @One's mother Manzanita in the Argentine Open in 2003 when my brothers (Javier, Eduardo and Nacho) and I won the Argentine Triple Crown with our team La Aguada. She was a spare I used throughout the game, but I was on her in the last few minutes of the Argentine Open Final. Manzanita also won the Triple Crown with Gonzalo Pieres in 1994.
When we were playing for Ellerstina my brothers and I had the choice to buy a couple of horses and we picked her even though she was a little older. She ended up being a really good broodmare and there are many babies of hers that play in the Argentine Open. @One was the last embryo of Manzanita so my brothers and I had to draw a number (one through three) out of a hat to see who was going to keep that embryo***. I picked number one so I decided that was going to be her name when she was born."

Does @One have any siblings who play?

"I sold her half-sister Tentación, another mare out of Manzanita, to Will Johnston who is playing her in the GAUNTLET. My older brother Eduardo owns Wallaby, a mare he played in the Argentine Open for many years and a horse I also played a lot. My other brother Javier had another half-sister of @One named Rayo Mandarina who was by River Slaney and out of Manzanita. She was one of his best mares for many years."

When did you know she would be a great horse in your string?
"She was green, but she had potential and I already knew her bloodline really worked well from her siblings. I was confident she was also going to be a really good horse, but she really surprised me. I started playing her when she was five in slower chukkers and the first tournament I played her in was the Copa Cámara de Diputados that year. I was not planning to play her and although she was a little young for the 28-goal level she did great and from then on she always played high-goal polo.
I brought her from Argentina to the United States in 2016 and she played really well the same year. She was only 6-years-old, but I played her in the 26-goal USPA Gold Cup® and she did so well she won Best Playing Pony in the quarterfinals."
What are @One's strengths on the field?
"She's very handy, quick, and has a really good mouth. She's always ready to go and always plays the same – she's a natural on the polo field. She's a mare that anyone can play, Gillian Johnston and my daughter Mia both play her, she's very easy.
When I play her I feel very confident and safe and she's always really solid when she runs and is very strong even though she's not tall. She is always with you, when you need to stop she stops really well. Although she is not the fastest, her quickness gives you time to recover immediately if you make a mistake because she will do anything to get you back in any play."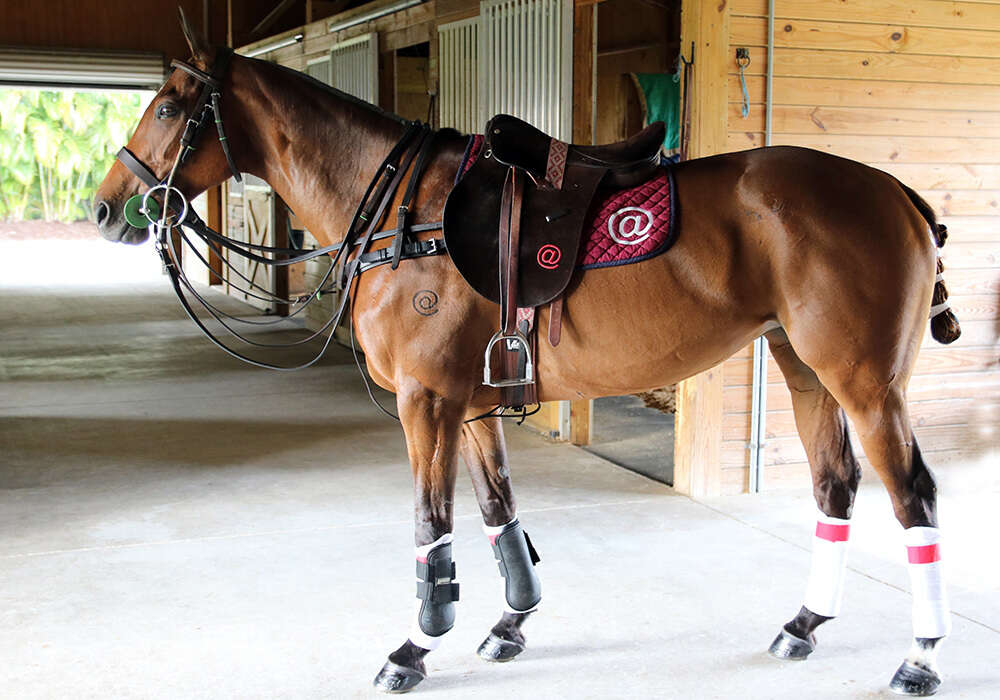 What chukker(s) do you typically play her?
"I always play her for a few minutes at the beginning of the game and then save her for the fifth and sixth chukkers. I either start on her in the last chukker or keep her as a spare because she is very quiet on the pony line. Usually I finish most of the game on her because she's very reliable and very comfortable for me to hit penalty shots."
What is your favorite playing memory on @One?
"In the USPA Gold Cup® Quarterfinal in 2016 I played her in the third and sixth chukkers. In the final chukker I passed everybody and scored a very important goal. Also, during the 2019 Susan G. Komen U.S. Open Women's Polo Championship™ my daughter Mia got possession of the ball, turned and ran out in front of everybody to score a great goal."
What are the plans for her future?
"Hopefully in the next five years she will continue playing with myself, Mia or my son Miguel. After that I will definitely breed her because I think she has demonstrated how valuable her bloodline is."
Miguel Novillo Astrada playing for Prestige Worldwide in the 2018 Carlos Gracida Cup. ©David Lominska
*The Argentine Triple Crown is made up of the Tortugas Open, the Hurlingham Open and the Palermo Open.
**The Copa Cámara de Diputados was first played for in 1924 and is one of the most prestigious tournaments of the Argentine spring season. For many years the winning team earned the right to qualify for the Open Championship. Currently, it is played for by teams rated 24-goals and up.
***Novillo Astrada's La Aguada – El Dok is an embryo transfer center which offers artificial insemination and semen freezing.