"We all complemented each other well. Josie [Dorsey] is a great forward player offensively, Demitra [Hajimihalis] is amazing at defense and I'm a good floater. All three of our playing abilities really complimented each other and made us a very good match." – Posey Obrecht
After Thursday's competitive USPA Women's Arena Handicap® semifinal double-header, Bad Ass Polo (Josie Dorsey, Posey Obrecht, Demitra Hajimihalis) and La Jefa (Katie Mitcham, Emmie Golkosky, Jessica Schmitt) emerged from the pack, each laser-focused on winning the prestigious national title on Saturday, September 25. Gaining a narrow lead in the first and holding it throughout the final, Bad Ass Polo was able to fend off La Jefa's advances with a strong fourth-chukker drive to seal the victory 13-6 at Virginia Polo, Inc. (Charlottesville, Virginia).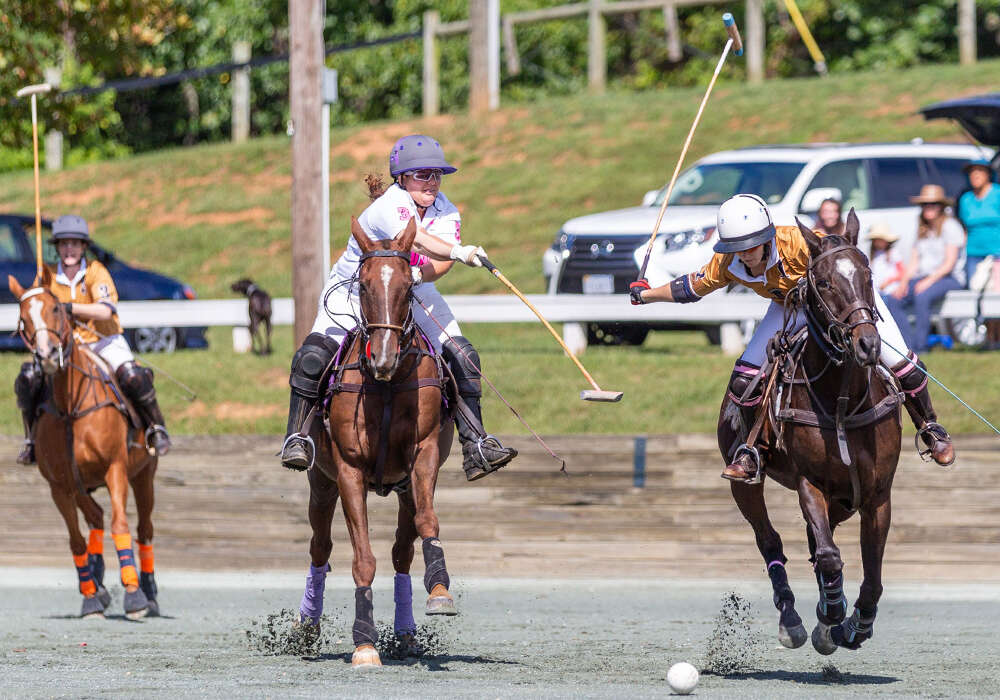 Bad Ass Polo's Demitra Hajimihalis reaches for the hook on La Jefa's Katie Mitcham.
Kicking off the final with an open first chukker, both teams made strong offensive plays as they tried to establish an early lead. "It took us a minute to figure each other out because we haven't practiced prior to this," Obrecht said. "After our first chukker it was smooth sailing, the game was very open and there was a lot of communication between us." Breaking free from a pack of defenders along the boards, Dorsey quickly fired on goal to pick up Bad Ass Polo's opening two-pointer on palomino Cash, adding to their one goal advantage on handicap. Working effectively as a team, La Jefa answered back with two consecutive field goals. Schmitt briefly leveled the scoreboard in the second to four goals apiece, but her effort was met by a burst of offensive power in Bad Ass Polo. Scoring three consecutive goals with each teammate contributing to the scoreboard, Bad Ass Polo rapidly regained their lead and ended the half up 7-4.
Riding the offensive momentum of the second chukker into the second half, Bad Ass Polo struck first with a tailshot from Obrecht to double up La Jefa early in the third. "At halftime we talked about making sure we kept getting possession of the boards," Hajimihalis said. "Even if we can get a little angle [on backshots], making the angle, not so much the power, but getting the angle."
Working to chip away at Bad Ass Polo's growing lead, La Jefa's Mitcham made a nearside neckshot which passed underneath a horse's legs and into the goal, followed up by Golkosky who narrowed the gap to two. Wanting to end the tournament on the strongest note, Bad Ass Polo delivered their most offensive chukker yet, silencing La Jefa for the remainder of the game. Hitting a perfectly placed backshot, Hajimihalis set up Obrecht to tap the ball in and pick up her second consecutive score. Dorsey also contributed a pair of goals and Hajimihalis claimed the final goal of the chukker to win the title with a dominant 13-6. As part of the USPA's Tournament Stimulus Package, Bad Ass Polo received $1,500 in prize money while the runners up took home $1,000.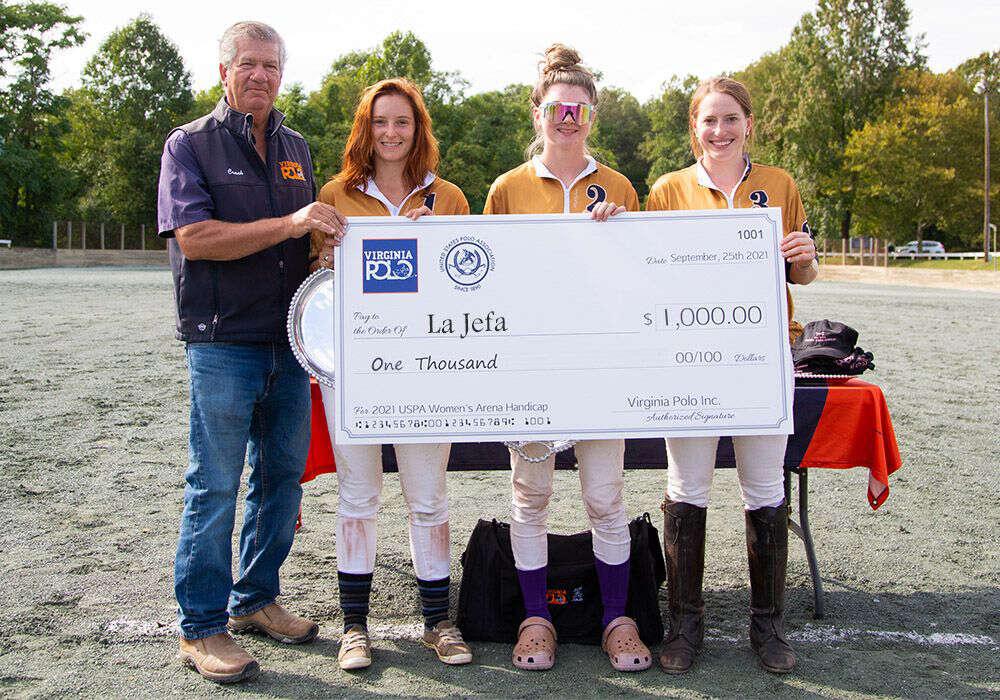 2021 USPA Women's Arena Handicap® Runners-Up: La Jefa – Katie Mitcham, Emmie Golkosky and Jessica Schmitt, presented by Lou Lopez.
Reaching the USPA Women's Arena Open® final several times, Obrecht was proud to win the USPA Women's Arena Handicap® for the first time. "I'm thrilled to finally win this tournament!" Obrecht said. "It's especially great because I coached Josie [Dorsey] and I've known Demitra [Hajimihalis] her entire life. It's really special to all come together and earn the win with friends."
Previously winning in 2019 with UVA, Hajimihalis knew she had a solid team in Bad Ass Polo with a strong chance of winning the trophy. "I think we all have similar styles so we know what to expect from each other," Hajimihalis shared. "We tried to stay simple and use each other, plus, we communicated a lot. Teamwork, communication, and using the team are key because you can't do it alone. Also being wired similarly in the arena with two really solid arena players was helpful."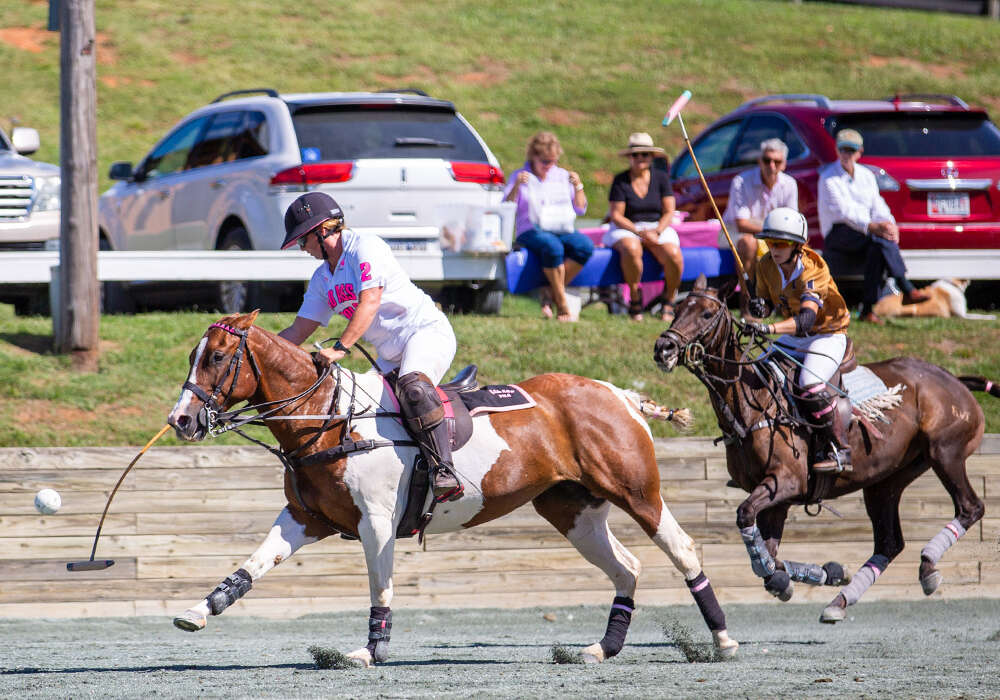 Bad Ass Polo's Posey Obrecht riding paint Rosalita taps the ball out of the air, La Jefa's Katie Mitcham charging in from behind.
"I just started playing with our team captain Posey [Obrecht] a year and a half ago in interscholastic polo. We thought it would be fun to play in this tournament together. The entire time we were laughing, it was so fun." – Josie Dorsey
Competing in the USPA Women's Arena Handicap® for the first time, Josie Dorsey was named Most Valuable Player. "This is my first MVP award in a women's tournament!" Dorsey said. "I'm a little surprised, but very thankful and glad we had a lot of fun in both games." Ironically receiving a bridle as a prize, Dorsey is looking forward to purchasing her first horse in the future. "Hopefully I can buy a horse to put in the bridle, but that is a process," she said with a laugh. Dorsey will also be competing in the upcoming U.S. Open Women's Handicap (the outdoor equivalent of this tournament) at Houston Polo Club (Houston, Texas) this November.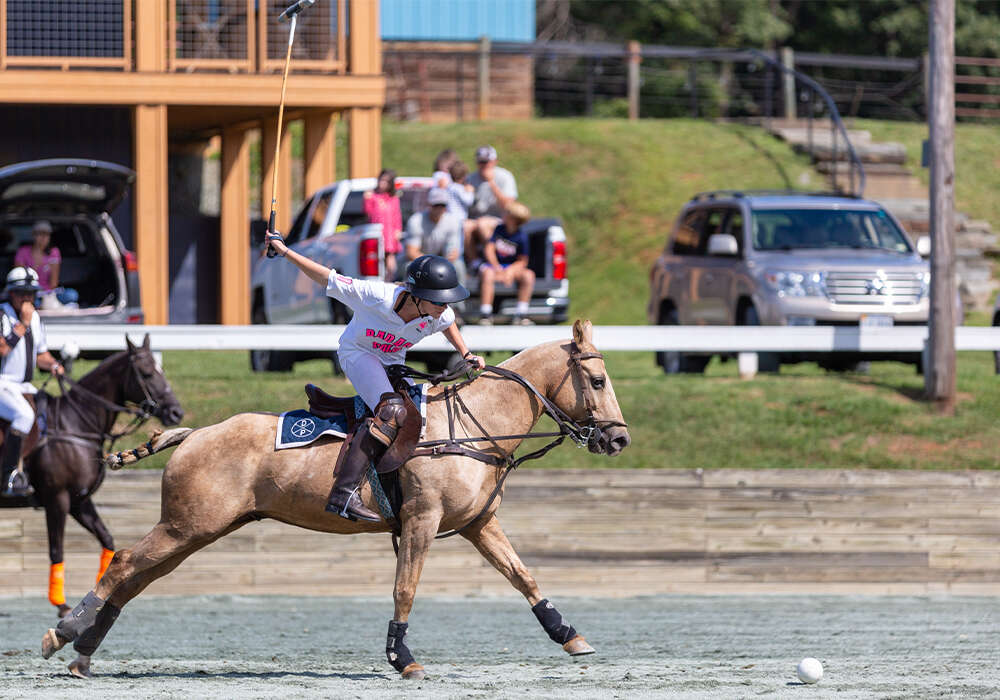 Most Valuable Player Josie Dorsey on a breakaway.
Garrison Forest's Zoey Bivalacqua received the Sportsmanship Award. "This was my first non-Intercollegiate/Interscholastic tournament so it was a really good experience for me and I had a lot of fun," Bivalacqua shared. "I'm typically more on the quiet side so it was really exciting when I came out of my shell and was able to earn the Sportsmanship Award." Playing against other women who also attended Garrison Forest on opposing teams, Bivalacqua learned a lot by participating in the tournament. "In the semifinal I played against people who I normally play with so it was a really fun, intense game," Bivalacqua shared. "My second game was more of a learning experience and I got to see some new plays and get out of my comfort zone a little bit more."
Best Playing Pony was awarded to Timone, played by Jessica Schmitt and owned by Virginia Polo.
Best Playing Pony honors were presented to Timone, owned by Virginia Polo and played by Jessica Schmitt in the first chukker. A part of the men's intercollegiate string since 2016, Timone was donated to the program by Russ McCall. "I like playing Timone in the first because he's super steady and nice to hit off of when warming up," Schmitt said. "He has a huge bump so he wins most plays which gives me a lot of confidence. I can always count on him to get my head in the game."
Just recently graduating from UVA in 2020, Hajimihalis has loved the opportunity to work and still enjoy playing the sport she loves. "This is my second year in the professional working world and for me winning this tournament means I can work and continue playing polo," Hajimihalis shared. "It's really important to have a balance and polo keeps me motivated."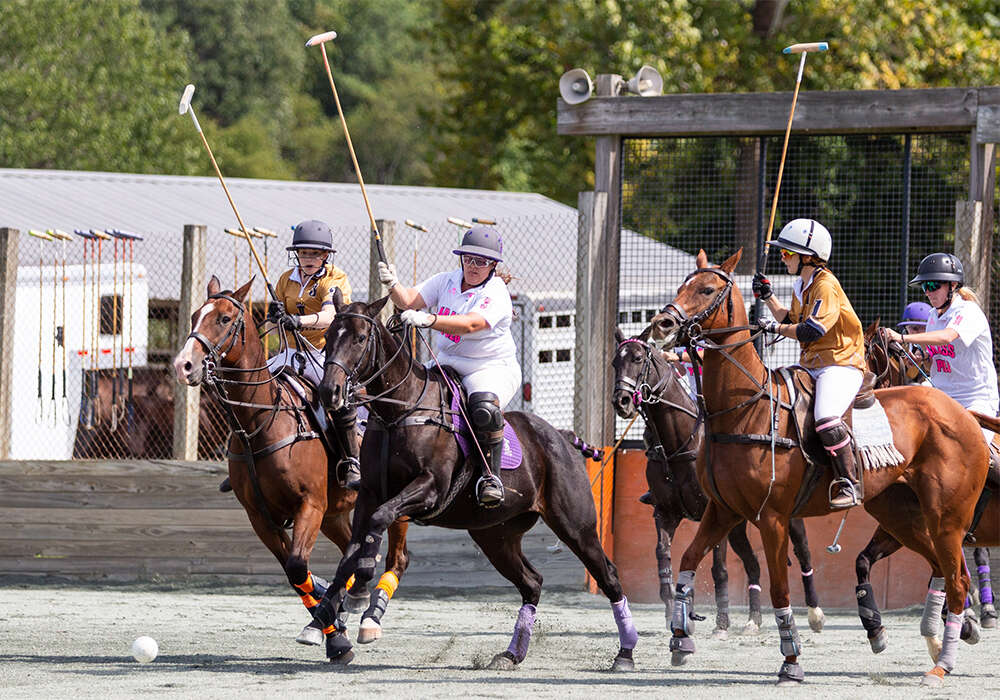 La Jefa's Jessica Schmitt and Bad Ass Polo's Demitra Hajimihalis race to make a play on the ball.
"I want to give a huge shout out to my boss, Andrew Baldwin because he let me use all his horses and UVA let me use one of their men's string horses," Hajimihalis continued. "I wouldn't be able to do this without him because he also plays and understands the balance of work and polo."
All three teammates sharing a connection to Garrison Forest School in Owings Mills, Maryland, the USPA Women's Arena Handicap® was a great opportunity to compete together for a national title. "Demitra [Hajimihalis] and I both went to Garrison Forest and Josie [Dorsey] plays there now," Obrecht said. "There was also a complete Garrison Forest team so it's really special that we can all get together and compete in a tournament of this level."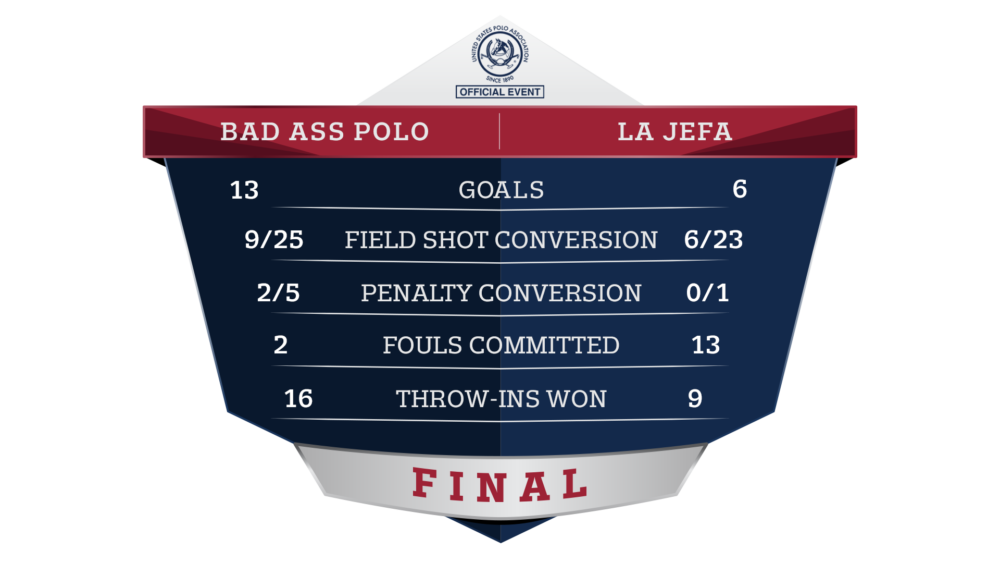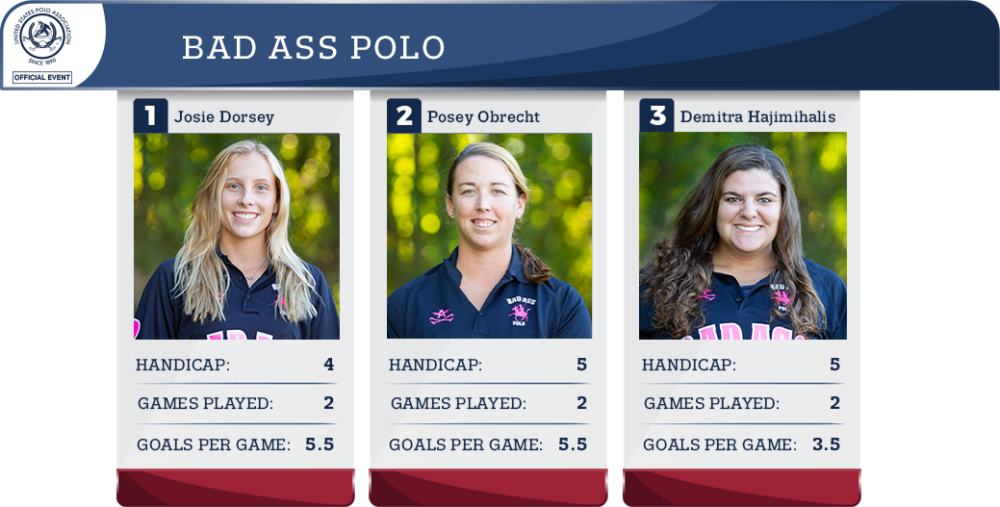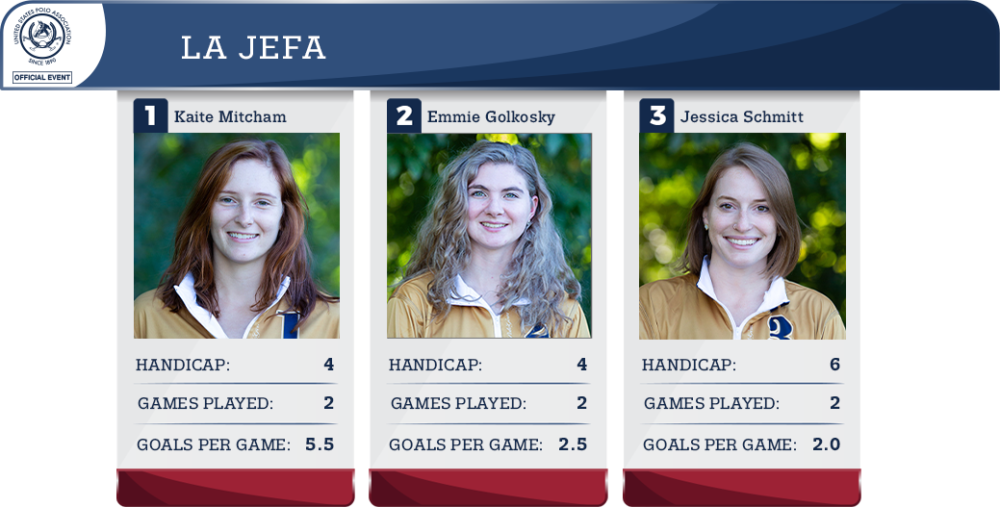 All photos courtesy of ©Oana Moore.VIRGINIA POLO INC.