The Central Texas Polo Association and Texas Military Polo Club hosted the Teddy Roosevelt from November 20-21 at Two Wishes Ranch Polo Club in Lockhart, Texas. Honoring the twenty-sixth President of the United States and supported by the USPA Tournament Stimulus Package (TSP), participation in the Teddy Roosevelt requires one member of each team to have a military connection in order for the team to qualify for tournament participation. Twenty-one of the twenty-six players in the 2021 Teddy Roosevelt boasted a U.S. or foreign military connection, including family members in the U.S. military serving overseas. Interestingly enough, USPA professional umpire, Ronnie Hayes, also served in the U.S. Navy. Bringing an international flare to the tournament, players hailed from across the globe encompassing the United States, Venezuela, France, Argentina, Pakistan, United Kingdom and Ecuador.
Opening the tournament, Texas Military (Dani Gibson, Karl Hilberg, Amanda Massey, Lance Stefanakis, Ariel Mancebo) began round-robin action against Shweiki Media (Kate Howe, James Thorn, Gal Shweiki, Jack Crea, James Glew). Awarded half a goal on handicap, Mancebo opened the scoring for Texas Military converting a penalty and adding another from the field. Competing in his ninth Teddy Roosevelt tournament, Shweiki promptly answered with two more goals.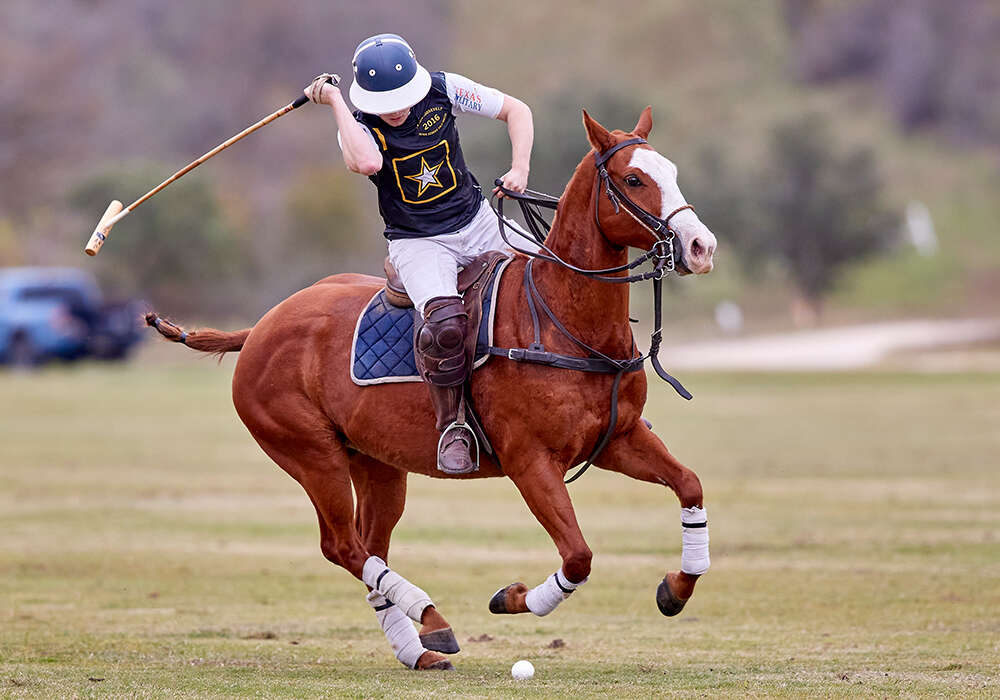 Shweiki Media's James Thorn hit a tremendous backshot pass to score the first round-robin win.
In the second and final chukker, Stefanakis converted a Penalty 3, only to be matched again by Shweiki Media's Glew on his own Penalty 3. With less than thirty seconds to play, Thorn hit a tremendous backshot toward the goal, with Glew finishing the play to knock the ball through the goal as time expired for Shweiki Media to earn the 4-3.5 win.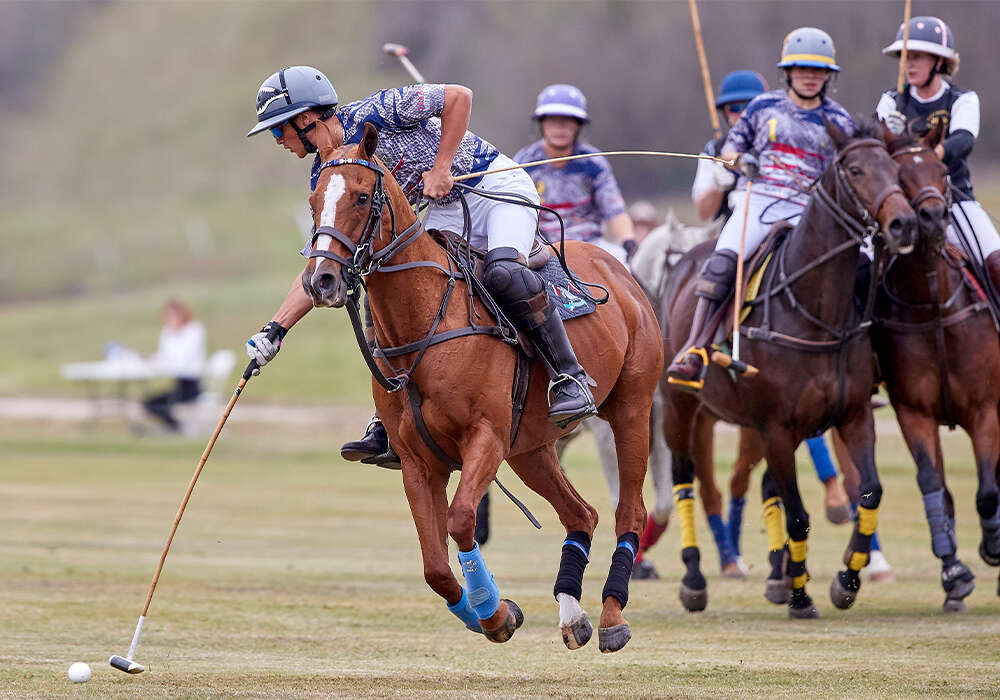 Texas Military's Lance Stefanakis taps the ball down the field.
Texas Military was up again this time facing Bar Spur (Mark Osburn, Wendy Stover, Brady Williams, Tiamo Hudspeth*) in what proved a defensive battle. Again, with Texas Military beginning with a half goal on handicap, the match ultimately came down to the final seconds of the second chukker where it was Stover to score for Bar Spur and end the game 1-.5.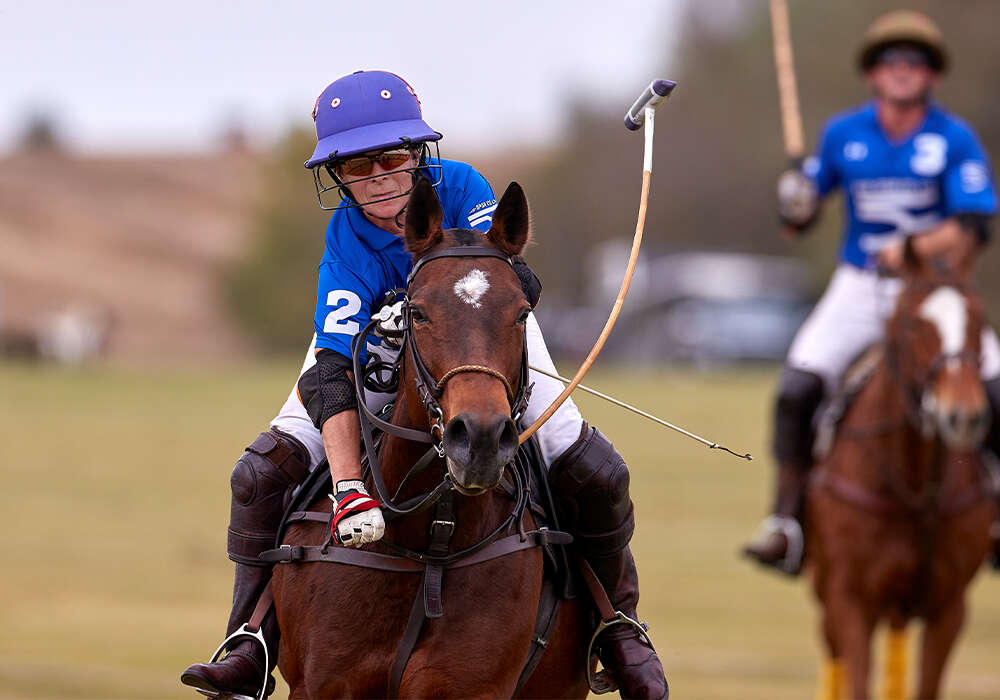 Bar Spur's Wendy Stover with a beautiful neckshot.
In the final match of the first-round robin, Shweiki Media faced Bar Spur and in a change from the previous four chukkers, Shweiki Media started with a .5 goal handicap advantage. Bar Spur quickly took a two-goal lead in the first chukker, with Osburn and Stover both finding the goal. Shweiki Media's Glew scored in the final chukker of play, however, was quickly countered by Stover for a 3-1.5 Bar Spur victory.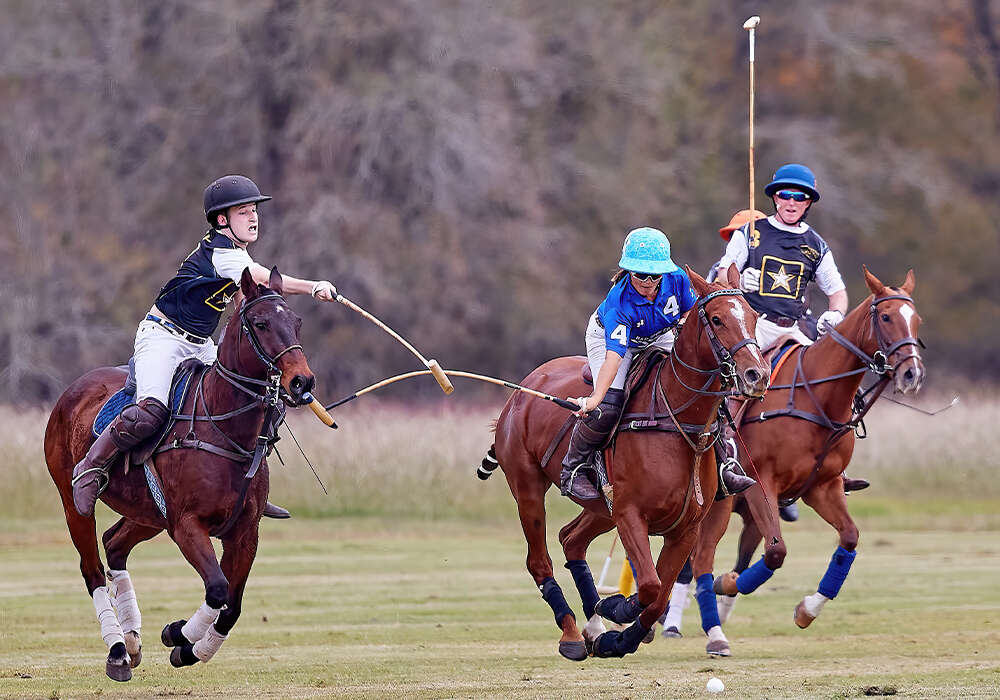 Shweiki Media's James Thorn makes the hook on Bar Spur's Tiamo Hudspeth.
The next round-robin kicked-off between Polo InterActive/JD Polo (Jordan Joplin, Tamiur Zeb, Javier Insua, Nadir Khan) and San Antonio (Lauren Sterr, Wesley Alston, Trey Crea, Joaquin Arguello). Off to a quick start, San Antonio's Crea and Steer each scored an early goal, as Crea also converted a Penalty 2. The next chukker continued to be dominated by San Antonio with Crea hitting another successful penalty shot, and once again scoring from the field. Despite Polo InterActive/JD Polo converting for the first time on a Penalty 2, Arguello scored once more to seal the victory for San Antonio 6-1.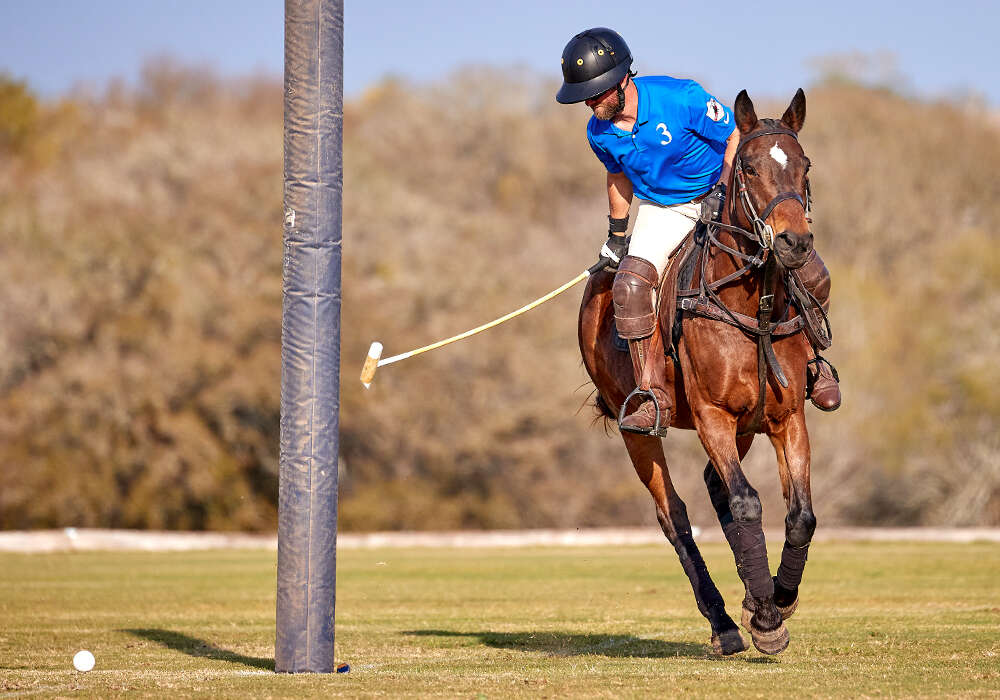 San Antonio's Trey Crea puts the final touch on the ball to send it through to goal.
Polo InterActive/JD was up again facing Oak Bend Farm (Jessica Mignone, Chris Ballard, Wyatt Myr, Joss Leufrancois). In another defensive match, Oak Ben Farm's Leufrancois scored in the first, followed by Myr in the second chukker, holding their opponents scoreless to take the match 2-0.
The final match of round-robin play took place between San Antonio and Oak Bend Farm. Oak Bend Farm reached the scoreboard first but was quickly matched by San Antonio. Both teams converted on penalties to end the first chukker tied 2-all. The final chukker was all San Antonio however, Arguello scoring twice followed by Crea and Alston to end the match in the lead 6-2.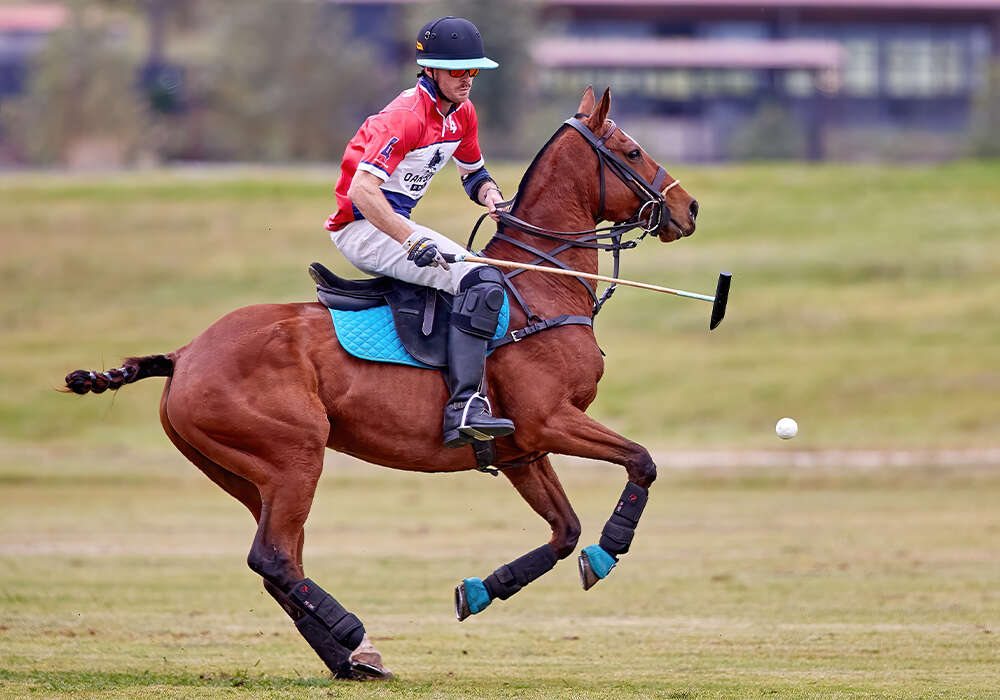 Oak Bend Farm's Joss Leufrancois keeps his eye on the ball in mid-air.
Up first in consolation matches, Shweiki Media faced Oak Bend Farm (a half goal awarded on handicap to Oak Bend Farm). Shweiki Media's Glew was the first to convert a Penalty 4, only to be answered by Oak Bend Farm's Myr. Each team scored in the second from the offensive contributions of Myr and Thorn. Emerging from the half, Glew converted on a Penalty 3, but Oak Bend Farm took over as Myr found the goal twice, while Leufrancois and Ballard followed suit with one each. Shweiki ran the field to score in a last attempt at a comeback, but it was Oak Bend Farm's Leufrancois who capped off the match with one last goal to emerge as the victors 7.5-4.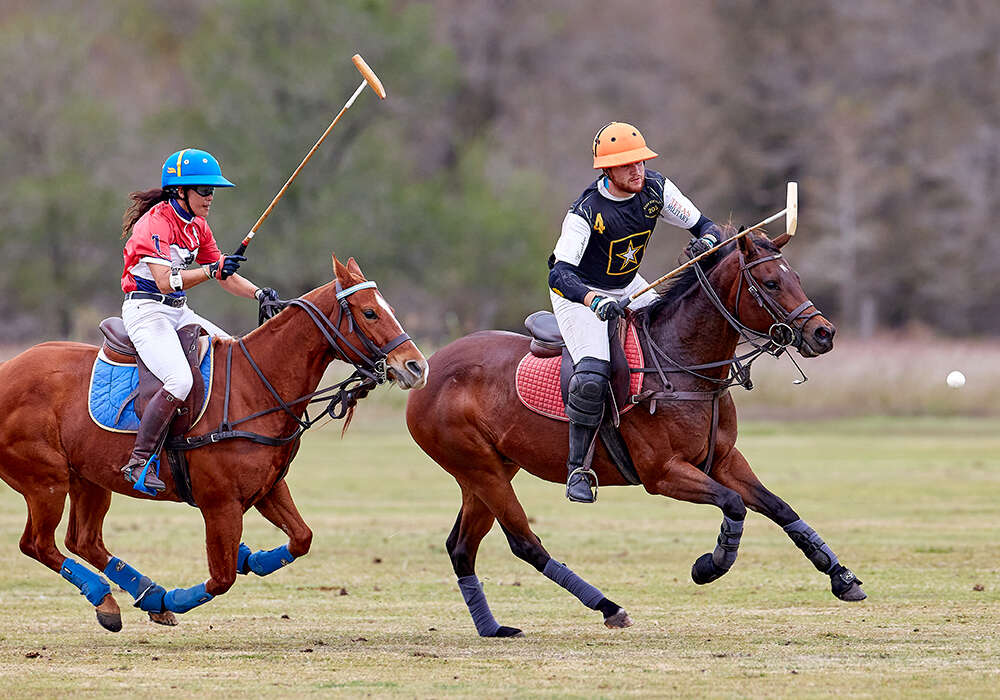 Oak Bend Farm's Jessica Mignone and Shweiki Media's James Glew race for possession.
The last consolation match featured Polo InterActive/JD Polo facing Texas Military. Starting with a .5 goal on handicap, Mancebo started the scoring for Texas Military with two goals. Further aided by another goal from Stefanakis, great defensive play from Massey and Gibson held Polo InterActive/JD Polo scoreless. In the second chukker, Mancebo was able to add to Texas Military's lead and enter the half 4.5-0.
The two teams exchanged goals in the third chukker, with scoring from Hilberg for Texas Military and Zeb of Polo InterActive/JD Polo. Hilberg found the goal once again in the fourth, while Mancebo added his third goal of the match. Attempting to mount a comeback, Joplin found the goal on a Penalty 3 for Polo InterActive/JD Polo, but Khan's subsequent Penalty 4 conversion ended the match with a 7.5-3 Texas Military victory.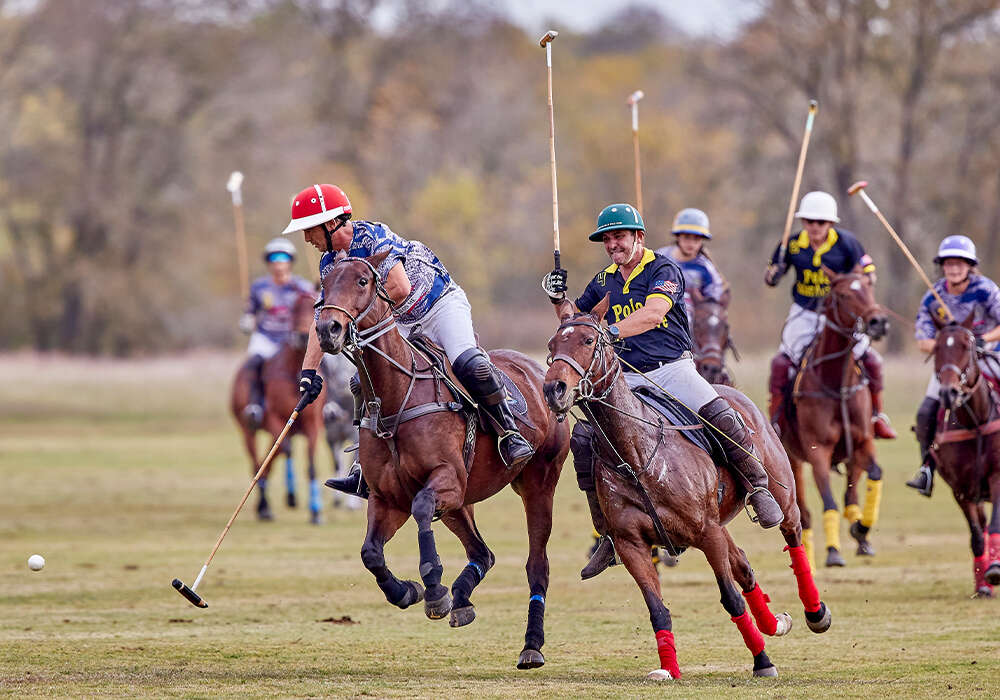 The Sportsmanship Award was presented to Texas Military's Ariel Mancebo for his continued positive attitude, fairness and support for his peers on and off the field. Pictured leading the pack at full speed down the field to goal.
The Teddy Roosevelt Final was set between San Antonio and Bar Spur. Recently coming off competition at Houston Polo Club (Houston, Texas) in the Texas Women's Open, and championship victory in the U.S. Open Women's Handicap®, Hudspeth was ready to make her mark in the Teddy Roosevelt and ignited the scoring for Bar Spur on a Penalty 4. San Antonio began the final with a .5 goal on handicap but was not able to add any scoring in the first, with Osburn adding a second goal to Bar Spur's early lead. In the second chukker the teams exchanged goals with Bar Spur's Stover scoring first, followed by San Antonio's Arguello. Emerging from halftime, Arguello continued the momentum for San Antonio converting a Penalty 4, but Hudspeth countered scoring on a brilliant breakaway run.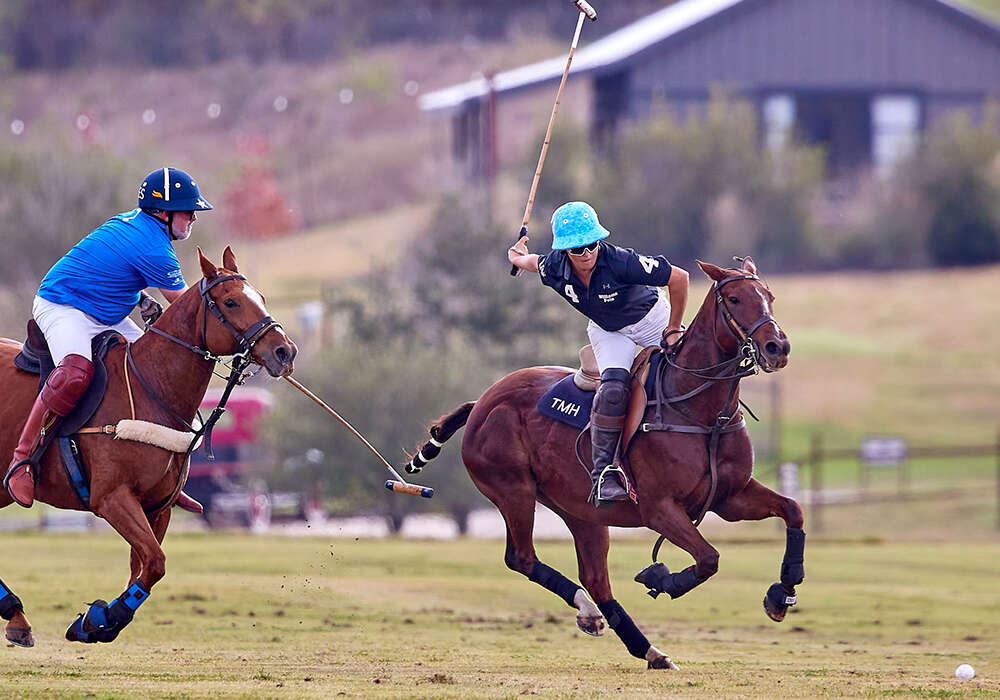 Bar Spur's Timao Hudspeth was named Most Valuable Player.
The fourth chukker was marked by aggressive play from both teams. The first advantage, a Penalty 2, was awarded to San Antonio which Arguello converted, closing the scoring gap to just half a goal. Again, Arguello scored from the field to give San Antonio a narrow .5 lead with less than two minutes remaining in regulation time. As each team stepped up their defensive play, Osburn broke through for Bar Spur and found the goal with only 47 seconds on the clock to end the match and claim the Teddy Roosevelt championship title with a final score 5-4.5.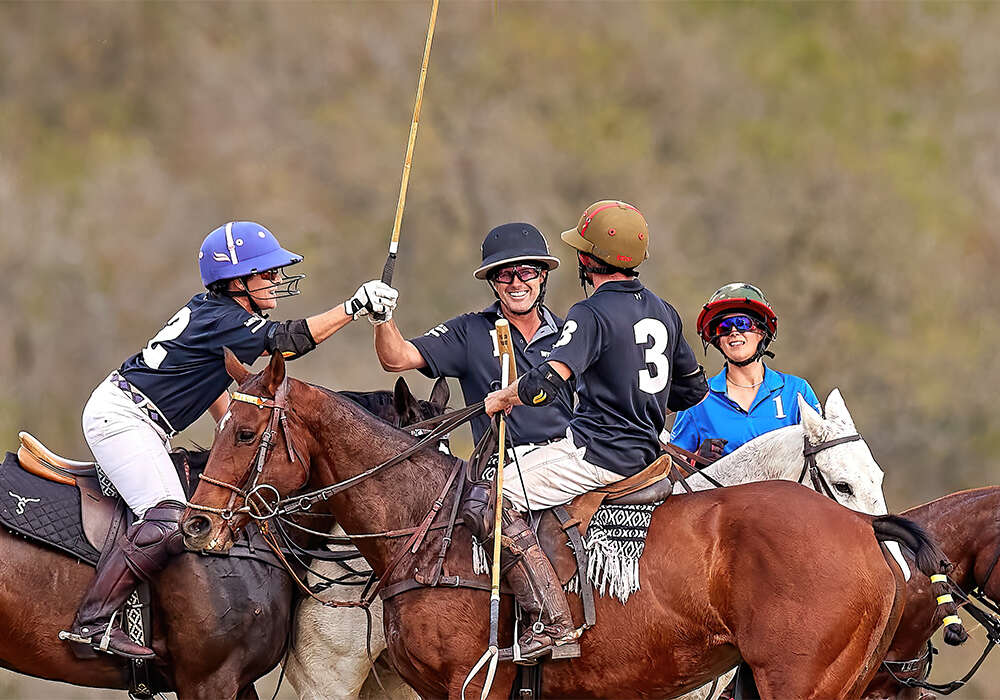 Bar Spur's Wendy Stover, Mark Osburn, Brady Williams celebrate their Teddy Roosevelt victory.
Scoring two goals on the day, Tiamo Hudspeth was named Most Valuable Player. Best Playing Pony was awarded to Little Man, played and owned by Joaquin Arguello. Celebrating the importance of fostering healthy competition in the Teddy Roosevelt, the Sportsmanship Award was presented to Ariel Mancebo for his continued positive attitude, fairness and support for his peers on and off the field. Bar Spur and San Antonio received belt buckles sponsored by Shawn Gibson, while Tiamo Hudspeth (Most Valuable Player), Joaquin Arguello (Best Playing Pony) and Ariel Mancebo (Sportsmanship) all received embroidered chairs.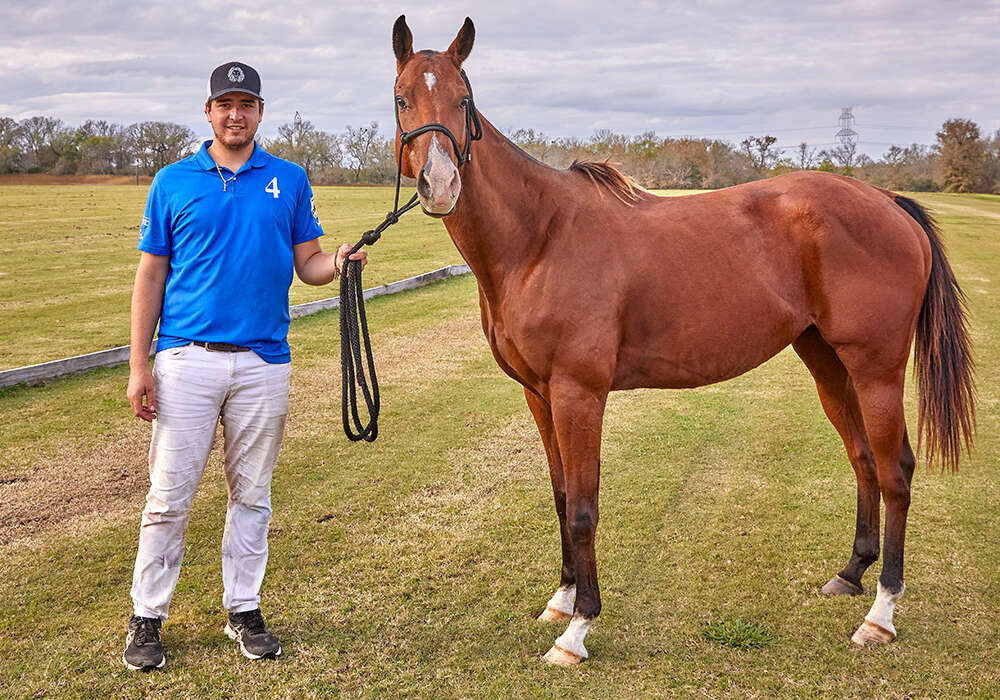 Best Playing Pony was awarded to Little Man. Played and owned by Joaquin Arguello.
*Tiamo Hudspeth is Team USPA alumna. Team USPA is a USPA program designed to enhance and grow the sport of polo in the United States by identifying young, talented American players and providing mentored training and playing opportunities leading to a pool of higher rated amateur and pro players and the resultant giveback to the sport of polo.
All photos courtesy of ©David Murrell.