Over one month and ten games of play, the National Eight Goal Final at Beverly Polo Club (The Plains, Virginia) featured a match-up between two undefeated teams in Beverly 2 (Wil Ballhaus, Jorge 'Tolito' Fernandez Ocampo Jr., Agustin Mauhum, George Krabbe) and Kingland (Audrey Wilde, Liam Lott, Bautista Micheletti, Martin Ravina). The conclusion on Monday, September 13 came down to a dramatic final chukker as Beverly 2's Tolito Ocampo Jr. completed an impressive performance by scoring his tenth goal to come from behind and secure the 11-9.5 victory.
Kingland's Bautista Micheletti and Beverly 2's Tolito Fernandez Ocampo traded goals throughout the competitive and contested final.
Fresh off their Regional President's Cup title as Pineapples and Pussy Cats just a month earlier with the same line-up, the newly-branded Kingland set their sights on securing another 8-goal trophy and began with a 0.5 goal lead on handicap. Micheletti provided early offense for Kingland with a field goal in the opening chukker, but Beverly 2 responded to erase the handicap deficit and take the narrow 2-1.5 lead on two goals from Ocampo Jr. A shootout quickly emerged between Micheletti and Ocampo Jr. as they traded goals back and forth, accounting for all but one goal in the entire final. Sending the ball through the posts on both Penalty 2 and 4 attempts, Micheletti pushed Kingland back into the lead 4.5-3, but the momentum swung back to Beverly 2 before the end of the half. Holding the Kingland attack scoreless in the third chukker, the lead changed once again after field goals from Ocampo Jr. and Mauhum left a 0.5-goal difference on the scoreboard.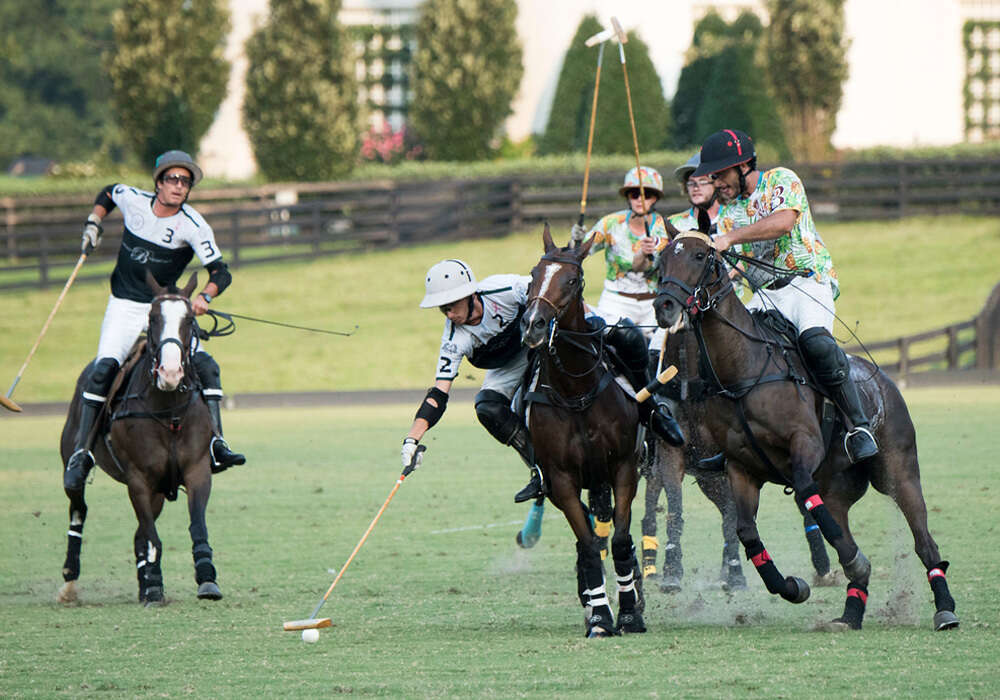 Beverly 2's Tolito Fernandez Ocampo attempts to maintain offensive control with Kingland's Bautista Micheletti defending.
The focus was squarely on the offensive battle between Ocampo Jr. and Micheletti as their teammates worked tirelessly around them. Adding two more penalty conversions for Kingland, Micheletti continued to produce from the penalty line while also adding two field goals as part of a remarkable four-goal chukker. Not to be outdone, Ocampo Jr. added his fifth and sixth goals of the match to bring Beverly 2 back within 1.5 goals with one chukker remaining. Seven minutes stood between Kingland and their undefeated run over the past two months of play, but Ocampo Jr. proved to have a flair for the dramatic in the final chukker. In the high-pressure moment of the game, Ocampo Jr. connected twice on penalties from the 60-yard line, inching Beverly 2 into the lead. Micheletti's heroic nine-goal effort left Kingland a step short as Ocampo Jr. added two more goals in the dominant fifth chukker to secure the 11-9.5 win.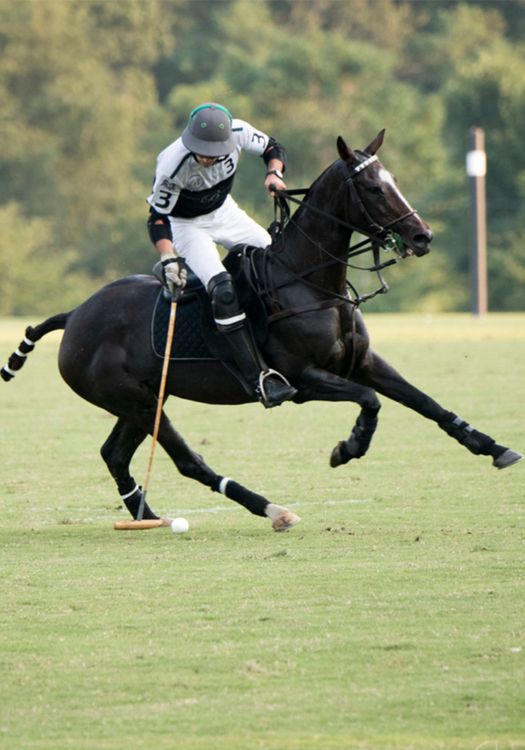 Beverly 2's Agustin Mauhum controls the ball on the turn.
"Beverly 2 was a great team to play with and having Tolito [Ocampo Jr.] on your team always makes things a lot easier – if you can work for him he can do the rest!" Krabbe said. "Also all the horses played great. Beverly gave me one for the final and what a machine he was. Wil Ballhaus has come a long way and played great every game."
After Beverly captured the trophy in 2020, the team split into two with the duo of Wil Balhaus and Jorge Fernandez Ocampo Jr. emerging on top for their second consecutive title. "Winning the trophy back-to-back feels great!" Ocampo exclaimed. "I think we have a great team with great teammates. Since the first game we have been trying to develop a system which works for us and it finally did!"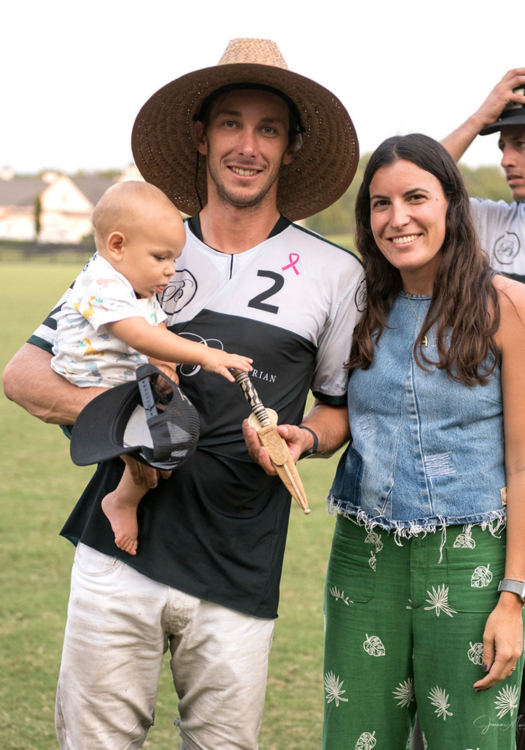 Most Valuable Player Tolito Fernandez Ocampo. Pictured with son Cruz and wife Agustina Garrahan.
For his impressive 10-goal performance, Ocampo Jr. was awarded Most Valuable Player. "I'm super happy about the goals but what is most important is we won playing our game, our polo," Ocampo continued. "Each of us had something to do, everyone had their task and it worked out well."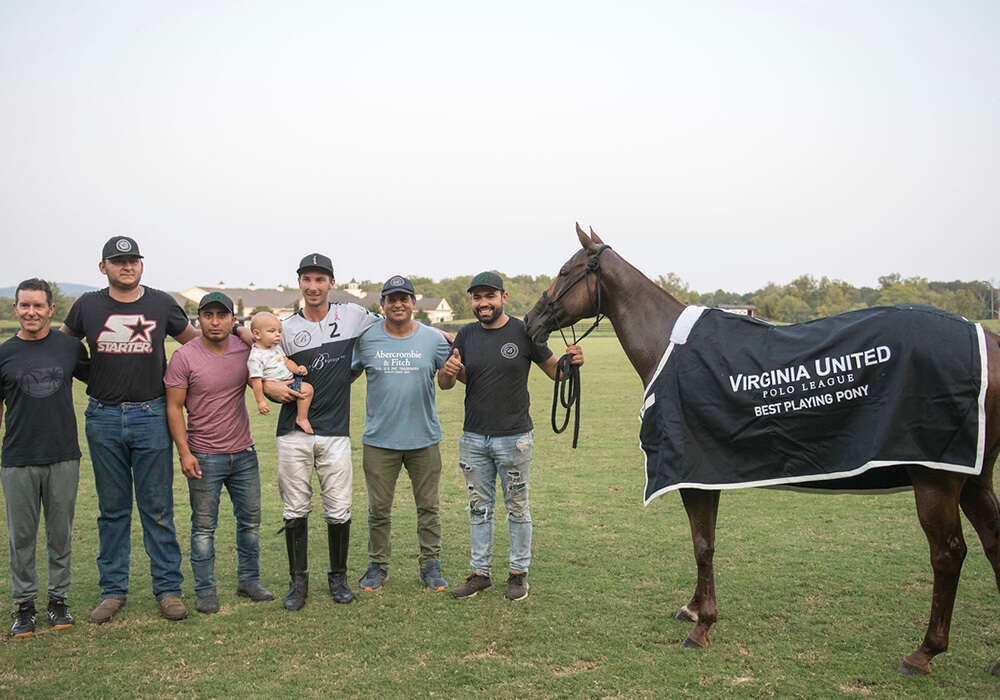 Best Playing Pony, Yatay Misty. Played by Tolito Fernandez Ocampo and owned by Bill Ballhaus. Pictured with Martin Aguilar, Felipe Matuz, Dario Fuentes and Josue Tercero.
Taking home a Best Playing Pony blanket in 2020 for his horse Yatay Nacar, Ocampo Jr. captured the honor for the second consecutive year with Yatay Misty, owned by Bill Ballhaus and played by Ocampo in the second chukker. "Yatay Misty is from Nacho Figueras' breeding and she arrived in the states from Argentina in June," Ocampo said. "This is her first year here and sometimes it's hard for them, but she had a good season and is getting better and better. She is a very nice mare who is super handy and powerful."
All photos courtesy of ©Joanne Maisano.