By Liz Leamy
Last Sunday, Ellipse, the high-octane Jupiter, Florida-based team who charged onto the U.S. summer high-goal scene like wildfire this year, edged out Audi, the powerhouse crew from Greenwich, in a thrilling seventh overtime chukker to triumph in the East Coast Open semifinals 14-13 and earn a coveted spot in the this week's finals.
This showstopping match, held at the Greenwich Polo Club, was a stunner in every regard as both teams, featuring some of the most decorated and renowned players and horses on the high-goal polo circuit, faced off against one another fierce fashion, something that was much appreciated by the thousands of spectators on hand.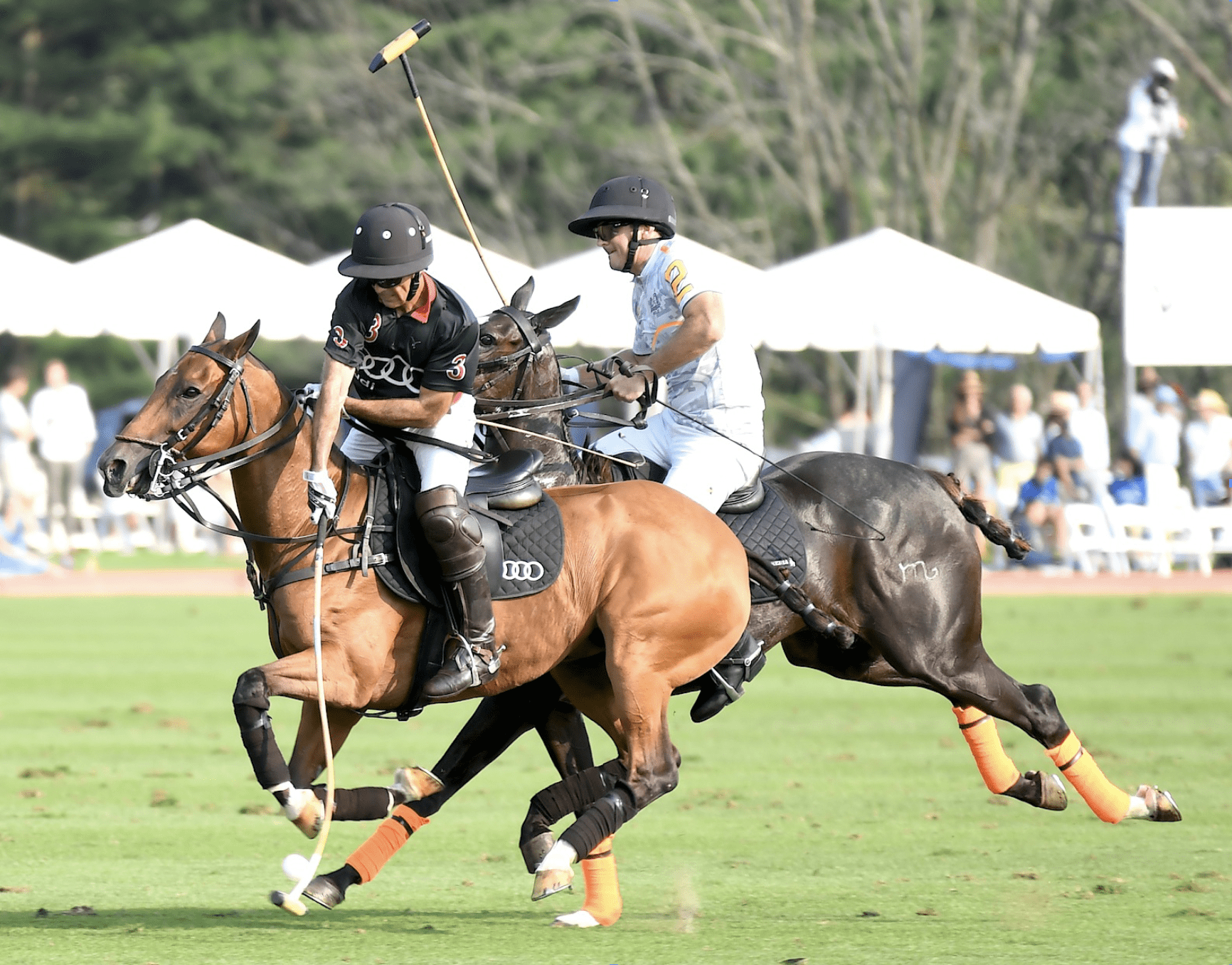 "Everything about this match was absolutely stellar," said Steven Magnuson, the distinguished musical artist who sang 'The Star Spangled Banner' at the kickoff of this event and has been a big part of the festivities at the Greenwich Polo Club for nine years running. "The energy of the players, the horses, spectators and everyone here is at 110 percent and it is an atmosphere that is just off the hook."
Right from the jump, all of the players and their charges were playing at full throttle, flying up, down and around the massive Conyers Farm field with tremendous power, speed and quickness.
Throughout the entirety of this match, these two formidable teams tied one another in terms of points right up until the seventh overtime period in which Matt Coppola, the dynamic five goaler on Ellipse, knocked in his team's winning goal to render an outcome of 14-13.
Throughout this entire game, the Ellipse contingent, which has been training at the Mashomack Polo Club in Pine Plains, New York, for most of the summer, was organized, laser focused and on point.
Notably, its number three player, Hilario Ulloa, the internationally decorated 10-goaler who was named Most Valuable Player of this match, wowed the crowd with his skillful and extraordinary handling of the ball, racing around the field at speeds of up to 35 and 40 miles an hour on his charges while maneuvering the ball in spectacular fashion. (Ulloa's stunning charge, Lavinia Castana, was awarded the Best Playing Pony citation at the conclusion of the match.)
"It's so awesome and cool to be playing with Hilario. He's amazing," said Matt Coppola of Ellipse. "It was incredible to be out there playing with him and everyone else today. It was very exciting."
In addition to Ulloa and Coppola, the Ellipse roster featured Robert (Robi) Bilboa, the lightning-quick five goaler and Louis Devaleix, its Teflon-tough number one player.
"This was a tough game and it could've gone either way," said Devaleix. "Audi is an incredible team and we tried to do our best. It was great to be out there playing."
While members of Ellipse were happy with their work at this semi final, they remained steadfast about staying focused going into the finals of this celebrated tournament, reputed to be one of the most prominent high-goal summer competitions in the U.S. (They are slated to face off against Palm Beach Equine in the finals at the Greenwich Polo Club later this week.)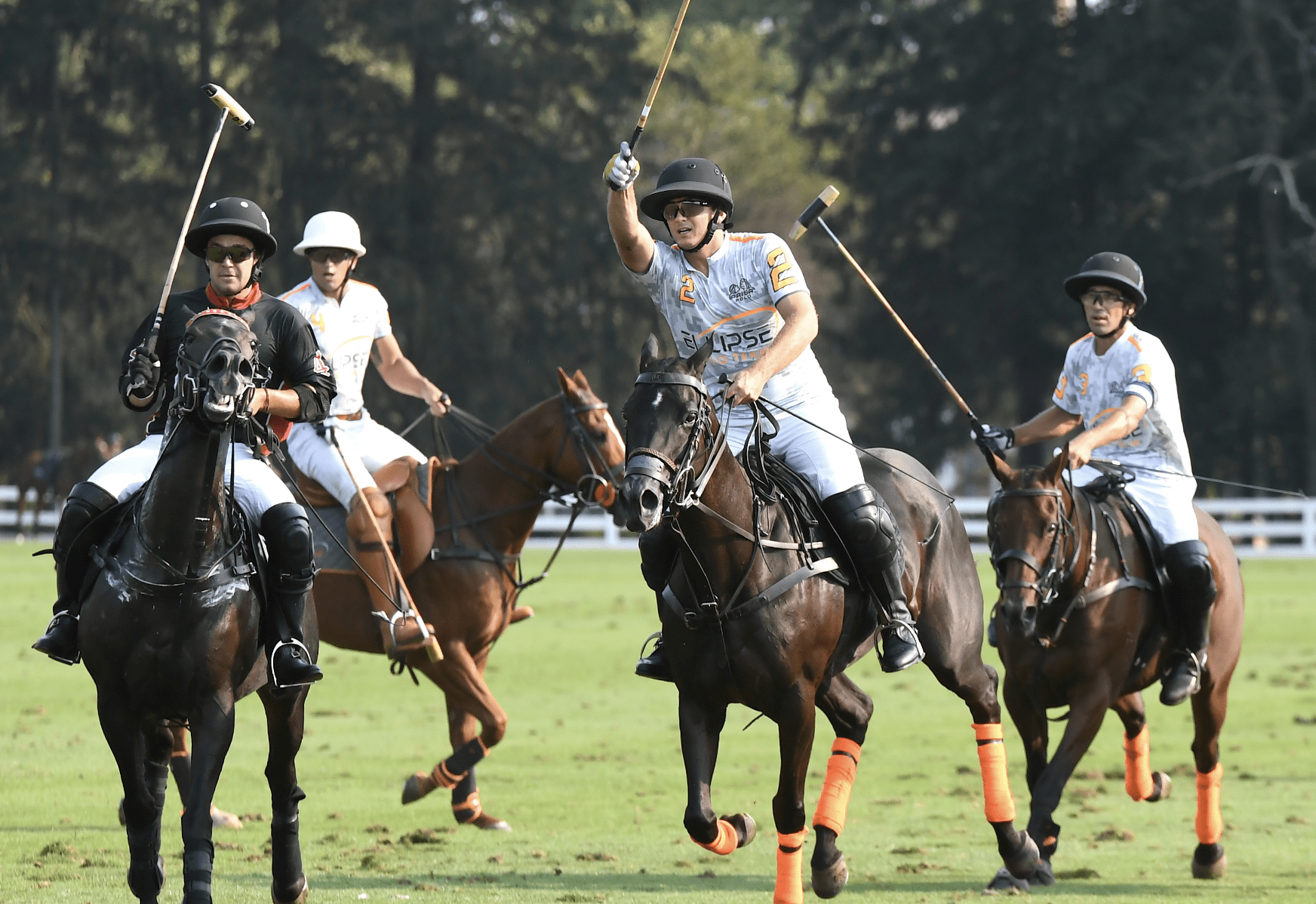 "We have to stay focused on doing our job as best as we can," said Bilboa. "We just have to keep working hard."
The Ellipse contingent also knew they were up against some fierce competition in this semi final, with the Audi roster featuring one of the sport's most venerated players, Mariano Aguerre, the star eight goaler inducted into the Museum of Polo Hall of Fame in 2017, as well as Chris Brant, its formidable number-one player, Joaquin Panelo, its electric six goaler and Peke Gonzalez, its stealth six goaler.
"Mariano Aguerre is an icon and to be out there playing with him is such an honor," said Matt Coppola of Ellipse. "It was tough out there and we just tried to stay as focused as possible."
Without a doubt, this seemed to be the case for all of the players and horses on this afternoon, whose unbridled energy seemed to carry over to the crowd and created a super-charged dynamic.
"Being here today is super special. This is one of the premiere polo events and venues in the world and we're all part of it, which is amazing," said Charles Pardoe, a former Greenwich resident who lives in Hobe Sound, Florida and whose business and vendor stop, YAXA, Ltd., with its unique Guatemalan merchandise to help benefit the Mayan Foundation, was a big spectator draw at the match. "The teams are all fantastic and the quality of polo is unsurpassed. This is a remarkable event."
Spectators, meanwhile, who were donned in an array of stunning and brightly colored fashions, cheered on the players and horses from the expansive grandstand, tents, cabanas and lawn areas with great enthusiasm and involvement.
"The energy and whole vibe here is incredible. It's been a great game and everyone seems to be enjoying themselves, which is what it's all about," said Eusi Skeete, U.S. Director of Barbados Tourism Marketing Inc., based in New York City, a corporate partner with the Greenwich Polo Club for seven years running. "Everyone here is living and celebrating the joy of life and we only continue to see more people coming here as we get to share the spirit of the Barbados with them. This is a partnership that is perfect for us and we love being part of the Greenwich community through this experience."
During the afternoon, scores of people could also be seen lining up at the various food trucks parked behind the grandstand that offered everything from ice cream and Greek fare to specialized pizza and gourmet coffee, among other things.
According to members of the vending faction, being at the Greenwich Polo Club is a win-win venture on all counts.
"The players and horses are amazing to watch and this club is incredible," said Tetyana Banaryk of Stamford, a representative of The Cup Bearer, an exclusive portable bar and cocktail service organization based out of Stamford that is always hotspot at matches. "This is my first summer here and I've loved everything about it. The people are so nice, this is a wonderful environment and being here is just a great way to spend the summer."
Conclusively, the whole community of people attending this event all really seemed to come together throughout the day, something that seemed to be especially apparent during the asado (Argentinian barbeque), which took place following the awards ceremony.
During this time, dozens of people could be seen eating, dancing, chatting, laughing and visiting with one another, adding a whole new level of energy to the day.
"The Greenwich Polo Club is a place like no other and it seems to get bigger and bigger every year. It's so exciting," said Steven Magnuson, who is also a prominent realtor at Douglas Elliman Real Estate in Greenwich. "It's always good to see friends and everyone else who comes here from all over the New York-metropolitan area. This club, just like this incredible town and community of people, is amazing. Everyone is so friendly and inviting, which is the main reason why I chose to live and work here."
There are two more Sunday public matches that will be held at the Greenwich Polo Club on September 19th and September 26th.
For information regarding tickets, please visit the Greenwich Polo Club website at greenwichpoloclub.com