The top female youth players in the nation collided in Illinois for the 2021 National Youth Tournament Series (NYTS) Girls' Championship®, featuring four teams competing for the title on September 10 and 12, 2021. Hosted by Oak Brook Polo Club (Oak Brook, Illinois) and presented by the Chicago Polo Association, semifinal and final matches were played at Las Brisas Polo Club (Elgin, Illinois) and Oak Brook Polo Club with the consolation finals and other events held at Morgan Creek Polo Club (Yorkville, Illinois) and Due West Polo Club (Oswego, Illinois). Capturing decisive victories in their respective semifinals, Girls Pink (Kelsey Bray, Grace Fleishmann, Reagan Leitner, Madison Jordan) met Girls Purple (Saralyn Painter, Elise Pardue, Caroline Mathews, Summer Kneece) to determine the 2021 NYTS Girls' Championship®. Ahead by just 0.5 goals entering the final chukker, Girls Purple scored two more goals to pull ahead and claim the 6.5-5 victory. As the official apparel supplier of the NYTS Championship® weekend, U.S. Polo Assn. outfitted the players with whites and t-shirts and provided gear bags and watches as prizes.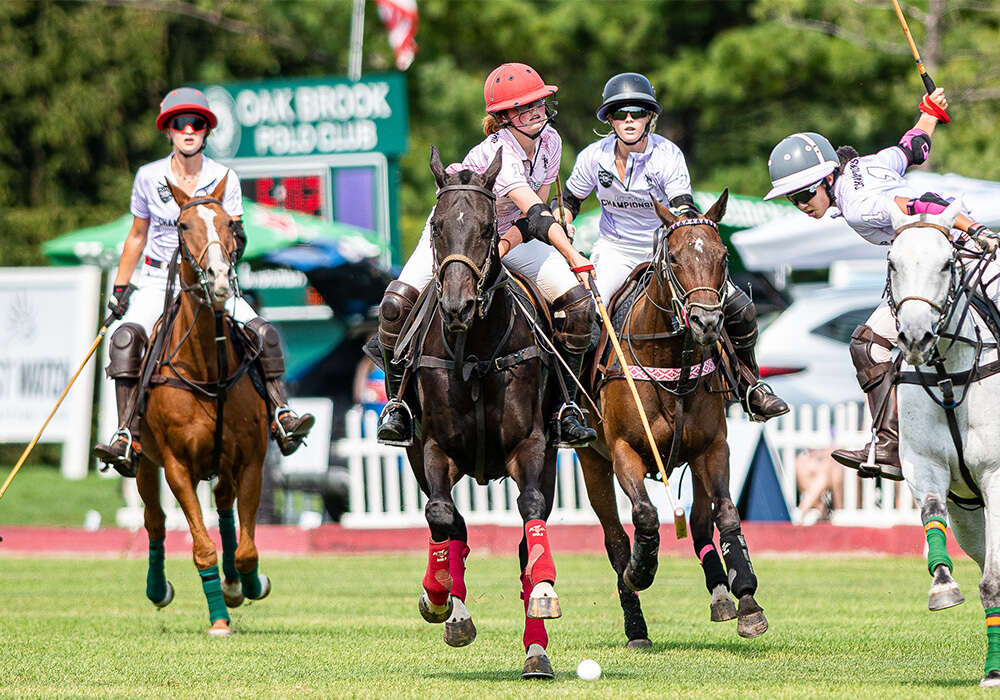 Kelsey Bray of Girls Pink reaches for the hook on Saralyn Painter of Girls Purple. ©Andrew Meier
"What worked well for our team was communication and trust because we all had to trust each other to execute plays. We also never gave up and we kept a positive attitude!" – Saralyn Painter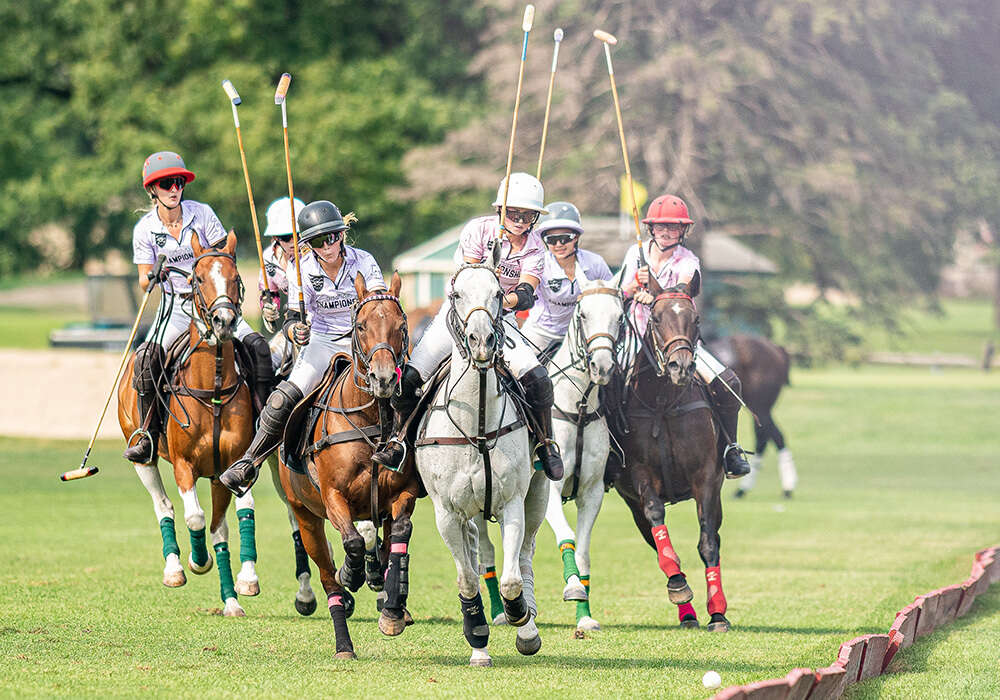 Girls Pink's Madison Jordan leads the field carrying the ball along the boards, Summer Kneece of Girls Purple in pursuit. ©Andrew Meier
Driving forward in the early stages of the match, Purple faced a resilient Pink defense. After another chance in front of goal was stopped, Mathews found an opening to secure the first field goal of the match and a 1.5-0 advantage. Purple's lead was short-lived as Pink responded with consecutive field goals one from Reagan Leitner and the other from Madison Jordan to give the team their first lead of the game.
"We were definitely looking out for Madison Jordan and Reagan Leitner," Purple's Saralyn Painter explained. "We were just making sure we were always on them." The evenly-matched teams continued alternating goals through the end of the half, with Jordan adding her second goal off a Penalty 2. The youngest player in the tournament, 14-year-old Painter, pushed Purple back in front with a beautiful run riding grey Easter Fox to end the half, leaving the score at 3.5-3.
Drawing on the experience of coach Tiger Kneece, Purple held Pink at bay conceding only one penalty conversion to Jordan for the third lead change of the game. "It was just minor adjustments," Tiger Kneece stated. "Who we mark on knock-ins and how we take ours." Pink tried to extend their lead further, shooting at goal four times in the third chukker, however they were unable to find the mark, providing an opening for Purple to utilize their knock-in strategy. Showcasing a well-rounded line-up, Pardue added her first goal for Purple in the final seconds of the third chukker, giving all four players one goal each and restoring Purple's 0.5 goal advantage.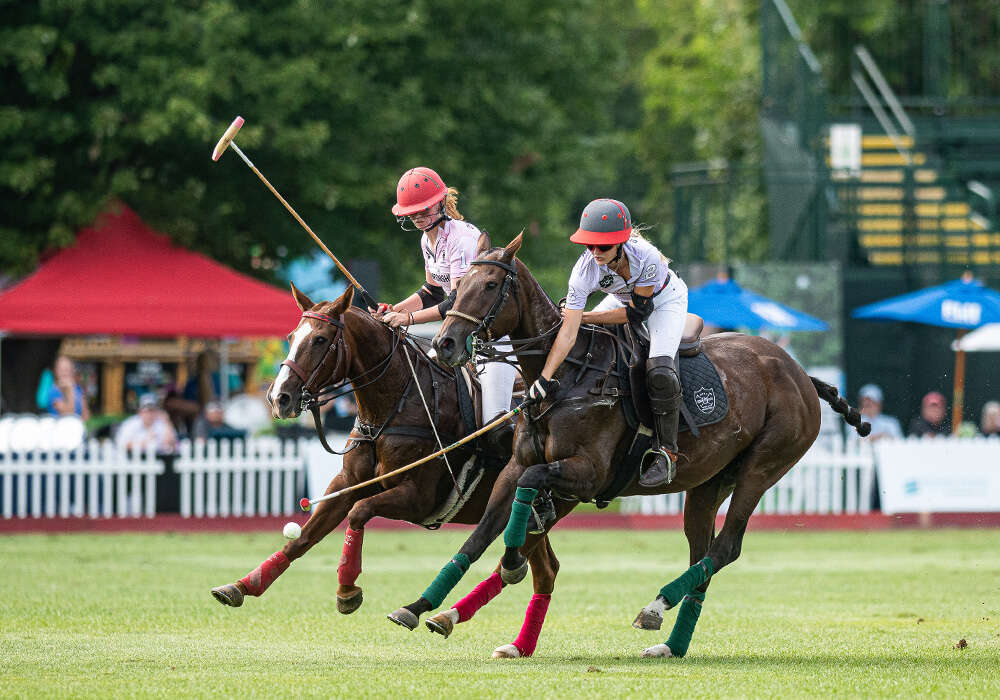 Elise Pardue of Girls Purple pushes the ball down field with Kelsey Bray Girls Pink on defense. ©Andrew Meier
The tense moments of the final chukker resulted in a tightly marked style of play, but Kneece fought through traffic to score. On the following throw-in, Purple kept possession and it was Kneece who came through in the clutch again, scoring her third goal of the game. A final push from Pink that resulted in a goal from Leitner left them 1.5 goals behind as Purple celebrated the 6.5-5 victory.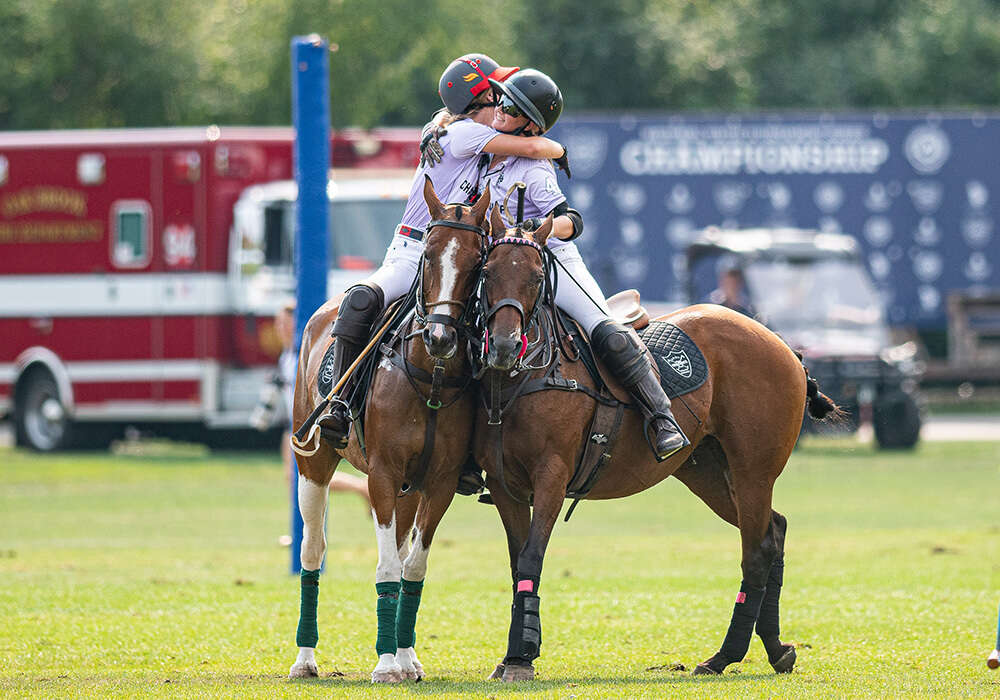 Girls Purple's Elise Pardue and Summer Kneece embrace after their finals victory. ©Andrew Meier
Quickly building chemistry throughout the week, Purple drew from previous competitions to find success. "I've played with Saralyn [Painter] before in Saratoga. I played against Caroline [Mathews] and Elise [Pardue] at Nationals, so to be able to play with them is a great feeling," Kneece said. Teammate Elise Pardue continued by saying, "The entire team gelled really well on and off the field which also led to our success in the tournament."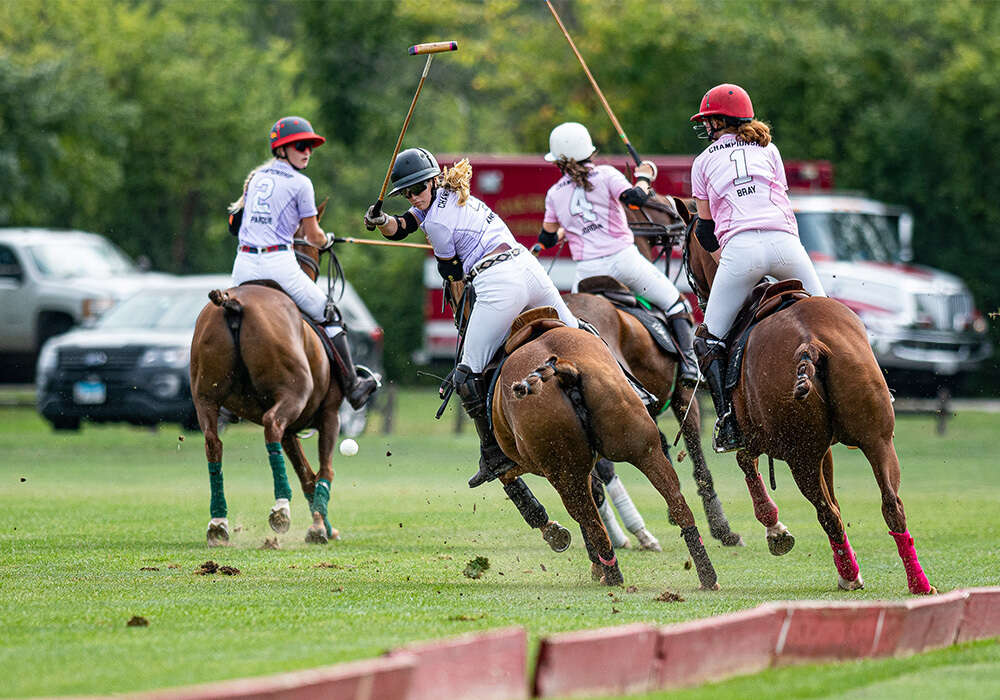 Summer Kneece of Girls Purple with a gorgeous backshot towards the boards. ©Andrew Meier
The wealth of knowledge provided by coach Tiger Kneece helped propel Purple to the title. "Purple team had great communication and always talked about what to work on," Mathews mentioned. "Tiger Kneece never gave up on us and he gave us a great strategy," Painter echoed. Coaching in the NYTS Girls' Championship® for the third time, Kneece had the honor of coaching his daughter Summer to the win. "Girls Pink had some really good offensive players and we knew we were going to have to contain them to stay in the game. It can be challenging and fun at the same time to coach my daughter," Tiger Kneece explained. "She does well with it and she responds well." "He knows all my strengths and weaknesses, so that's always helpful and he's coached me my whole life," Summer Kneece added.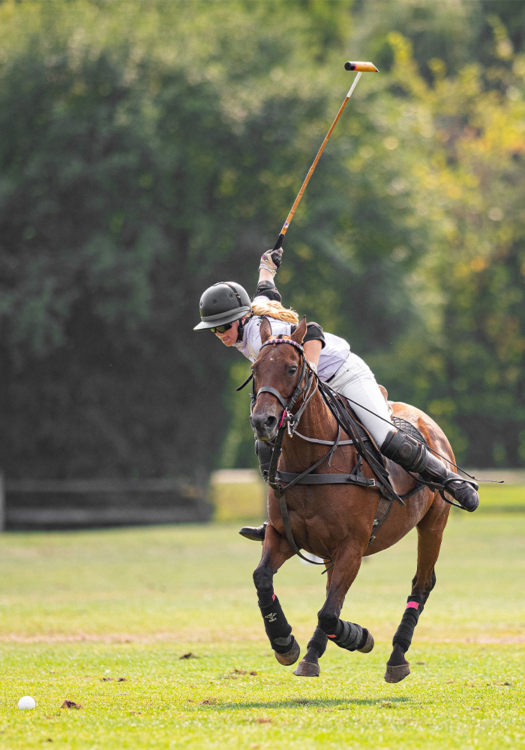 Summer Kneece was awarded Most Valuable Player. ©Andrew Meier
For her exceptional play scoring three goals in both the semifinal and final, Summer Kneece was awarded Most Valuable Player. Utilizing the advice from her dad, Summer focused on not rushing the play. "He always told me to take my time with the ball and to have patience," Summer Kneece shared. "The key to our success was really trusting each other and shutting down the offensive part of the Pink team." Earlier in the week, she also had the opportunity to join the Central Region in the Open division.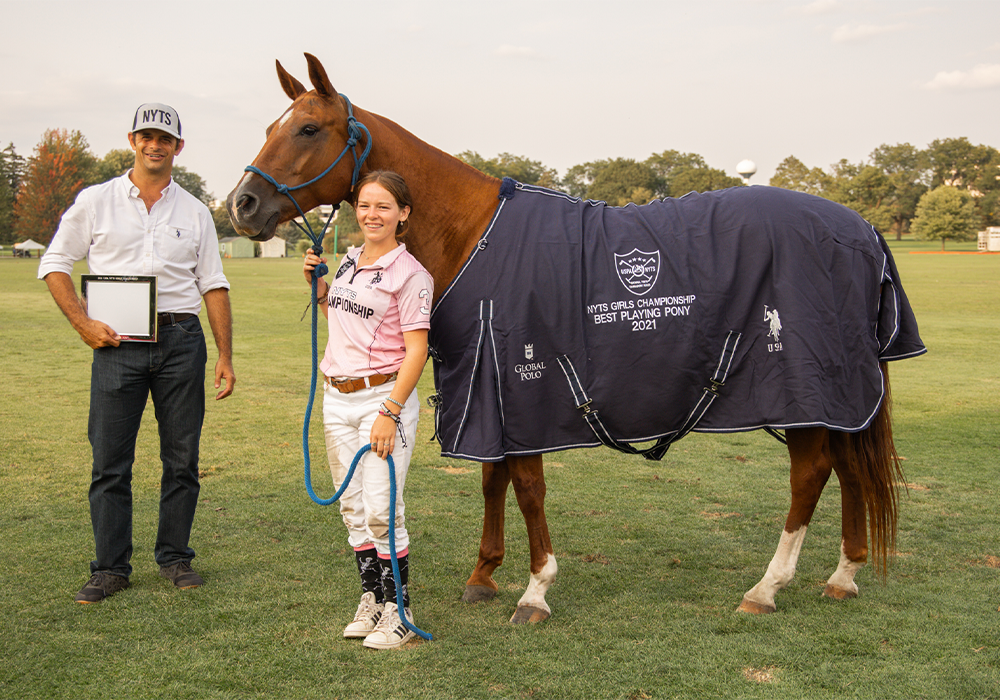 Best Playing Pony, Sagebrush, played and owned by Reagan Leitner. Presented by USPA Executive Director of Services Carlucho Arellano. ©Kaile Roos
Best Playing Pony honors were presented to Sagebrush, an 8-year-old chestnut mare in Reagan Leitner's string. "I bought her from Hope Arellano in 2019 and she is one of the smallest horses in my string but is very quick and handy!" exclaimed Leitner. Previously capturing BPP in NYTS qualifiers at both Aiken Polo Club (Aiken, South Carolina) and Bluewater Creek Polo Club (Rogersville, Alabama), Leitner played Sagebrush the entire third chukker. "I have never had a bad chukker playing her and she gives 100% every time she's on the field," Leitner continued. "Sagebrush made me very proud as she played so hard this past week. Even though she is small like me, Sagebrush is strong and shows all the other ponies that size doesn't stop her!"
Sportsmanship Award for continued positive attitude, fairness and support for their peers on and off the field was awarded to Robyn Leitner of Girls Blue. Presented by Central Circuit Governor Bob McMurtry. ©Kaile Roos
Twin Robyn Leitner, competing for Girls Blue, was given the Sportsmanship Award for her continued positive attitude, fairness, and support for her peers on and off the field. Falling just short in the final, Girls Pink's Madison Jordan received the Horsemanship Award and a beautiful bridle from Texas Polo.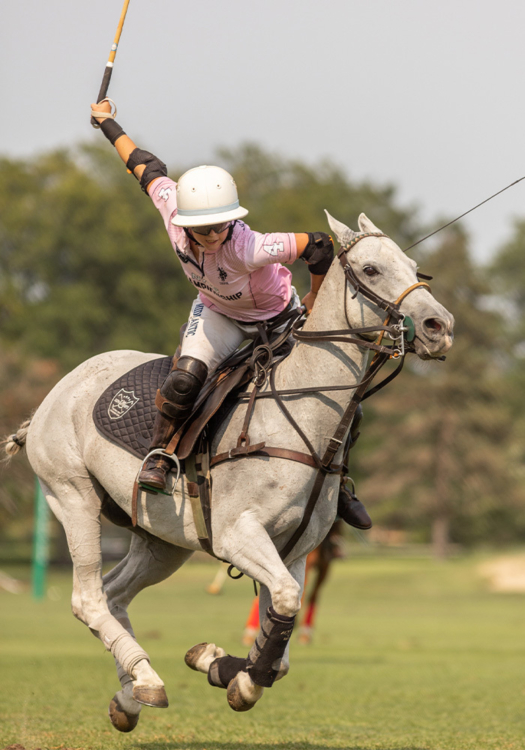 Madison Jordan of Girls Pink was awarded the Horsemanship Award. ©Kaile Roos
The emergence of the NYTS Girls' Championship® is a testament to the work of NYTS Chair, Chrys Beal. Hosting four girls' teams for the first time, competition has steadily increased to create a fun, rewarding environment for all players. About the experience, Summer Kneece stated, "Playing the NYTS tournament, I've met so many friends and so many different people, and I have great friends for life now because of the NYTS program."