Battling rain postponements and ever-changing weather conditions over more than three weeks of play, the Eastern Challenge® arrived at Beverly Polo Club (The Plains, Virginia) and finally came to a close on Tuesday, August 31. Originally scheduled for Sunday, undefeated Greenhill (David Greenhill, Lucas Arellano*, Lucas Diaz Alberdi, Lucio Fernandez Ocampo, Michel Dorignac**, Gaston Lisioli**) used two substitutions against familiar Beverly (Bill Ballhaus, Hilario Figueras, Trevor Niznik, Jorge 'Tolito' Fernandez Ocampo Jr.), with the two teams colliding just six days after their previous match-up, a narrow 12-11 victory for Greenhill. A competitive final resulted in another one-goal difference and despite the change of line-up, Greenhill stood above the field, completing their undefeated run through the tournament with an 11-10 triumph.
Eager to get on the field after numerous delays, both teams came out firing, showcasing a fast-paced opening chukker that resulted in a 3-all score. Substitute Dorignac needed little time to find his groove on the field, accounting for all three of Greenhill's goals, while Beverly's duo of Figueras and Ocampo Jr. matched every stride. "We had a rough start, but Michel [Dorignac] and Gaston [Lisioli] never got frustrated and were very quick to make changes on the spot," Arellano shared. "David [Greenhill] was on fire with his backshots, saving us a few times!" Unable to maintain the rapid pace that was set in the opening seven minutes, play slowed with the umpire's whistle producing two penalty conversions for Lisioli, pushing Greenhill ahead with a 6-4 advantage. Despite conceding another penalty tally to Lisioli in the third chukker, Beverly responded with Niznik leading the charge, scoring his first two goals of the game to bring Beverly back within one, trailing 8-7 at halftime.
A halftime break to strategize changed the dynamic of the game as the high-scoring affair turned into a defensive battle over the final three chukkers. Holding Beverly off the scoreboard in the fourth chukker, Greenhill doubled their lead to two on the only offense of the chukker, a Lisioli field goal, leaving Greenhill just two chukkers from the title. "I think the key to our success was that we were improving as a team chukker by chukker and we all played for each other focusing on the team's success," Lisioli shared. Momentum swung back and forth in a tense fifth chukker with Ocampo Jr. coming forward from the back of the game to produce two goals in an attempt to bring Beverly even. However, despite not having the familiarity of playing together throughout the tournament, Dorignac and Lisioli provided a formidable combination for Greenhill, adding one goal each to maintain the two-goal difference. With the game on the line, Beverly pressured the Greenhill defense, breaking through for a Figueras field goal, but that was the only offense they could muster. The Greenhill defense stood tall, holding off the late charge to capture the 11-10 win and storm through the tournament with an undefeated 4-0 record.
Although competing in his first season in Virginia, Lucas Arellano had some previous experience with his teammates. "I had played with Michel [Dorignac] in Wellington, Florida, in a 12-goal tournament when I was 0-goals and I played against Gaston [Lisioli] before but never with him," Arellano said. "They are both really smart players and I had a great time playing with Greenhill."
Asked to substitute for the final last minute, Dorignac selected Gaston [Lisioli] to round out the team's lineup. "I got a call on Sunday night to come play in the final which was eight hours away from New York where I am based in the summer," Dorignac said. "They asked me to bring a 4-goaler so I choose Gaston Lisioli who is also based at Mashomack Polo Club (Pine Plains, New York)."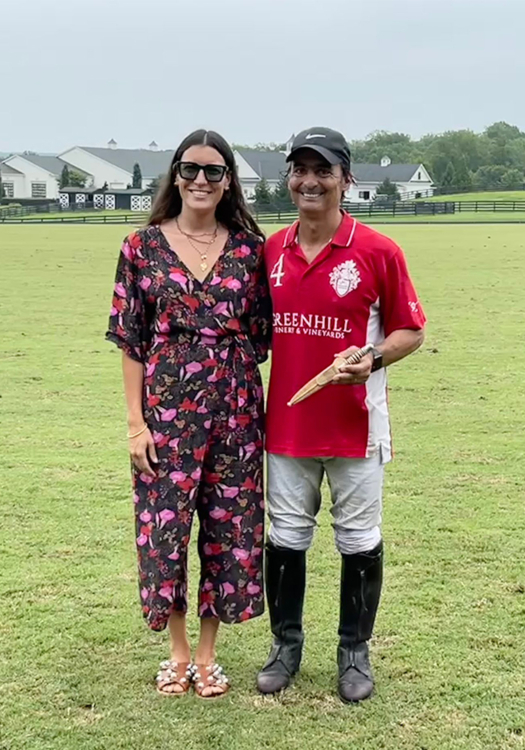 Most Valuable Player, Gaston Lisioli, presented by Agus Garrahan.
Despite not having a full tournament to build chemistry, Dorignac and Lisioli accounted for all but one of Greenhill's 11 goals in the final. "We didn't get to practice or play together before the final so our strategy was to play simple and use everyone on the team," Dorignac said. "We played hard with a cool head chukker by chukker and it worked out well." Finishing with four victories, Greenhill demonstrated a level of play above the rest, with no other team claiming more than one victory.
Finishing with five goals, Gaston Lisioli was named Most Valuable Player. "It feels great to win MVP but it's not only an individual recognition, but also for our teamwork, the performance of the horses and the grooms who did a great job," Lisioli said.
Best Playing Pony honors were presented to 8-year-old American Thoroughbred Tickle Red, played by Lisioli in the fifth chukker. "I bought her off the racetrack five years ago and this is her second year of competitive polo," Lisioli said. "She is a complete mare, but her best qualities on the field are that she is brave and fast."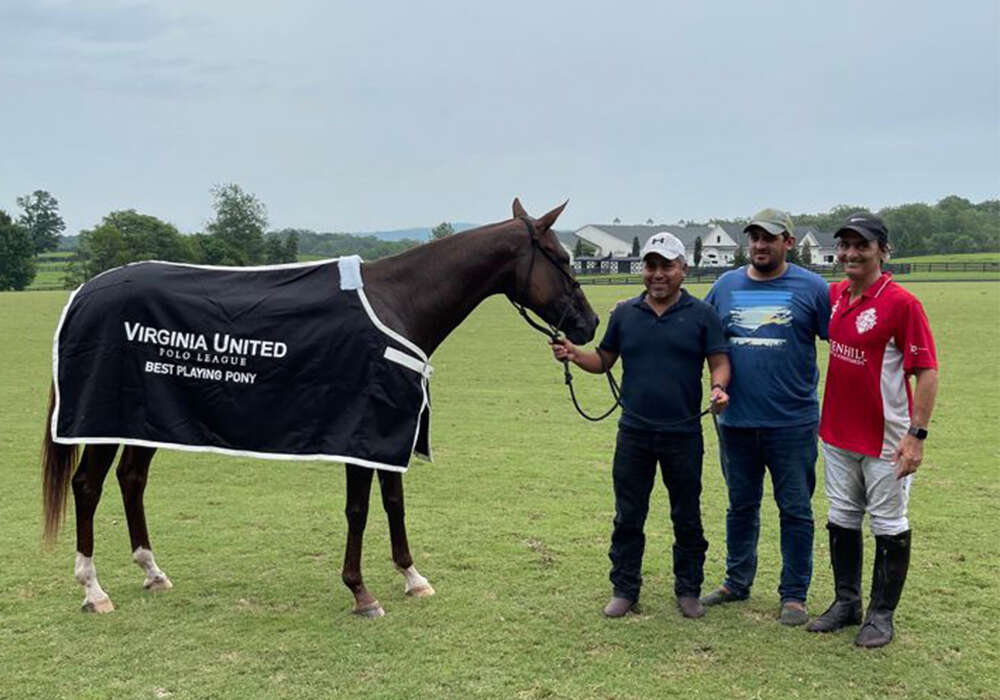 Best Playing Pony, Tickle Red, played by Gaston Lisioli. Pictured with Nicolas Caraballo and Mario Baruch Carvente Barranco.
*Lucas Arellano is an Active Team USPA Member. Team USPA is a USPA program designed to enhance and grow the sport of polo in the United States by identifying young, talented American players and providing mentored training and playing opportunities leading to a pool of higher rated amateur and pro players and the resultant giveback to the sport of polo.
**Substitutes in the final due to scheduling conflicts