Following two days of intense competition GET it Done (Maud Eno, James Glew, Carson Tucker) and JD Boss Polo (Javier Insua, Rehan Kumble, Sophie Michels) met for the first time in the National Arena Amateur Cup (NAAC) to battle for the coveted amateur title. JD Boss Polo handily advanced into the final at Legends Polo Club in Kaufman, Texas, with an undefeated record in their first two matches against The Rest of The World and DReaM Team, while GET it Done managed to recover from an overtime loss against I Want My MTV to capture a close semifinal victory over MNM and secure their spot in the final. A high scoring fast-paced game, JD Boss Polo battled throughout the highly-contested match to retain their undefeated record and capture the NAAC trophy.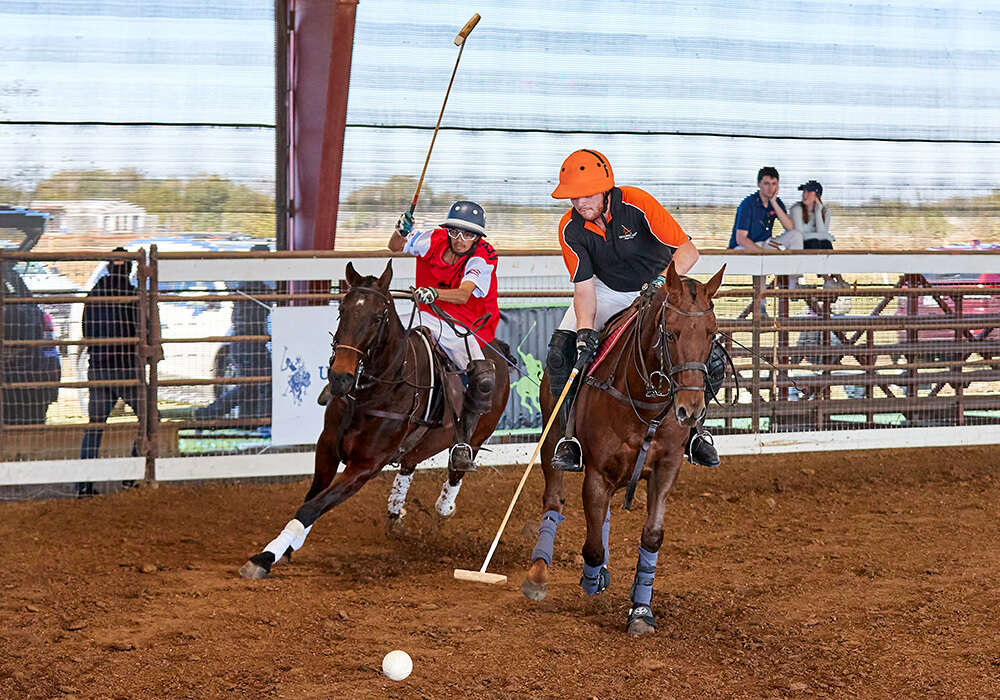 GET It Done's James Glew with possession ahead of JD Boss Polo's Rehan Kumble.
Opening the scoring early, Kumble put JD Boss Polo on the scoreboard first with back-to-back goals, as Glew and Tucker answered with a goal each for GET it Done. Focusing on shooting from the field, Kumble added his third goal of the chukker, which was once again countered by Tucker to end the first tied 3-all. The evenly-matched determination from both teams continued in a thrilling exchange throughout the second chukker including a two-pointer each from JD Boss Polo's Insua and Glew for GET It Done. Dominating in the chukker for his team, Glew accounted for all five of Get it Done's goals, while a full team effort from Michels, Kumble and Insua combined for five goals of their own to end the half tied once again 8-all. Playing with Kumble previously at Boston Polo Club in Georgetown, Massachusetts, Michels shared JD Boss Polo's ability to adapt to playing alongside Insua for the first time, "our strategy utilizing Javier [Insua's] powerful shots by sending Rehan [Kumble] and myself up the field to get open and take out the man was the key to our success."
"Our strategy as a team evolved with close observation of our opponents. We marked them well and kept them off balance during the final, and as a consequence we were able to outscore them." – Javier Insua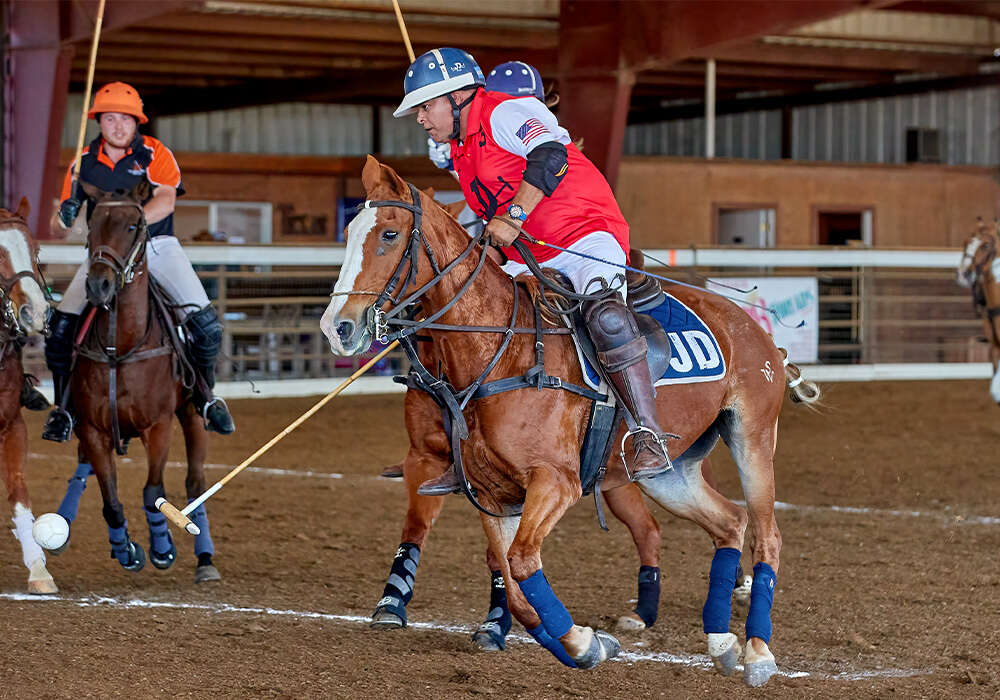 JD Boss Polo's Javier Insua stays focused on the ball.
Kumble once again found the goal first in the beginning of the third chukker on a two-pointer, followed by three more goals from Insua. "I think what worked well for my team is that our styles of play complemented each other," Kumble shared. "Javier [Insua] would be in the back sending passes and watching the back door while me and Sophie [Michels] would be down the arena waiting, then attacking." Tucker kicked-off the scoring for GET it Done and would shine in the third scoring four goals including two key two-pointers to lift GET it Done above JD Boss Polo for the first time in the match.
Facing a two-goal deficit entering the final chukker, a focused Insua knocked-in three consecutive goals, among them two separate two-pointers to launch JD Boss Polo back into the lead. In order to maintain the lead, Kumble stated, [we wanted to] always have a man on [James] Glew." As a result of JD Boss Polo's tightened defense, Glew only found the goal mouth once for his team. As time expired, Michels tapped in the final goal with JD Boss Polo emerging victorious and claiming the National Arena Amateur Cup title 19-16.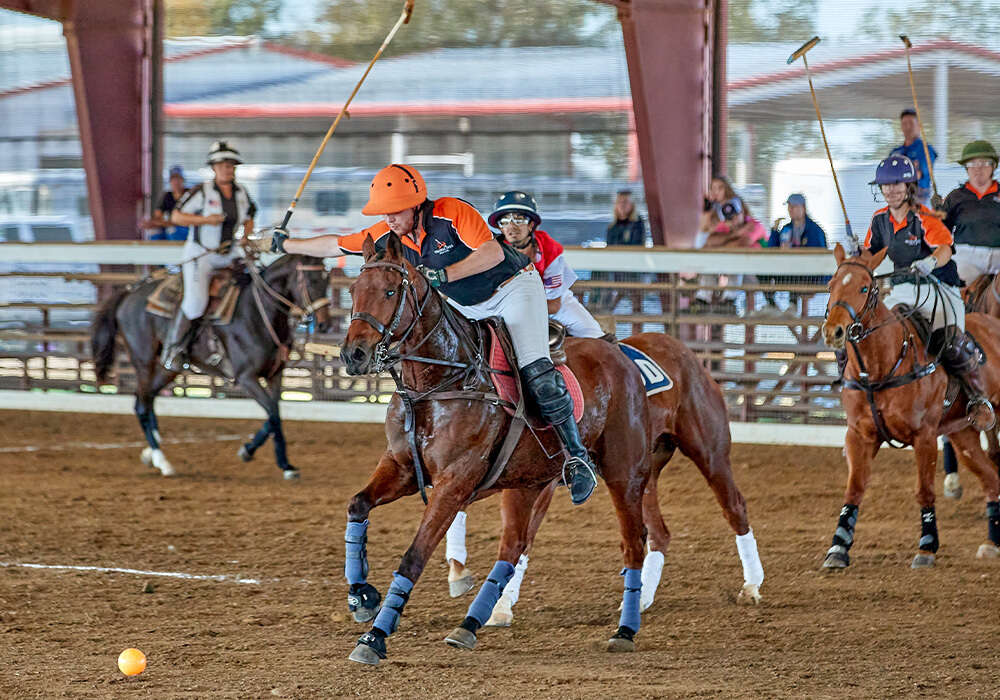 Most Valuable Player James Glew on a breakaway.
Speaking to the strength of amateur arena polo tournaments such as the NAAC, Michels reflected, "this win shows, especially Rehan [Kumble] and I as less experienced players, that the future is very bright for polo for people of all backgrounds and all ages. It was such an honor to play with Javier [Insua] and to see the mix of people from all over the place play on the same team and I think it's just encouraging to see the direction that the world of polo has headed." Kumble echoed the sentiment on the growth of amateur polo, "winning this tournament means quite a bit to me […] It was also amazing to meet new people and play at such an amazing club."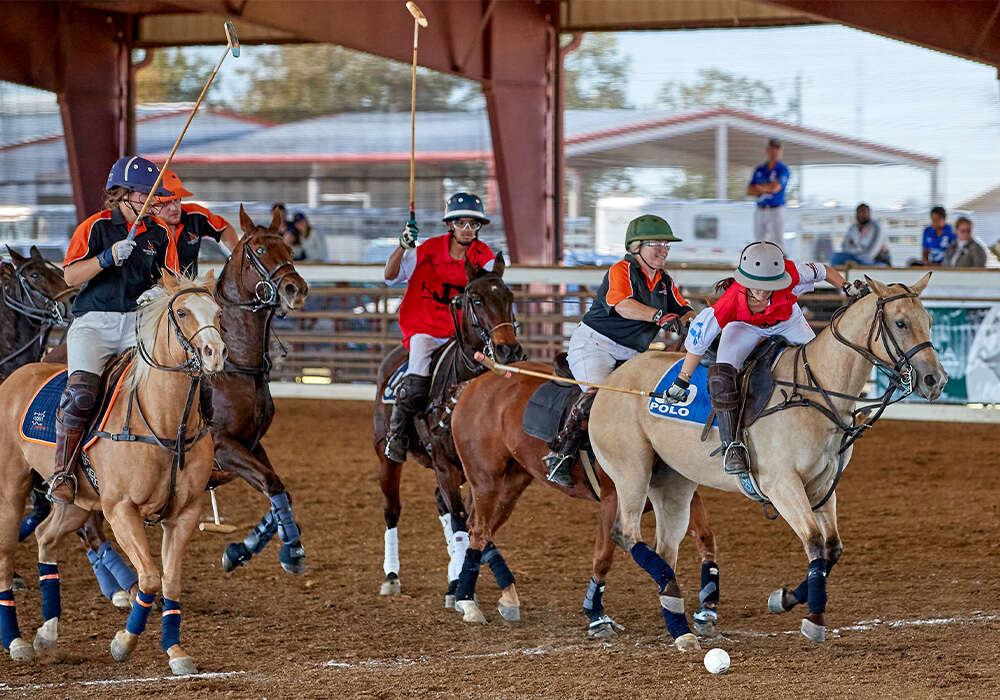 JD Boss Polo's Sophie Michels prepares to hit a long shot down the arena.
Contributing eight goals on the day, Glew was named Most Valuable Player. "James [Glew] played great throughout the entire tournament.," praised teammate Tucker. "He did a great job of pushing forward when we were on offense but was also able to quickly get back on defense when the play shifted. He did a great job leading our team, coming up with strategies before each game, and communicating with us during the games. He one hundred percent deserved MVP!" Reflecting on the honor Glew added, "it feels great to have won Most Valuable Player in the NAAC Final! It was a great game of polo that went down to the last chukker. A lot of the credit should be given to the ponies I rented from Wyatt Myr, as they helped me play the way I did. Whiskey, the chestnut who doubled for me was the stand out. He had everything I needed to play well and help make the game as close as it was."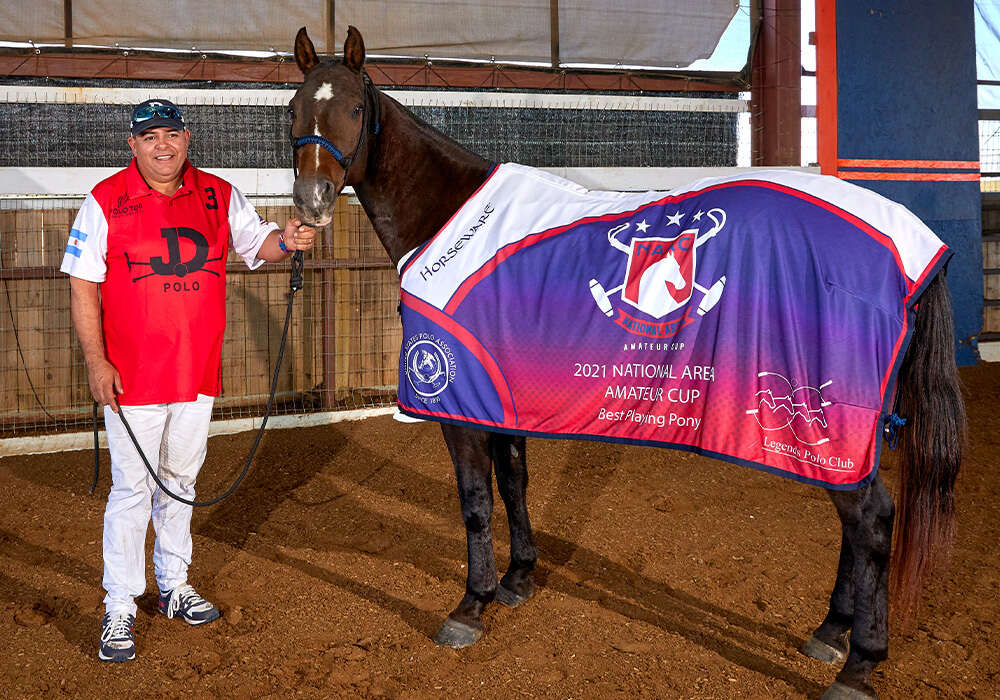 Best Playing Pony was awarded to Mulo, played by Javier Insua and owned by Dr. Taimur Zeb.
Best Playing Pony was awarded to Mulo, a 10-year-old Mexican bred gelding played by Javier Insua in the fourth chukker and owned by Dr. Taimur Zeb. "He is fast with a very soft mouth, hence very handy," Insua said. "He enjoys the game and is a joy to play on." The honor of The Jockey Club Thoroughbred Incentive Program (TJCTIP) Best Playing Thoroughbred went to Zama, played by Megan Rahlfs (Polo InterActive) and owned by Legends Polo Club. Sportsmanship Award for a continued positive attitude, fairness and support of her peers on and off the field was presented to Mila Slutsky (DReaM Team).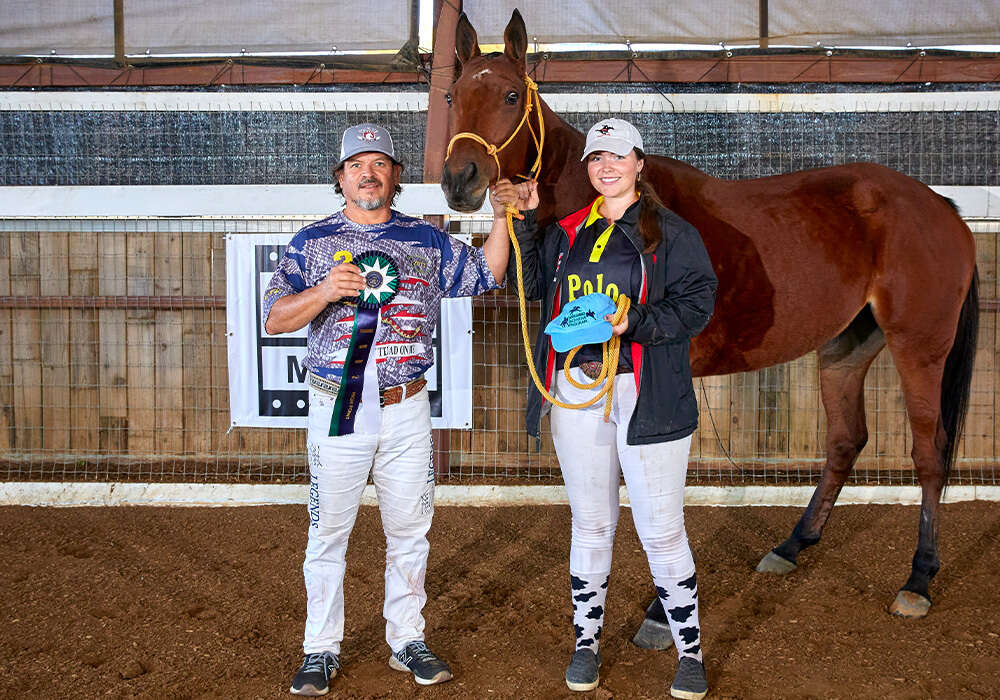 The Jockey Club Thoroughbred Incentive Program (TJCTIP) Best Playing Pony was awarded to Zama, played by Megan Rahlfs and owned by Legends Polo Club. Pictured with Nacho Estrada.
As the NAAC continues to showcase and encourage the accessibility and participation of amateur polo, additional awards of Best Defenseman were given to Mark Osburn (MNM), while Best Shot of the Tournament went to Jose Velez (Polo InterActive) for a spectacular nearside neckshot two-pointer. Bringing amateur players from across the country to celebrate competition and camaraderie is a highlight of the NAAC as expressed by Karl Hilberg (The Rest of The World), "It's a great experience. People come here from across the country to have fun and interact. Everyone gets to know each other and talk about their home clubs."
Kathleen Reagan (DDK Reagan Law) also reflected on the success of the NAAC tournament, "my teammates and the competition has been awesome. [Its opened] so many doors and it's just a wonderful experience." David Brooks also shared, "arena polo is so accessible to so many people." When asked if more amateur players should consider participating in NAAC in the future, Brooks responded, "they really should! It's an awesome experience and the best trip you'll ever have!"
All photos courtesy of ©David Murrell.