Overcoming 11 competitive teams in round-robin play, a semifinal injury and last-minute strategy and roster adjustments, Ketel One Botanical (Tiamo Hudspeth*, Stephanie Massey Colburn*, Carter Nix, Athena Malin, sub. Chloe Torres, sub. Joanie Jackson) persevered to reach the U.S. Open Women's Handicap® Final hosted by Houston Polo Club (Houston, Texas).
Losing Athena Malin early in the semifinal match, Ketel One Botanical pivoted with Chloe Torres and narrowly prevented an overtime chukker on a Penalty 2 from Tiamo Hudspeth. Switching gears with Joanie Jackson in the final, Ketel One Botanical met T Squared Energy (Emma Tooth, Grace Parker, Carin Middleton, Kaile Roos) on Saturday, November 13 to compete at Brookshire Polo Club (Brookshire, Texas). Preventing their skilled opponents from making a single field goal throughout the duration of the final, Ketel One Botanical rode away with the smooth victory 5-.5.
"The ladies that I played with are so coachable, worked so hard, played with heart, remained positive and had a great attitude the entire time. It was a real team effort." – Tiamo Hudspeth
Despite defensive pressure by T Squared Energy who started off with .5 on handicap, Ketel One Botanical was able to establish an early lead in the first which they carried on throughout the remainder of the final. Proven to be solid from the penalty line and opening the scoring with a quick penalty conversion, team captain Hudspeth served her team well as a strong back. "I was playing a forward position, but I decided to change it up when Joanie [Jackson] subbed for Athena [Malin], since she's a little more of an offensive and forward player," Hudspeth explained. "Joanie, Carter and Stephanie just attacked, circled behind and I kept the back door shut and just kept trying to hit it up to them."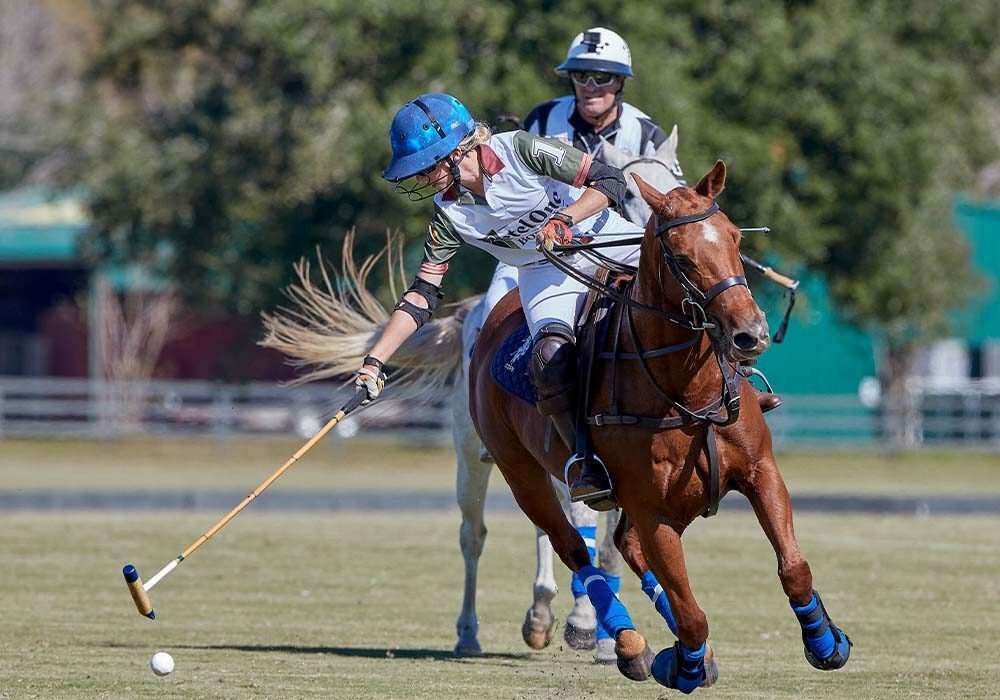 Ketel One Botanical's Stephanie Colburn turns on the ball.
Falling into place on the field, Jackson picked up the ball left behind by Hudspeth and made a drive to goal. Although losing possession, Nix followed her up to complete the play and end the first with a field goal. Missing several penalty conversion opportunities, T Squared Energy struggled to land on the scoreboard as Ketel One Botanical breathed a sigh of relief. Each side showcasing excellent defensive skills, the scoreboard remained unchanged headed into halftime 2-0 in favor of Ketel One Botanical.
"I've watched Tiamo [Hudspeth] play for years and I've always looked up to her as an idol in polo. The fact that she [Tiamo] reached out to me this summer and asked me to play, I immediately said, 'Yeah! I'll figure out the rest of the details, but yes, I'm in!" – Carter Nix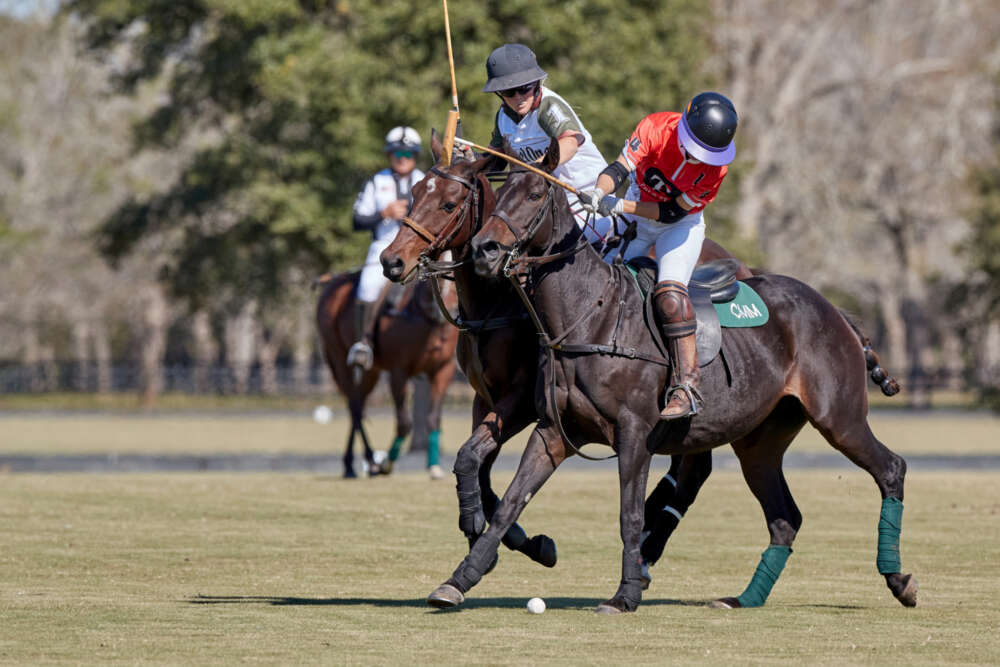 Ketel One Botanical's Carter Nix leans in to defend T Squared Energy's Carin Middleton.
Returning for the second half hopeful to make a turnaround, T Squared Energy's penalty difficulty persisted when a Penalty 4 attempt bounced off a horse's hind leg. Although consistent defense from both teams kept the scoreboard relatively low, Ketel One Botanical found an opportunity to slip from the tight pack and add another to the tally. Taking the ball behind Tooth, Colburn gained possession and quickly ran between the goal posts halfway through the third.

Propelling Ketel One Botanical forward in the fourth chukker, Colburn remained the only player to score in the second half, her offensive momentum continuing all the way through the final seconds of regulation. "We were definitely on our stronger horses in the second half and were able to push through a little faster and control the game better," Colburn said. Jumping on a breakaway on Romeo, Colburn flew down the field ahead of Tooth to extend the lead. Now with the trophy plainly in sight, Colburn once again gained control of the ball and turned to run uncontested to goal as the clock ran out sealing the win 5-.5.
"I think a big part of being successful in this tournament is just having a really well-balanced, talented team," Colburn said. "Tiamo [Hudspeth] has so much horsepower and both Athena [Malin] and Carter [Nix] came all the way from California to play with us. Not only our team, but everyone put so much into this tournament and it means a lot to come out on top." "I'm so happy we got the win for Athena [Malin]!" Jackson exclaimed. "Her and I won the U.S. Open Women's Handicap® together in 2019 with BCI/Sullivan Group so it was fun to come back and win it again."
Although having to adjust to two substitutes unexpectedly during the tournament, this was not the first time the team's original lineup had been altered. Hudspeth was originally asked by Carol Farnsworth to put a team together, but unfortunately Farnsworth broke her ankle in October. "A month out we got Meghan Gracida as a replacement, but two weeks before the tournament she found out she wasn't able to make the dates," Hudspeth said. "She and Memo [Gracida] still supported us and they've been coaching us through it. Then we got Athena [Malin] and she got horses from the Millers, which we were really grateful for and flew in last minute, practiced with us and has just been a gem."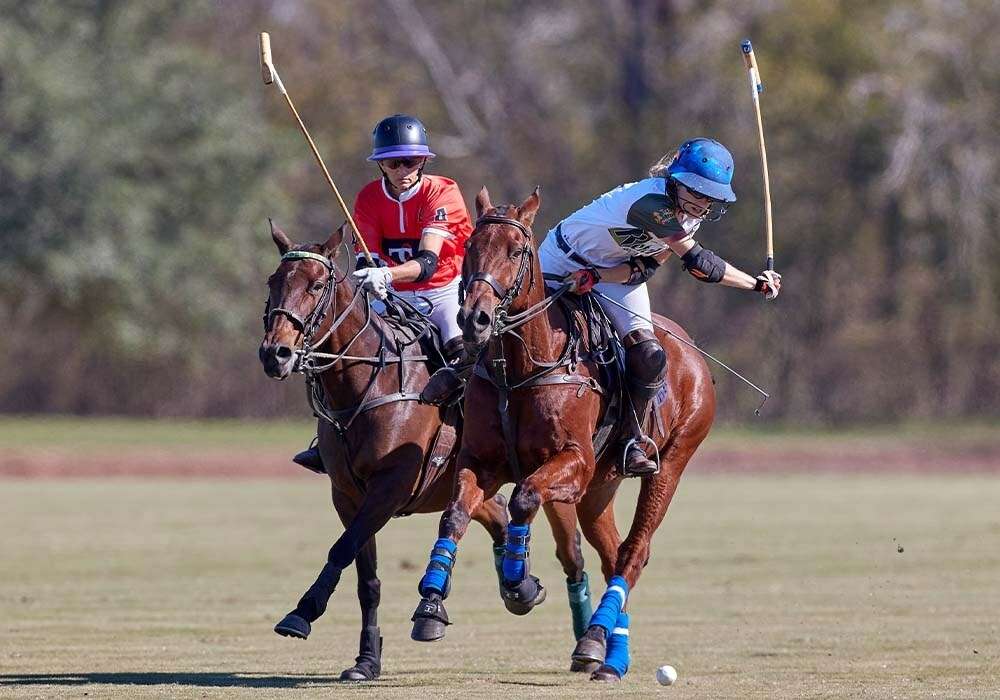 Ketel One Botanical's Stephanie Colburn hits the ball ahead of T Squared Energy's Carin Middleton.
Winning her first U.S. Open Women's Handicap® was extra special for Nix as she was able to do so with teammates she has always admired. "I've watched Tiamo [Hudspeth] play for years and I've always looked up to her as an idol in polo," Nix shared. "I saw Stephanie [Colburn] when she played in India and I was like, 'this woman is so cool' – they're players I've seen on the USPA's Instagram. The fact that Tiamo reached out to me this summer and asked me to play, I immediately said, 'Yeah! I'll figure out the rest of the details, but yes, I'm in!' Dayelle Fargey recommended me to this team so I owe all of this to her. It was so cool to play with and against people I've looked up to for so long."
Convinced to try polo by her cousins Molly and Louisa Musselman (Midland Polo Club), Nix immediately made the switch from jumping to polo after taking her first lesson in high school with Sunny Hale. Taking a gap year after her sophomore year to pursue polo, Nix is seeing the fruits of her labor. "Last year this was just a dream," Nix said. "This past year I've worked really hard and I've groomed for several different pros. Some told me, 'you're always going to be a groom, just go back and finish college.' And here I am winning the U.S. Open Women's Handicap® on my first try so it feels really good!" Entering her junior year at Cal Poly, Nix has continued her intercollegiate career.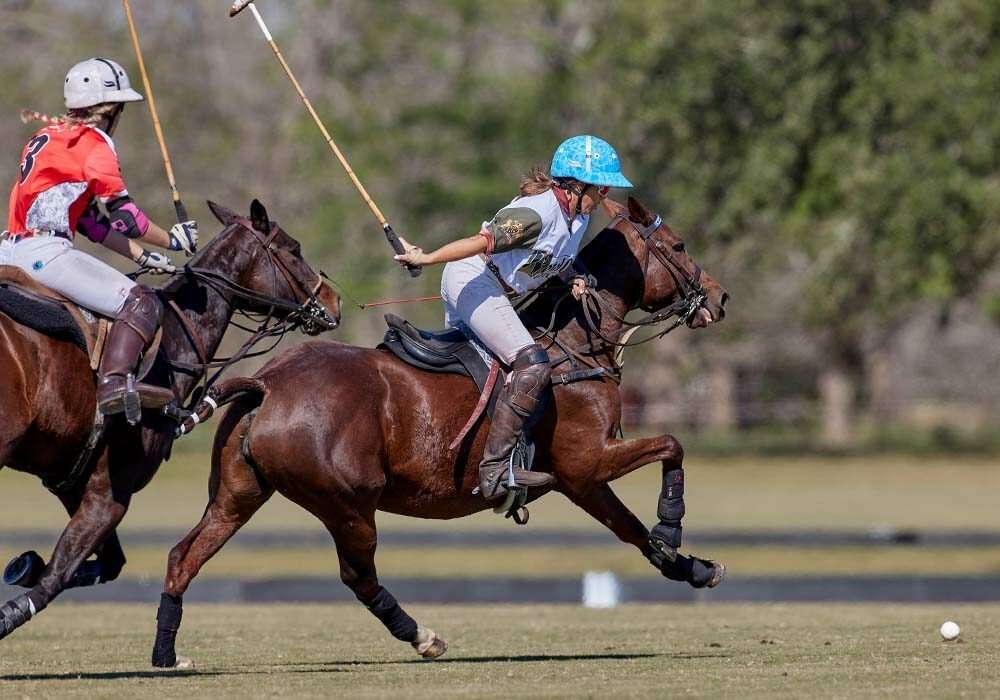 Ketel One Botanical's Tiamo Hudspeth takes the ball down the field.
Competing in the Texas Women's Open with Tiamo Hudspeth for Anthonie's Market Grill/Lockton, Jackson was a logical choice to join Ketel One Botanical in the handicap final due to her history with the teammates. "I've played with Carter [Nix] in the past on Houston Polo Club's interscholastic team so I've played a lot with her and Tiamo [Hudspeth]," Jackson said. "I've never played with Stephanie [Colburn] before, but I think because of my experience playing with those two and Stephanie [Colburn] being so easy and keen to do anything, we all just gelled."
Winning back-to-back titles, Stephanie Colburn was equally happy to reunite with Tiamo Hudspeth for their second U.S. Open Women's Handicap® win. "We first won this tournament nine years ago and it was a lot of fun playing and winning together again," Colburn shared. "It's been a really fun year since I have all my horses stabled with Tiamo [at San Ysidro Polo] we've been preparing for this tournament together the last few months."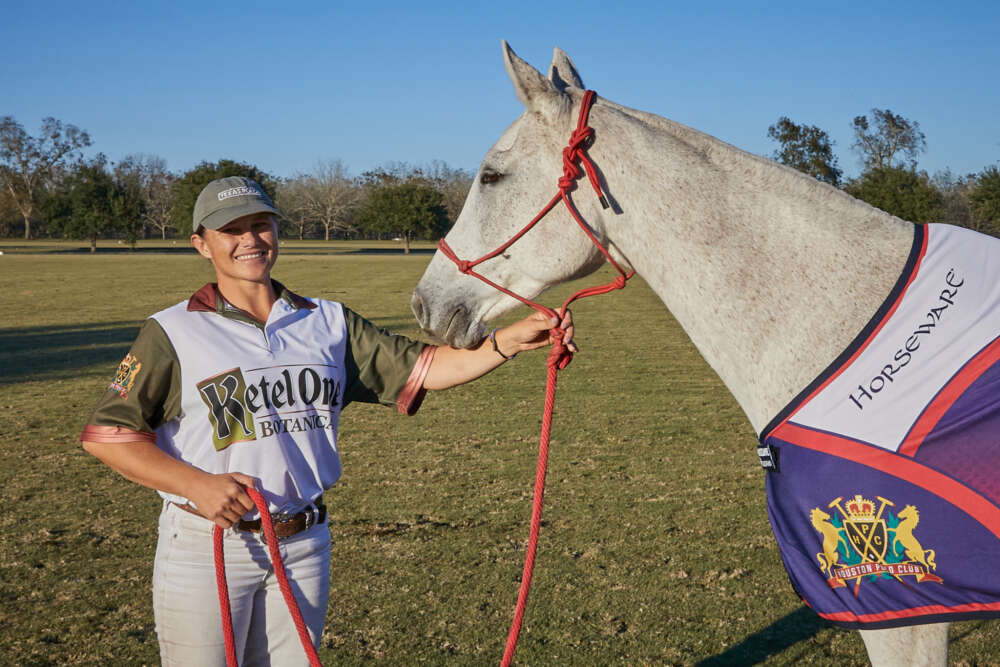 Best Playing Pony Professional was awarded to Pringa, played by Tiamo Hudspeth and owned by Alston Beinhorn and San Ysidro.
Best Playing Pony Professional honors were presented to 11-year-old Pringa, a McFaddin mare played by Tiamo Hudspeth in the fourth chukker. Purchased and finished at San Ysidro Polo, Pringa is owned by Austin Beinhorn and San Ysidro. "Pringa was one of the prospects purchased by the ranch from a local Texas breeder," Hudspeth said. "We got her when she was five-years-old and she's been an anchor in this tournament since we've owned her. I've owned one of her full siblings and the ranch has also purchased several of her siblings that have been in the barn at different times and were sold. Pringa is the one we're never selling, she'll live out her days with us. We plan on taking some embryos from her this coming spring."
Ketel One Botanical's Joanie Jackson races forward on Best Playing Pony Amateur Montana as T Squared Energy's Emma Tooth. stretches to block.
The Best Playing Pony Amateur blanket was presented to Montana, a chestnut mare played by Joanie Jackson in the fourth chukker. Sporting a flaxen mane and tail, Montana was purchased from Horsegate Ranch almost two years ago. "Montana's a machine and an absolute unicorn," Jackson gushed. "You get on her and you can play better. She makes getting the ball so easy and she's so level. In the barn she's very sweet and easy going. As soon as you walk in the barn she is looking for treats. She's one of a kind for sure."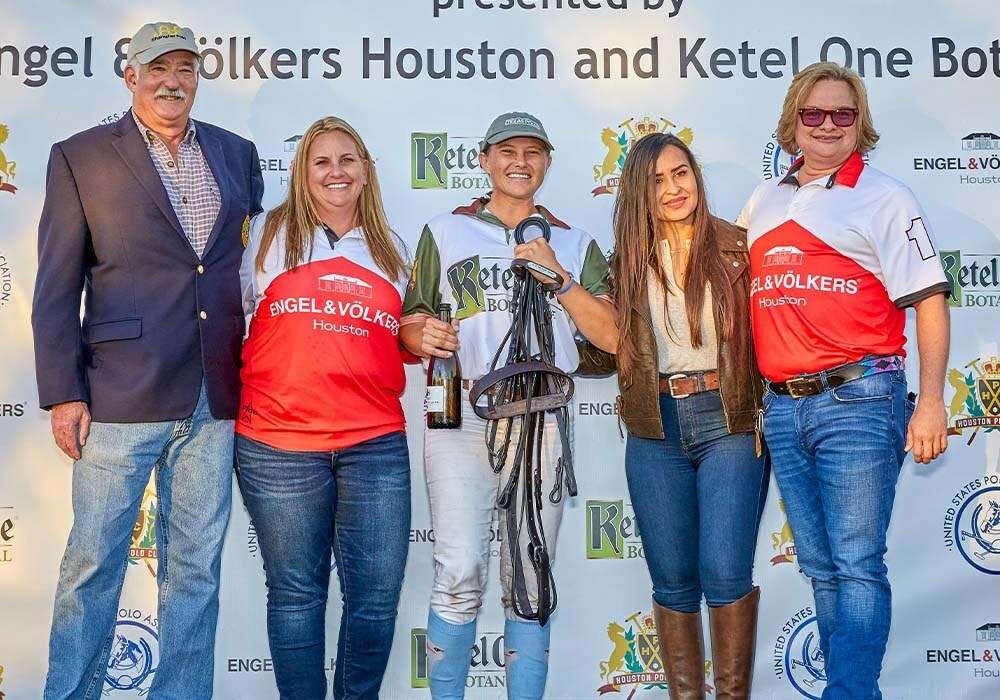 Most Valuable Player Tiamo Hudspeth. Pictured with USPA Governor-at-Large Steven Armour, Jenny Vargas, Ketel One Botanical Sponsor Sara Arias and Brooks Ballard.
Converting 78% of her penalty shots throughout the tournament, Tiamo Hudspeth was named Most Valuable Player. "This is the tournament I work all year round to prepare for—along with the Texas Women's Open—it's the most important tournament of the year for me," Hudspeth explained. "I think it's an amazing opportunity to showcase women's polo and to play on amazing fields with really good horses and women's players from all over. The camaraderie between all these women is amazing."
Coming out on top in a field of 11 tough teams is no easy feat, yet Ketel One Botanical banded together and overcame every obstacle in their way on the journey to victory. "It was a little overwhelming. Anything can happen with so many good players, talented horses and the organizations that back them," Colburn said. "It's a very competitive tournament and it means a lot to have made it this far and be able to call ourselves champions."
*Tiamo Hudspeth and Stephanie Massey Colburn are Team USPA alumnae. Team USPA is a USPA program designed to enhance and grow the sport of polo in the United States by identifying young, talented American players and providing mentored training and playing opportunities leading to a pool of higher rated amateur and pro players and the resultant giveback to the sport of polo.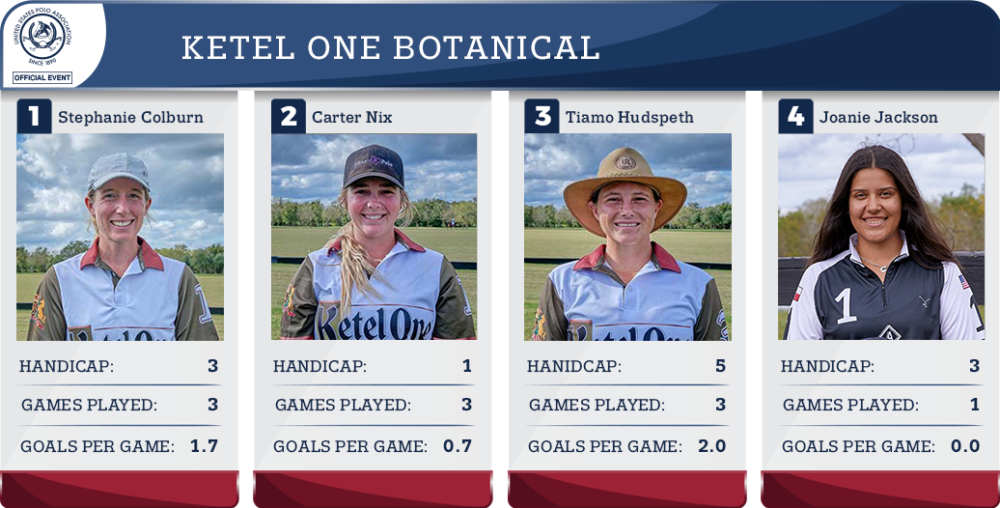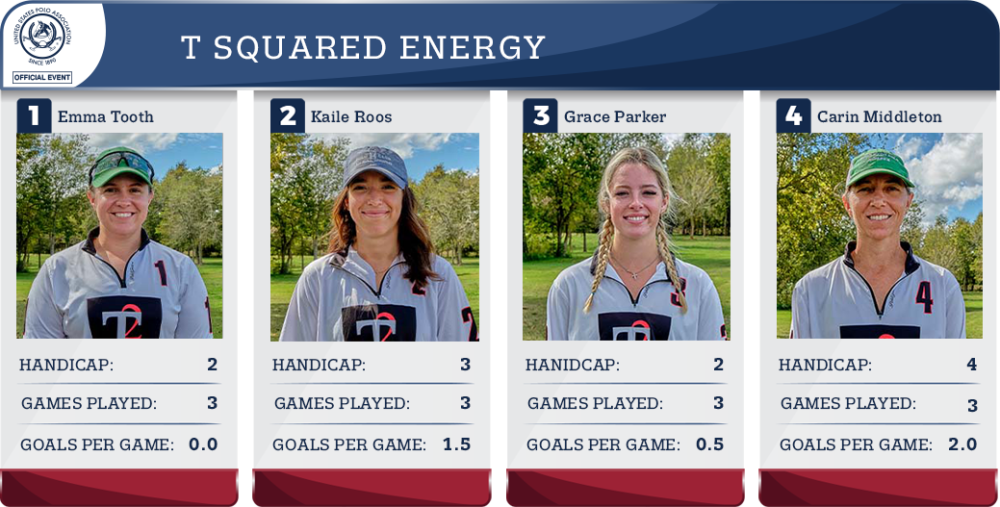 All photos courtesy of ©David Murrell.