After three rounds of competitive 6-goal polo, La Bourgogne (Ariana Gravinese, Hardy Pemberton*, Trevor Niznik, Alan Martinez) and Orchard Pond/Un-Stable (Mary Phipps, Chase Butler, Del Walton, Sterling Giannico) met for the second time in the tournament for the Southeastern Circuit Constitution Cup Final on Monday, September 27 at Wagener Polo Club in Wagener, South Carolina. Previously meeting in the first game of bracket play, La Bourgogne defeated Orchard Pond/Un-Stable 9-5. Despite La Bourgogne entering the final matchup with a 3-0 record, Orchard Pond/Un-Stable came out strong in the first chukker feeling confident from their previous two wins. Ultimately decided in the final chukker, La Bourgogne would rely on last-minute heroics to secure the Southeastern Circuit Constitution Cup 8-6.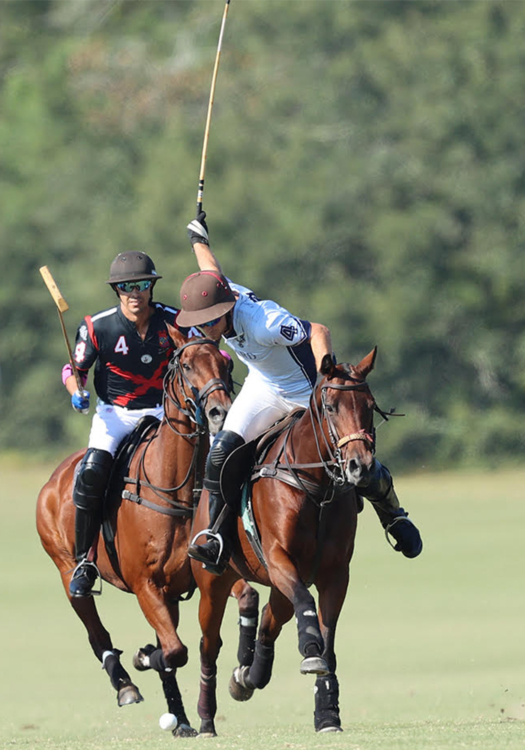 Orchard Pond/Un-Stable's Sterling Giannico riding Best Playing Pony Tequila.
"This was my first time playing in Aiken and I am really impressed with how well-organized Wagener Polo Club is and how nice the fields are." – Sterling Giannico
The first chukker began with two goals from Orchard Pond/Un-Stable's Sterling Giannico, making it clear that La Bourgogne would have to put up a strong fight if they wanted to end the tournament with an undefeated 4-0 record. "The minute the chukker began, I knew it was going to be a fast and open game," shared Gravinese. "Alan and Trevor were able to send the ball out to me and Hardy in front. But despite some great runs, we just could not capitalize on the passes and put the ball through the uprights."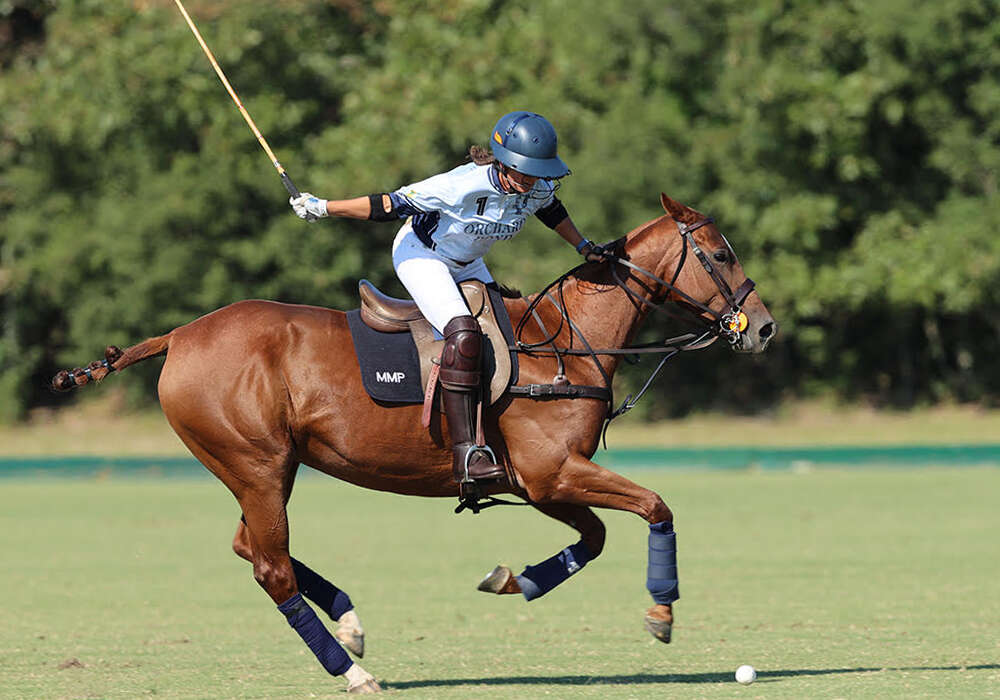 Orchard Pond-Un-Stable's Mary Phipps on a breakaway.
In the second chukker, La Bourgogne closed the gap to one goal with Martinez putting two on the board, and Niznik adding one. "The field really helped to open the game up with lots of big runs," noted Martinez. "The other team did a great job dictating the pace and forcing us to play their game," he continued, despite scoring three goals in the chukker. Ending the chukker with a score of 4-3 in favor of Orchard Pond/Un-Stable, La Bourgogne entered halftime determined to gain the lead in the second half.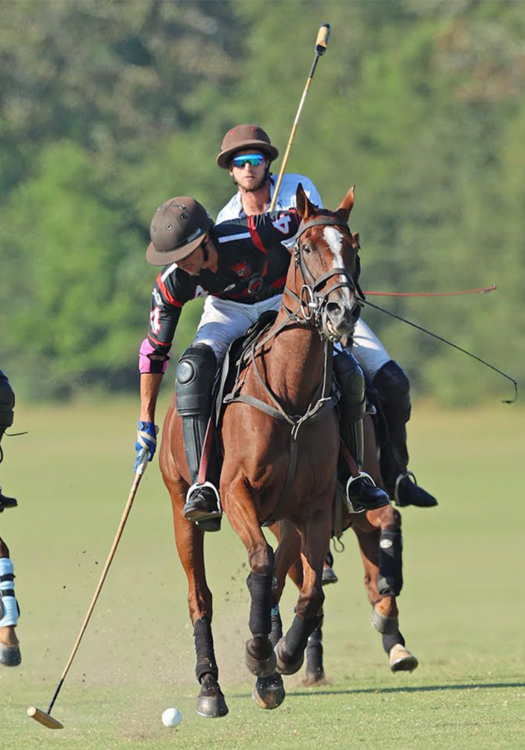 La Bourgogne's Alan Martinez skillfully controls the ball.
"Alan and Trevor explained how we needed to gain control to play our game so that we could attack more offensively," said Gravinese about Orchard Pond/Un-Stable's halftime strategzing. "At the same time though, we had to stay close with our assigned men if the play turned around," Gravinese continued. Coming out strong in the third chukker, La Bourgogne was able to gain control offensively with Martinez scoring two goals, while keeping Orchard Pond/Un-Stable to a single tally to end the chukker with a tied score 5-all.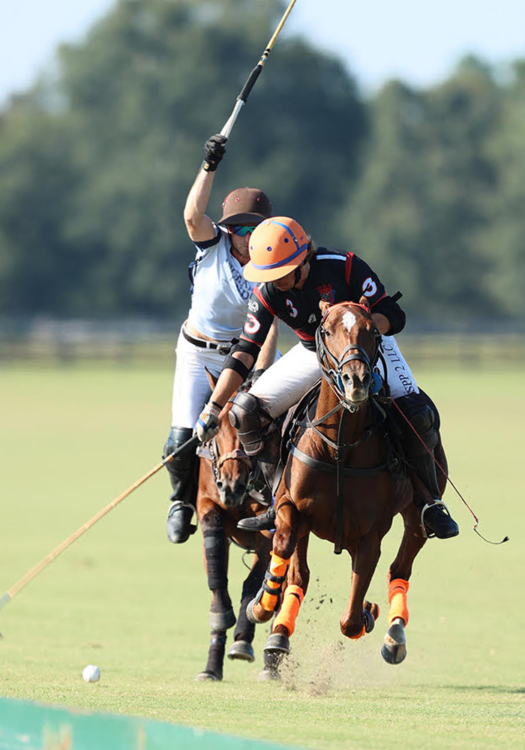 La Bourgogne's Trevor Niznik received Most Valuable Player.
The last chukker was the fastest with both teams bringing out their top ponies keen on claiming the victory as their own. La Bourgogne opened the fourth with a goal from Martinez, which was quickly countered by Orchanrd Pond/Un-Stable's Giannico to maintain the gap. Then, Trevor Niznik broke out offensively capitalizing on two goals for La Bourgogne to take the lead. The final goal came on a beautiful run during the last minute of the game. Ending the game with a score of 8-6, La Bourgogne claimed the Southeastern Circuit Constitution Cup victory. "It was a very fiercely battled game, shared David Meunier reflecting on the game, "with one minute and thirty seconds to the end it could have gone either way."
"Fortunately for us, we were able to slow the game down in the last chukker and Trevor made some great goals to put us ahead." – Alan Martinez
After scoring three key goals for his team including the final minute of play, Trevor Niznik was named Most Valuable Player. Ariana Gravinese received Amateur Most Valuable Player honors.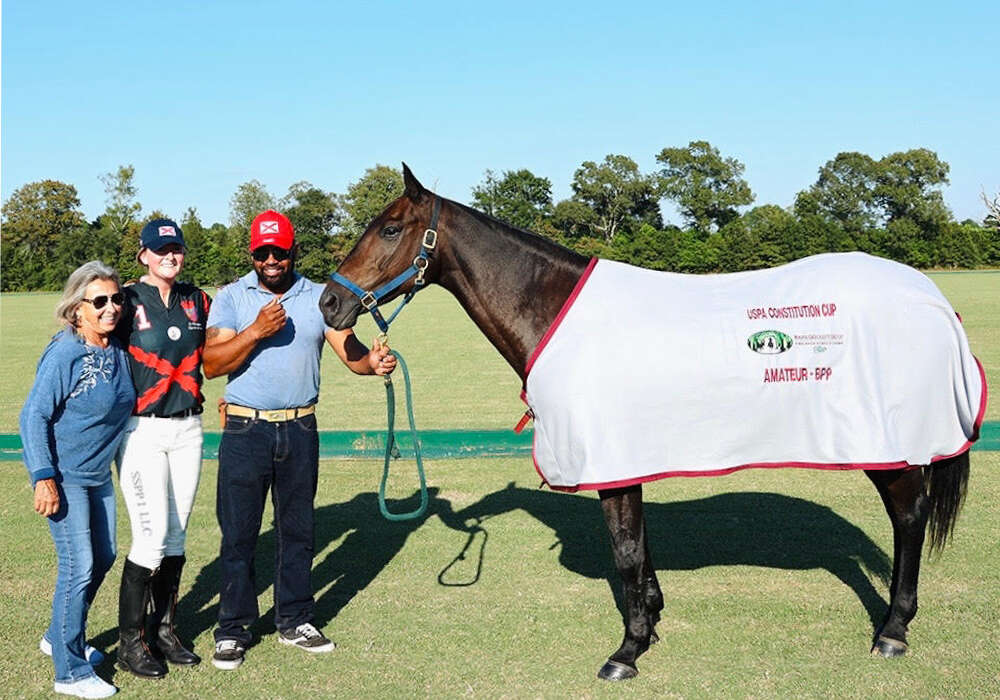 Amateur Best Playing Pony was awarded to Jada, played and owned by Ariana Gravinese, pictured with Michelle Raab and Luis Carrion.
Best Playing Pony, sponsored by Banks Mill Feeds, was awarded to Tequila (Dolfina Millionario x Pinta Grapa), an 11-year-old mare owned and played by Sterling Giannico. "I bought Tequila from Sapo Caset in Argentina when I played for Tonkawa in the 2019 Wellington season. She is extremely handy and she also has the speed! I always start on her in the first chukker and bring her back in the last. She is very special to me!" Amateur Best Playing Pony, sponsored by Find Aiken Homes & Farms, was awarded to Jada, a 13-year-old Thoroughbred-cross mare owned and played by Ariana Gravinese. "I bought Jada from Marcos Onetto. She is one of those mares that comes out the same in every game and loves to play. Despite being small, she is mighty when she runs and bumps."
*Hardy Pemberton served as substitute for David Meunier due to a pre-season injury.
All photos courtesy of ©Alex Pacheco.